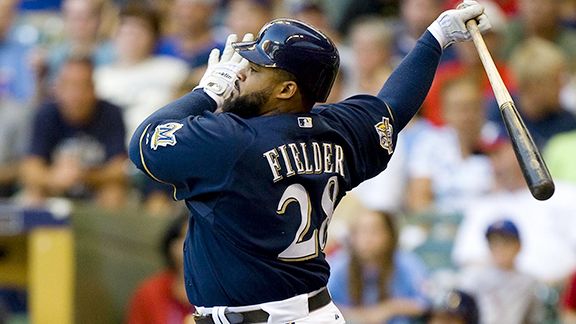 Jeff Hanisch/US Presswire
Prince Fielder received multiple standing ovations Sunday at Miller Park, with the Brewers faithful sensing it may have been his final home game with the team.
METS (76-79, fourth place/NL East) vs. MILWAUKEE BREWERS (73-82, fourth place/NL Central)
Monday: RHP Mike Pelfrey (15-9, 3.75) vs. RHP Dave Bush (7-13, 4.70), 7:10 p.m. ET
Tuesday: LHP Jon Niese (9-10, 3.95) vs. LHP Randy Wolf (13-11, 4.24), 7:10 p.m. ET
Wednesday: RHP R.A. Dickey (11-8, 2.92) vs. RHP Yovani Gallardo (14-7, 3.57), 7:10 p.m. ET
Thursday: RHP Dillon Gee (2-1, 2.00) vs. RHP Mark Rogers (0-0, 0.00), 7:10 p.m. ET
Brewers short hops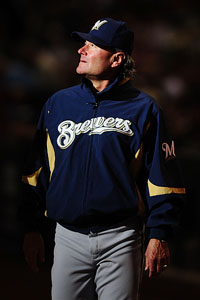 Mark J. Rebilas/US Presswire
Milwaukee's staff ERA ranks 26th in the majors under first-year pitching coach Rick Peterson.
Left fielder Ryan Braun had a pair of two-run homers against Florida Marlins right-hander Adalberto Mendez on Sunday, giving Braun 100 RBIs. Braun became the third player in Brewers history to reach that run-producing plateau three straight seasons, joining Richie Sexson (2001-03) and Prince Fielder (2007-09). … Fielder received a standing ovation Sunday when he batted in the eighth inning, then again when he was removed for pinch runner Alcides Escobar. The first baseman is not a free agent until after the 2011 season. But with Fielder having earned $10.5 million this season and arbitration-eligible a final time, the home crowd in the final game at Miller Park this season sensed Fielder (.267, 32 HR, 80 RBIs) likely will be traded. Pitcher Chris Capuano, reliever Trevor Hoffman, infielder Craig Counsell and manager Ken Macha also may have been participated in their final home games as Brewers on Sunday. The 40-year-old Counsell, who hopes to play somewhere next season, started at shortstop as a courtesy Sunday. He is a Milwaukee native. Macha is 153-164 in two seasons with the Brewers. … Casey McGee has 99 RBIs, including 97 as a third baseman. The tally at the hot corner matches Braun's franchise record for most by a Brewers third baseman in a single season. … Hoffman (6.02 ERA) notched his 600th career save Sept. 7, extending his major league record. However, the ex-Padre then went unused for 17 days. Hoffman had been deposed as closer by John Axford (22 saves in 24 chances) in May. … Right fielder Corey Hart has an 11-game hitting streak. He has 30 homers and 96 RBIs this season, after producing only 12 homers and 48 RBIs a season ago. … Pitcher Yovani Gallardo is hitting .262 with four homers and 10 RBIs in 61 at-bats this season. … Willie Randolph is in his second season as bench coach and Rick Peterson in his first season as pitching coach. Milwaukee has a 4.64 team ERA, ranked 26th in the majors. … Mark Rogers was the fifth overall pick in the 2004 draft. He missed the '07 and '08 seasons because of a pair of shoulder surgeries. Rogers made his first major league start and third appearance Friday and was pulled after three scoreless, no-hit innings that required 56 pitches. He had thrown only 17 pitches in games the previous two weeks.
Matchups
Pelfrey vs. Brewers (career: 1-1, 2.84 ERA)
Prince Fielder .500, 1 RBI, 4 AB
Craig Counsell .400, 5 AB
Ryan Braun .333, 3 AB
Mat Gamel .333, 3 AB
Chris Dickerson .200, 5 AB
Corey Hart .000, 3 AB
Niese vs. Brewers (career: 0-0, 15.00 ERA)
Manny Parra 1.000, 2 RBIs, 1 AB
Ryan Braun 1.000, 1 AB
Rickie Weeks .667, 1 HR, 1 RBI, 3 AB
Prince Fielder .000, 2 AB
Corey Hart .000, 2 AB
Dickey vs. Brewers (career: 1-0, 3.60 ERA)
Rickie Weeks .750, 2 HR, 3 RBIs, 4 AB
Joe Inglett .667, 2 RBIs, 6 AB
Jonathan Lucroy .667, 3 AB
Carlos Gomez .429, 7 AB
Alcides Escobar .333, 1 RBI, 3 AB
Prince Fielder .250, 4 AB
Ryan Braun .000, 5 AB
Corey Hart .000, 4 AB
Casey McGehee .000, 4 AB
Gee vs. Brewers (career: never faced)
Bush vs. Mets (career: 2-1, 6.00 ERA)
David Wright .429, 1 RBI, 7 AB
Jose Reyes .333, 9 AB
Carlos Beltran .286, 1 RBI, 7 AB
Luis Castillo .250, 1 RBI, 12 AB
Henry Blanco .000, 10 AB
Angel Pagan .000, 3 AB
Wolf vs. Mets (career: 12-5, 3.29 ERA)
Angel Pagan .500, 8 AB
Luis Castillo .377, 1 HR, 5 RBIs, 53 AB
Henry Blanco .264, 2 RBIs, 11 AB
Carlos Beltran .344, 3 HR, 9 RBIs, 32 AB
Jose Reyes .297, 2 HR, 3 RBIs, 37 AB
David Wright .296, 3 RBIs, 27 AB
Nick Evans .143, 7 AB
Mike Hessman .000, 1 AB
Gallardo vs. Mets (career: 1-1, 0.41 ERA)
Nick Evans .500, 2 AB
Jose Reyes .429, 7 AB
Luis Castillo .333, 6 AB
Carlos Beltran .333, 3 AB
David Wright .000, 8 AB
Ike Davis .000, 4 AB
Angel Pagan .000, 4 AB
Rogers vs. Mets (career: never faced)
Last series results:
Brewers won 2-1 at Miller Park, May 28-30 (AP game recaps)
Brewers 2, Mets 0: Corey Hart and the Brewers snapped the Mets' longest shutout streak in nearly 41 years, handing Yovani Gallardo a much-deserved victory after the stingiest outing of his young career. Hart ended the Mets' run at 35 scoreless innings with his two-out, two-run homer in the ninth. Gallardo pitched his first career shutout, thanks to Hart's game-ending hit. Matched up against Johan Santana, it looked like it would be another long night for Gallardo, who had received zero run support in his previous two career outings against the Mets. Santana pitched eight scoreless innings, allowing three hits in a super performance, but the Mets' bullpen couldn't keep stringing the zeros and New York's winning streak was snapped at five. Ryota Igarashi (0-1) gave up a single to Ryan Braun with one out in the ninth. After retiring Casey McGehee, Hart drove a pitch into the Brewers' bullpen for his 10th homer of the season and first career game-ending shot. The celebration was on a rarity at Miller Park, where the Brewers have the worst home record in the majors at 7-15 this season. Gallardo (5-2) was as good as he's ever been, using his 94 mph fastball to get out of trouble late. The Mets were coming off a shutout sweep of the Phillies. Gallardo was up to the task of matching the hottest pitching staff in the league. The right-hander, who signed a $30.1 million, five-year contract earlier this season to be the team's ace, found another gear each time New York threatened. In the ninth, he got out of a two-on, two-out jam, by freezing Angel Pagan on his 121st pitch -- a low, 94 mph fastball the center fielder didn't think was a strike. In the eighth, Rod Barajas poked a single through the left side, but was erased by Jeff Francoeur's double play grounder. With two outs, Santana hit a ground-rule double only to stay there when Jose Reyes struck out looking at the fastball.
Brewers 8, Mets 6: Corey Hart hit a grand slam and a two-run homer in his first two times up to lift the Milwaukee Brewers to a victory. Hart's homers in the first and third gave him 12 for the season, tying his total from last year. It also gave him three in three consecutive plate appearances. George Kottaras also went deep for the Brewers, who have won four of their last five at home after a 4-14 start at Miller Park. Ike Davis hit a three-run shot for New York, but the Mets dropped to 6-16 away from Citi Field. All 14 runs were scored in the first four innings. Todd Coffey (2-1) came in for Milwaukee with the bases loaded in the fifth and went on to retire seven straight batters after being forced to use a different glove from his light tan version. Carlos Villanueva pitched a perfect eighth and John Axford -- not all-time saves leader Trevor Hoffman -- pitched a 1-2-3 ninth for his second save. The three relievers combined to retire the last 13 batters. Hart struggled mightily in the spring and temporarily lost his starting job to begin the season. That's long forgotten now after nine homers and 19 RBIs in his last 14 games. Mets starter Fernando Nieve (1-3) got two outs to start the first before loading the bases on Ryan Braun's double and two walks. Hart hit a breaking ball that didn't move much over the Brewers bullpen on nearly the same path of his series-opener for his first grand slam. Kottaras added a solo shot in the second and Hart came out for a curtain call after his two-run homer off Oliver Perez in the third made it 7-3. Davis answered the next inning against reliever Marco Estrada to make it 7-6, but Rickie Weeks tripled to start the fourth and scored on a double-play grounder by Braun. A night after Johan Santana and Yovani Gallardo shut down hitters until the Mets bullpen blew the team's streak of 35 consecutive scoreless innings in the bottom of the ninth, the hitters got their revenge against spot starters. Nieve lasted two innings in his first start of the season, giving up five runs and Perez allowed three more. Brewers starter Manny Parra gave up three runs in three innings and Estrada was tagged for three more. The Mets scored a run in each of the first three innings off Jason Bay's ground-rule double in the first, Jose Reyes' two-out single in the second and Rod Barajas' RBI groundout in the third. The game was delayed several minutes after Coffey entered while home plate umpire Jeff Kellogg looked at his glove, which was close to the cream color of the Negro League throwback uniforms the Brewers wore. Hart became the fifth Brewer in franchise history to hit three homers in three straight plate appearances.
Mets 10, Brewers 4: The Mets' biggest hit in their best offensive effort of the season just barely reached the outfield. Luis Castillo's single in the sixth snapped an untimely skid, Angel Pagan homered and R.A. Dickey's knuckleball danced for seven innings to help the New York Mets avoid a sweep. The Mets beat up reliever Jeff Suppan (0-2) and Milwaukee's shaky bullpen on the way to matching season highs of 10 runs and 16 hits. The Mets (26-25) improved to 4-12 in May away from Citi Field and avoided dropping under .500 again after a promising five-game winning streak against the Yankees and Phillies stopped abruptly in Milwaukee. Castillo's dribbler against Suppan wasn't much, but it snapped a seven at-bat hitless streak for the Mets with the bases loaded. Pagan hit his two-run homer in the seventh and New York added four more runs in the ninth. Rickie Weeks homered twice for the Brewers. Dickey (2-0) was solid again in seven innings, his longest of three starts this season. His only trouble came from Weeks, who hit a leadoff homer and added a two-run shot in the seventh that cut the lead to 6-4. Weeks said he hit the knuckleball each time, but couldn't say how he did it. After career saves leader Trevor Hoffman pitched a perfect eighth for the Brewers, New York scored four more in the ninth off rookie reliever Zach Braddock. Trailing 2-1, Dickey also helped himself at the plate in the fourth with his first-career RBI on a single against Brewers starter Randy Wolf, whose miserable May finished with a flop as the Brewers remained the majors' worst home team at 8-16 in Miller Park. Wolf was 2-3 with a 5.50 ERA in six starts in May and walked five Mets in five innings. Still, he avoided major damage because New York failed to get the big hit off of him. With the bases loaded in the first, Wolf allowed only a sacrifice fly to David Wright despite two walks in the inning. Wolf also walked the bases loaded in the third but escaped unscathed. The Mets were batting .188 with the bases loaded before Castillo stepped to the plate in the sixth. Suppan allowed consecutive one-out singles to Francoeur and Henry Blanco before Dickey's sacrifice bunt. Jose Reyes, who has an eight-game hitting streak, was intentionally walked to load the bases, and Castillo came through. Suppan's role moving forward is unclear. The Brewers haven't wanted to cut him and owe him the rest of his salary, which includes a $2 million buyout, but he's struggled since being removed from the rotation after two starts. Wright tied Mike Piazza for sixth on the Mets' career hits list with 1,028.