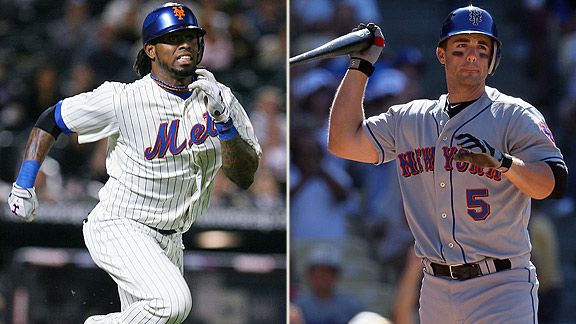 Getty Images
There was not enough Jose Reyes flying around the bases and too many frustrating strikeouts for David Wright in 2010.
While the other New York team is getting ready for its first postseason game, the other is retooling for 2011. The new administration is going to have its hands full reviewing that which took place both on-and-off the field for the 2010 Mets.
Our own review follows here in the style in which we conducted monthly reviews of May, June, July and August. We'll do position players today, pitchers another day.
Let's take a look around the diamond at the most significant "developMETS" for 2010, with the help of our usual tools from Baseball-Reference.com, Fangraphs and Stats LLC.
We Like Ike
The Mets played Ike Davis through times of success and struggle and there was a good payoff by the end of the season. Davis finished with 601 plate appearances, more than any first-year major leaguer has for the Mets.
The best thing that could happen to Davis after his early successes was that he went into a funk that was the product of swinging at a lot of breaking balls out of the strike zone. The Mets viewed this as a learning curve for a young player and let him play through it.
Darryl Strawberry vs Ike Davis
Rookie Seasons
The good thing is that Davis figured things out. Our Inside Edge video review data indicates he chased 37 percent of breaking balls out of the strike zone in June/July, but only 18 percent from August 1 on.
As a result, Davis went from walking once every 28 plate appearances (in June) to once every seven (August to the end of the season), and he closed strong, with a .952 OPS in September/October.
Defensively, the advanced metrics like him a lot. Davis finished second in the majors behind Oakland's Daric Barton, in +/- rating (the ability to turn batted balls his way into outs), and Runs Saved (combining his +/- with his bunt defense).
Where does his rookie year rank among position players in Mets history? Take a look at the numbers and decide for yourself whether his tops the Mets' best -- Darryl Strawberry's 1983 campaign.
Second to None
Mets second basemen had offensive numbers that were almost unprecedented.
Mets vs MLB
Second Basemen in 2010
Not only did they rank worst in baseball this season with a .592 OPS (next-worst was the Indians, .624), but you could argue that they were the worst in club history.
The only year in which Mets second basemen had a worse OPS than they had in 2010 was in 1968 (.556).
But if you look at their positional OPS+ (comparing their OPS to that of the average second baseman that season), the 2010 squad had a positional OPS+ of 66.
The 1968 second basemen rated significantly better compared to their positional peers (albeit still bad), an 80. That's our justification for calling the 2010 group the worst offensive combo the Mets have ever had.
At least Luis Castillo, Ruben Tejada and Alex Cora can take heart that there is a group of players worse off than them with the bat. Mets second basemen slugged .289. The only team who got worse pop from a position was the Orioles, whose shortstops slugged .272.
Who Stole Reyes' Speed?
Jose Reyes had the worst base-stealing season of his career, and that should concern the GM who has to decide on Reyes' $11 million option for 2011.
Reyes, via Baseball-Reference.com, had 216 opportunities to steal (meaning a free base in front of him when he was on first or second). He finished with 30 stolen bases in 40 attempts.
Those numbers are low, relatively speaking. Historically, Reyes has netted a stolen base around once for every four opportunities. This year, the rate was one every seven opportunities.
Reyes did improve in one area -- he took extra bases on hits more frequently than any season since his rookie year, 2003, but it still felt as if something was missing in terms of his aggressiveness on the bases.
David Wright, Road Worrier
If I could take/trash one statistical story from the 2010 Mets season, it would be the one regarding David Wright's strikeout total.
Looking back at what I've written this season, this is the story that I've touched upon most often (and a couple colleagues have taken cracks at it too), and I've been rather harsh on Wright. That's what happens, I suppose, when an A-level player turns in a B+ kind of season. I'll pick one more nit of his here.
A large reason for Wright's record-breaking 161 strikeouts was due to his performance in road games. He finished the season with a .278/.326/.508 slashline in road games, but more notable was his strikeout to walk rate –- 92 to 24.
That's not very Wright-like. His career strikeout-walk rate on the road entering the season was 1.8 to 1, much much better than his performance this season. He hadn't posted a rate worse than 2 to 1 since his debut year, 2004. And he'd never struck out more than 71 times in road games in any season until this year.
David Wright in 2010
Splits from Fangraphs.com
There's pretty clear intent that Wright was trying to hit for more power on the road than at home, an educated guess based on looking at his line drive and fly ball rates.
Was it worth it?
Wright upped his road home run total from five in 2009 to 17 in 2010, but it came at price. For the first time in his career, Wright had more ROAD strikeouts (92) than hits(87). There's no other season in his career in which he even came close to exceeding his road hit total with his strikeout tally.
Yes, Wright did hit for more power on the road, by a little bit (16 percent of his fly balls left the park in road games; 14.8 percent in home games). But was their value in hitting with this kind of approach? By our counts, no.
Angel in the Outfield
Name a non-rookie Mets hitter who EXCEEDED expectations this season. We can name one: Angel Pagan.
For every other outfielder on the roster, struggle was a part of their baseball vocabulary, but Pagan did his best to make up for the issues of Jason Bay, Carlos Beltran and Jeff Francoeur.
Pagan hit .291 with a .428 slugging percentage as an outfielder, beating all the Mets other outfielders combined by nearly 50 points in each. Defensively, Mets outfielders combined for 19 runs saved. Pagan had 14 of them.
Of course, when the best thing you can say about your team is that Pagan had a career year, that's a pretty good tell that this wasn't a good offensive season.
Catch Me If You Can
The Mets allowed 51 stolen bases this season, fewest in baseball, and while some may credit that to the pitching staff, we want to give the catchers their props.
We knew going into the season that Henry Blanco was good and he proved it, throwing out 11 of 22 who hoped to steal against him.
What was a concern was the defense of Josh Thole, who finished a respectable 8-of-22, and actually had a better innings caught/steals allowed rate than Blanco did.
The question though is what Thole can do on the offensive end, and against right-handers his splits are tolerable for someone lacking power .299 BA/.381 OBP in 174 at-bats.
He'd seem to be a keeper, but a priority this offseason should be finding a catcher who can hit lefties. Thole, Rod Barajas and Blanco hit a combined .163 vs southpaws in 2010.
Pinch Me
You don't realize how hard it is to find a good pinch-hitter until you take a closer look at the stats. National League pinch-hitters batted .223 with a .293 on-base percentage in 2010 and that's not far off from what they do on an annual basis.
In Chris Carter, the Mets found someone who can handle the role well. Carter finished with a .328 batting average and 19 hits as a pinch-hitter. He performed in a manner resembling those who were some his best predecessors: Rusty Staub, Matt Franco, and Marlon Anderson, while his cohorts in reserve performed at a below-average level (.203 batting average).
With runners on base, Carter was a valuable bat over a limited sampling. In 28 pinch-hitting situations, he had 10 hits, two walks, and advanced runners via out on three occasions. He made the most of his opportunity, doing just about everything that could be asked of him. Will that warrant another look in 2010? We hope so.
Pitching In
We'll do another piece in the near-future that focuses on the prowess of Mets moundsmen who kept the team's performance respectable, but felt we should give them credit for their work with the bat here to close this piece out.
Sparked by a Johan Santana home run and R.A. Dickey's intelligent plate approach, Mets pitchers had their best season in a long time, and were among the best at their position in the National League. And this team needed that.
2010 Mets
NL Ranks
Mets pitchers had their best on-base percentage(.208) since 1988 and their best slugging percentage (.211) since 1989. Three different pitchers (Dickey, Santana and Jonathon Niese) had at least 10 hits, the first time the Mets have had that happen in 20 years.
For the 2010 Mets, a team that ranked among the NL's worst in the most significant stats (runs and on-base percentage), it truly was "The Year of the Pitcher" in more ways than one.