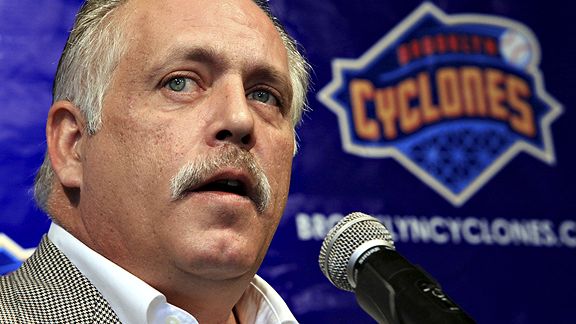 AP Photo/Bebeto Matthews
Wally Backman pictured last November when the Mets officially name him Brooklyn Cyclones manager.
Wally Backman clearly is a fan favorite for Mets manager. Well, back in June, ESPNNewYork.com spoke with a pair of major leaguers who had played for Backman in the minors. Here's what they said:
"He's one of my all-time favorite managers -- just people in baseball, bottom line," said Florida Marlins second baseman Dan Uggla, who played for Backman at high-A Lancaster (California League) in the Diamondbacks system in 2004, on a team that also included Mark Reynolds, Conor Jackson and Carlos Quentin. "He really cares about the game. He really cares about his players. And he cares about winning. Wally, I know he's been through some tough times, but he is seriously one of the best guys I've ever met in baseball. He helped me out a ton."
Said ex-Met Jeremy Reed, who played for Backman at Double-A Birmingham in '03, in the Chicago White Sox's system: "He's definitely the best manager that I've had throughout the minor leagues. He puts people in situations to succeed. He's a fiery guy, a hard-working guy and a guy that when you play for him, you want to succeed so much because of the way he goes about his business every day. Every day we had to work tremendously hard to get better before the game. And then after the game, if things kind of didn't go our way, he was still the same way and still respected the player. He didn't bash the player. Sometimes you get a cold shoulder from a manager. He was the same every day, and it was fun to go to the park every day."
Uggla and Reed both maintained Backman's fiery side rubs off on his players. Of course, Backman had his share of ejections -- six alone in the season with Lancaster, to go along with two suspensions, the second for 10 games for bumping an umpire.
"Well, obviously he's very passionate with protecting his players," Uggla said. "I'll tell you what, if you play for Wally Backman, you're going to be able to run through a brick wall, because we have the same emotions toward him as he has toward us. I mean, I would have run through a brick wall for him. Everybody is playing hard -- I think playing above their ability -- when they play for a guy like that.
"Of course, he's going to go out and argue calls and he's not scared of getting ejected. He had some five- and 10-game suspensions there. It was pretty cool to see him get out there and get your back and argue calls, and do it the way he did."
Reed praised Backman's communication skills.
"I played every day for him, but he would let me know ahead of time if I wasn't in there," said Reed, who is now with the Toronto Blue Jays. "You could just have conversations. He'd call me into his office and ask me if there was anything I felt like I needed to do differently, if I needed a day off. Just the communication was very solid. You just don't get that at a lower level. You get that a little more at the big league level because I think guys kind of know their role a little more. At the minor league level, you don't really get that, because for the most part they have their guys they have to play. But he found a way to get every guy in there regardless of what their situation was. To be honest -- and I'm not a pitcher -- I think it was the best I've ever seen a minor league manager run a bullpen."
Uggla struggled to find a manager who is comparable.
"I heard Larry Bowa was very energetic," Uggla said, trying to find a parallel. "I wouldn't say Lou Piniella, because I've never played for him. I've only seen him on the field with arguing calls. No. I wouldn't say there's anyone like him.
"He's old school. That's who he is. Nobody cares. He's Wally."