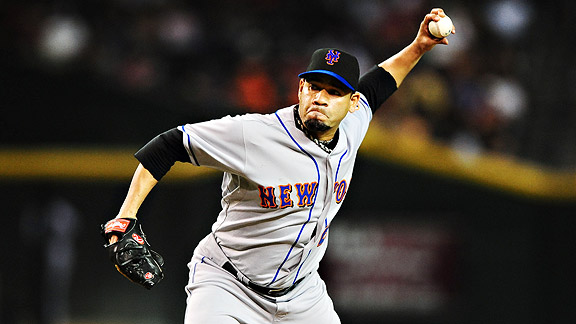 Mark J. Rebilas/US Presswire
Pedro Feliciano is staying in New York, but relocating to the Bronx.
Pedro Feliciano, who had been the longest-tenured Mets, unless you disqualify him for spending the 2005 season in Japan, is remaining in New York and has agreed to terms with the Yankees.
The deal is worth two years, $8 million, and includes a club option for 2013, according to Foxsports.com. The Mets never showed an inclination to sign Feliciano to a multi-year deal, which basically left him with no realistic option of returning.
The 34-year-old Feliciano set Mets franchise records for relief appearances each of the past three seasons, with 86, 88 and 92. His highlight as a Met was the run through the postseason four years ago, though.
"When we went to the playoffs in '06, that was the first time going to the playoffs, and we almost went to the World Series," Feliciano said. "And we lost the last game to St. Louis. But I think that was the most emotional time."
It was then-pitching coach Rick Peterson who had Feliciano drop down to a low three-quarters arm slot in '04, which dramatically increased his effectiveness against left-handers and set him up for the career that now includes the lucrative deal in the Bronx. Feliciano said he already had been considering it.
"I had that in my mind," he said. "Before I dropped down, I was thinking, 'Next year I'm going to come a little more sidearm.' All of a sudden, they said, 'Let's drop you down.' They put in my mind that Buddy Groom and all those guys, they were average lefties, and then they dropped down and changed from average to one of the best. I started working out."
As for his intense workload, Feliciano said he does not feel as though he is wearing down.
"Not at all. I work hard for every year," Feliciano said. "I don't let down and just do what I did last year. I want to keep proving I can do more than what I did last year."
He took a lot of pride in pitching in so many games as a Met over the past three seasons.
"After I broke the record the first time, I just tried to put in my mind that I tried to break it again, and I did it," Feliciano said. "This past year I just put in my mind that if I could break it again I would do it. And I did it."
Read the full news story here.