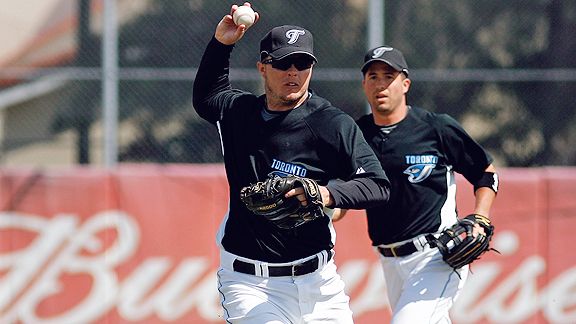 J. Meric/Getty Images
Brad Emaus aims to make the Mets' Opening Day roster as a Rule 5 pick from the Toronto Blue Jays.

Brad Emaus' road to the majors as a Toronto Blue Jays second baseman seemed blocked with Aaron Hill as the team's starter.
Emaus, selected by the Mets in this year's Rule 5 draft after the Blue Jays left him unprotected, has no such obstacle with the Mets.
He will be given a look at second, along with Daniel Murphy, Luis Castillo and Justin Turner.
Emaus was one of two Rule 5 selections by the Mets. The other is right-hander Pedro Beato, who will be given an opportunity to earn a bullpen spot.
Each player must remain on the major league roster for the entire season. Otherwise, the player must be placed on waivers, then be offered back to his former club if he clears.
"I'm very excited about it. I'm looking forward to going into spring training and showing them what kind of player I can be," Emaus said Sunday afternoon, between games of a doubleheader for the Toros del Este, for whom he is hitting .270 with four homers and 17 RBIs in 34 games, while also playing third base. "I've just got to play my game. If they like what they see, then they'll put me on the team. If they want me on their team, then that will be their position."
The 24 year-old is open to learning other positions on the field and would be willing to learn outfield to further help his chances out, saying he would "play anywhere they ask me to play. Every kid's dream is to make the big leagues. However they need to use me, I'm OK with that."
Emaus split the 2010 season in Toronto's minor league system between Double-A New Hampshire and Triple-A Las Vegas. He hit .290 with 15 home runs and 75 RBIs. The Mets particularly value his ability to walk more often than strike out.
He is now reunited with former Jays GM J.P. Ricciardi, whom he has yet spoke to but will be looking forward to doing so once he returns to the States.
"I've though we've always had a good relationship," Emaus said. "He's always been very personable with me and kind of let me know where I stand all the time."