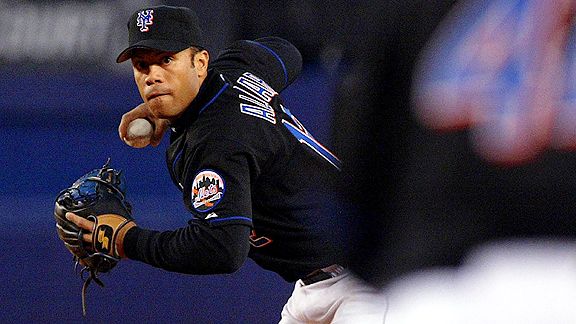 Jeff Zelevansky/Icon SMI
Newest Hall of Famer Roberto Alomar played for the Mets in 2002 and '03.
Cooperstown is welcoming Roberto Alomar, but Tom Seaver remains safe for now as the only inductee recognized with a Mets cap on his plaque.
Alomar becomes the 14th player, manager or executive with ties to the Mets to be elected to the Hall of Fame. He joins Richie Ashburn, Yogi Berra, Gary Carter, Rickey Henderson, Whitey Herzog, Willie Mays, Eddie Murray, Nolan Ryan, Tom Seaver, Duke Snider, Warren Spahn, Casey Stengel and George Weiss.
"All of us at the Mets congratulate Roberto Alomar on baseball's most prestigious honor, his well-deserved election into the Hall of Fame," chief operating officer Jeff Wilpon said in a statement released by the team.
Said Carlos Beltran, also in a statement: "I'm thrilled for Robbie. He's a personal friend. No one played his position better. Just look at his numbers and accomplishments. As a native of Puerto Rico, I'm also honored for my country that such a distinguished player will be in the Hall of Fame."
Alomar, a selection in his second year eligible for the honor, had perhaps his least-impressive season and a half as a Met.
Acquired by then-GM Steve Phillips on Dec. 11, 2001 from the Cleveland Indians with Mike Bacsik for highly regarded prospect Alex Escobar as well as Matt Lawton, Jerrod Riggan, Earl Snyder and Billy Traber, the trade came during a wild offseason for the Mets that lifted the payroll to a new high of $119 million.
Also obtained that offseason: Mo Vaughn, Jeromy Burnitz, Pedro Astacio and Roger Cedeno.
Alomar, who turned 34 before arriving in spring training in 2002, hit .266 with 11 homers, 53 RBIs and 16 steals that season as the Mets finished 75-86 in Bobby Valentine's final year as manager.
Alomar's strongest performances came in Denver, where his father Sandy Alomar Sr. was a Rockies coach, and in his native San Juan, where the Mets faced the Expos. That led to questions about his overall effort. Alomar expressed disappointment at the time with the Mets' lack of ethnic diversity, and the comfort level for Hispanic ballplayers.
Phillips was fired in June 2003, and Jim Duquette was charged with dismantling the underwhelming Mets. The interim GM sent Alomar to the Chicago White Sox on July 1, 2003 for Royce Ring, Edwin Almonte and Andrew Salvo.
Alomar's full statistics for his Mets career: .265, 13 HR, 75 RBIs in 863 at-bats.
Here's a small part of what I wrote for the Daily News after the 2003 trade:
He disputed the suggestion he felt uneasy in New York, but offered: "Sometimes it helps when you're playing with a team that has a chance to win. You get motivated when you go to the ballpark. Going to the White Sox, I'm real positive and I'm going to go out there and start playing the way I'm capable of playing."
As for whether he tarnished his Hall of Fame credentials, Alomar said: "If you guys are going to judge a player like that, you guys are wrong. Two years of your career are not going to make you go into the Hall of Fame or not."
Art Howe and Duquette tried to put their finger on why he wasn't himself in New York.
"He was from the left side. Right-handed he couldn't find his stroke," said Howe, noting Alomar batted .304 against right-handers and .171 against southpaws.
Said Duquette: "I don't know the answer to that. I do think him going to the American League and being around his brother he'll have a new, fresh start there. I wouldn't be surprised."
Alomar's confidante, Ray Negron, suggested Alomar wasn't a good fit for the Mets.
"He didn't feel comfortable here," Negron said. "It's a whole different life. The New York player has to go through so much more than players around the league. Robbie's the type of guy that puts so much on his shoulders."
Also with Mets ties, John Franco (4.6 percent), Al Leiter (0.7 percent) and John Olerud (0.7 percent) received less than 5 percent of the vote and will drop off the ballot.
Mike Piazza retired after the 2007 season, so he has two years to go before being out five years and being eligible.