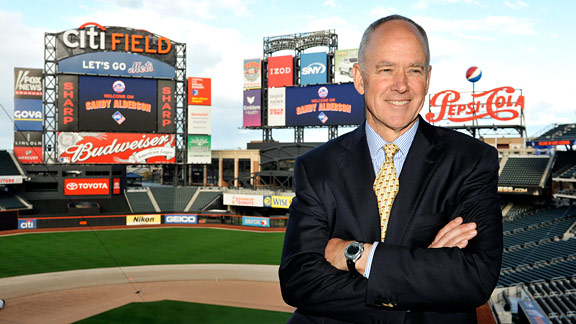 AP Photo/Kathy Kmonicek
Sandy Alderson, pictured posing with Citi Field as a backdrop after his introductory news conference, could not have foreseen the current ownership circumstances.Knowing what he knows now, would Sandy Alderson have accepted the Mets' general manager job?
He can't really answer that at the present time -- not if the answer is "no" at least. After all, that wouldn't look too good. And it certainly calls for speculation on our part.
This much is clear: It's indisputable that Alderson accepted the job under different circumstances than now exist. At the very least, there should be some form of new ownership structure above Alderson going forward, which he could not have anticipated.
If you believe Fred and Jeff Wilpon's insistence since the outset of the Bernard Madoff affair was genuine that the Mets would be unaffected by Ponzi scheme, then you accept that circumstances changed when the clawback lawsuit was filed in December, reportedly seeking hundreds of millions of dollars from the Wilpons. And that was a full two months after Alderson was hired. So it's possible that the payroll understanding he had for the franchise going forward may now need to be altered from the original expectation.
(A separate question is how the Wilpons failed to foresee that clawback lawsuit, especially in light of The New York Times report that the Wilpons were compelled to pay back $12.9 million two years ago under near-identical legal circumstances as the result of a different Ponzi scheme.)