The Brooklyn Cyclones officially announced their coaching staff Monday, naming Rich Donnelly as manager, ex-Met Frank Viola as pitching coach and ex-farmhand Bobby Malek as hitting coach.
Here's the official release from the team:
The coaching staff for the 2011 Brooklyn Cyclones has been announced and features some familiar faces. Rich Donnelly will serve as the team's new manager, while 1988 Cy Young Award winner and East Meadow, Long Island, native Frank Viola joins the team as its new pitching coach. Rounding out the staff will be former Cyclones outfielder Bobby Malek, who returns to Coney Island as the team's hitting instructor.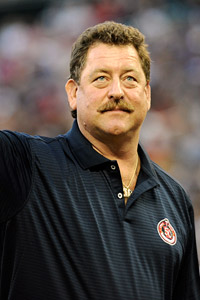 Hannah Foslien/Getty Images
Frank Viola is rejoining the Mets organization as pitching coach at Class A Brooklyn.
Donnelly, 63, begins his first season with the organization and becomes the eighth manager in Cyclones history. The Steubenville, Ohio, native began his coaching career in 1972, serving as a minor league manager in the Texas Rangers' farm system. In 1980, Donnelly joined the Rangers' major league staff as the bullpen coach before returning to the minors for two more seasons. Starting in 1983, he began a string of 26 seasons working on the major league level including 14 years as a member of Jim Leyland's coaching staff with Pittsburgh, Florida and Colorado. Donnelly served as the third base coach for the Marlins during their 1997 World Series title run. Originally signed as a catcher by the Minnesota Twins in 1967, he was a third base coach with the Milwaukee Brewers from 2003-2005 and played the same role for the Los Angeles Dodgers from 2006-2007. For the last three seasons, Donnelly has worked as a roving instructor for the Pirates while also serving as a motivational speaker.
Viola, 50, who spent 15 seasons in the major leagues as a pitcher with the New York Mets, Minnesota Twins, Boston Red Sox, Cincinnati Reds and Toronto Blue Jays from 1982-1996, will now begin his coaching career with the Cyclones. A three-time All-Star, he was named the World Series MVP with the Twins in 1987 and won the American League Cy Young Award in 1988. That season, the left-hander went 24-7 with a 2.64 ERA for Minnesota while collecting 27 of a possible 28 first place votes. In July 1989, Viola was traded to the Mets and went 38-32 in his three seasons in the orange and blue. Nicknamed "Sweet Music," Viola coached Lake Highland Preparatory School in Orlando, Fla., following his retirement and more recently has worked in television as a part-time announcer for the Boston Red Sox on NESN.
Malek, 29, enters his third season as a coach in the Mets minor league system and his first with the Brooklyn Cyclones. Originally selected by the Mets in the fourth round of the 2002 MLB draft out of Michigan State University, the Livonia, Mich., native began his professional career with Brooklyn in 2002. The two-time college All-American hit .207 (23-111) with Brooklyn in 28 games before having his season cut short due to injury. Before retiring from his playing career in 2008, Malek made it as high as Triple-A Norfolk of the International League in 2006.
"We are excited to welcome our new staff to MCU Park," Cyclones General Manager Steve Cohen said. "It's a wonderful thing to have a Cy Young Award winner like Frank Viola guiding our young pitchers, and we look forward to a great 2011 season with all of our coaches."
Season Tickets, Mini Plans and Group Tickets for the 2011 season are available now at brooklyncyclones.com and 718-37-BKLYN.