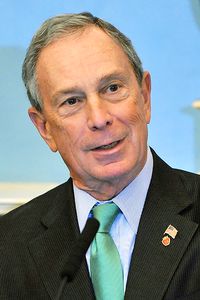 Slaven Vlasic/Getty Images
Mayor Bloomberg
You can count the Mayor out.
Mayor Michael R. Bloomberg said Thursday he will not invest in the New York Mets. His comments came while promoting his "WakeUp! NYC" campaign at Isaac Newton Middle School in Manhattan.
"I don't think that I should own a baseball team," Bloomberg said. "I have tickets at the Mets and the Yankees for my daughters to go and I enjoy baseball and a beer and a bag of popcorn there. But, rest assured, I'm not going to buy a baseball team or have an interest in it."
He also briefly touched on Bernie Madoff and Fred Wilpon.
"I don't know anything about his [Wilpon] relationship with Bernie Madoff," Bloomberg said. "I can just tell you the Wilpons have been a very generous family, they've supported an awful lot of things in New York City and they're really nice people and very generous and I have no idea what their relationship was."