Brad Emaus reached the College World Series with Tulane in 2005 as a freshman. Then, that summer, New Orleans endured Hurricane Katrina.
"The day Katrina hit was the day I was supposed to head down for the fall semester," said Emaus, a Rule 5 pick from the Toronto Blue Jays, who is vying for the second-base job. "I was still [home] in Atlanta. I watched everything on TV, kept in touch with the coaches, and they told us to stay home. I think we sat there 10 days or so. Maybe two weeks. They sent us over to Texas Tech -- us and the women's basketball team. I did a semester at Texas Tech and then came back after that."
Emaus said Tulane lost one or two recruits during the upheaval, but the team remained intact.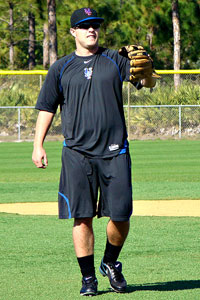 Adam Rubin
Brad Emaus was uprooted with the Tulane baseball team in 2005 when Hurricane Katrina hit New Orleans.
"Nobody transferred because of Katrina," Emaus said.
As for the campus upon his return, Emaus said: "The actual university was fine. It got flooding, but it was all gone by then. It was when you were driving in, you just saw layers and layers of trees down, brick buildings that were just destroyed, houses destroyed."
Emaus lived off-campus in an area that was more directly affected.
"I had just moved in that summer to a two-bedroom place," Emaus said. "I was on the bottom level. And then I got another roommate, so we moved up to the top. The bottom had 18 inches of flooding, so it actually ended up working out for me that we moved an apartment up that summer, right before Katrina."
As for the experience being displaced at Texas Tech, Emaus said: "They took great care of us. They helped everybody out, gave us meal money. Really, the whole student body took us in. It was nice."
Upon returning to campus for the spring semester, Emaus said, "It was almost like people were more proud to be at the university. Because, you know, everybody went to a different school for a semester. Everybody kind of came together after that. It was neat to see that."
Emaus played the next two seasons with Tulane at Zephyr Field, home of the Mets' former Triple-A affiliate.
"It destroyed our stadium," Emaus said about Katrina. "They were actually rebuilding our stadium when it hit. So it completely destroyed the rebuilding and it took almost two and a half years to get our stadium built."
After his junior year, Emaus was drafted by the Blue Jays in the 11th round.
He has two semesters remaining for a degree in media arts and advertising. Emaus went back one semester after he was drafted.