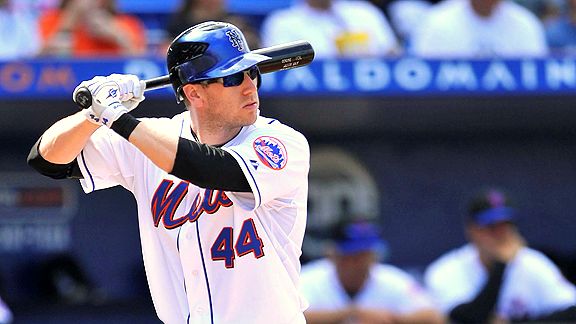 Brad Barr/US Presswire
Jason Bay's return to action was one of the Mets' highlights.The Mets twice rallied from deficits in their final half-inning at the plate, getting a game-tying double from Jordany Valdespin in the ninth and a two-run homer from Willie Harris in the 10th en route to a 5-5 tie with the Atlanta Braves in Saturday's Grapefruit League opener.
"It's real easy to say it's a spring-training game, but they came back and came back," Terry Collins said.
Collins had not managed against another major league team since skippering the Angels in 1999, so he did view the Grapefruit League opener with Fredi Gonzalez managing Atlanta in the opposite dugout as a special occasion.
"Absolutely," Collins said. "That's why we wear the uniform -- to play the game. It was a lot of fun. I couldn't wait until today got here."
Here are postgame tidbits:
• Jason Bay went 1-for-2 and played four innings in left field in his first game action since getting shut down in late July after suffering a concussion at Dodger Stadium. Read the news story here.
• Harris, whose Range Rover was struck on I-95 on Friday night, severely damaging the vehicle, pinch ran for Daniel Murphy in the ninth with the Mets trailing by a run. On Harris' attempted steal of second, Chin-lung Hu sent a single through the vacated hole at second base, advancing Harris to third, from where he scored to tie the game at 3 on Valdespin's double.
Collins pledged to use Harris in those pinch-running situations during the regular season.
"I told Murph: 'It's just the situation of the game where I was going to put him in and let him try to steal a base and see if we might tie the game up,' just to do it," Collins said. "That's kind of what you'll see him do. That's why we got him."
Harris then delivered a game-tying two-run homer in the 10th off Michael Broadway.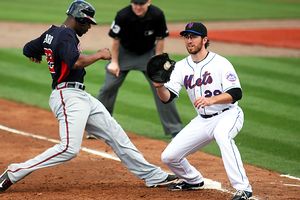 Marc Serota/Getty Images
Ike Davis fields the throw to first base on a pick-off attempt.
• Jenrry Mejia was particularly excited to draw the first Grapefruit League start. He surrendered one run, when Braves prospect Freddie Freeman doubled in the second inning and ultimately scored on a wild pitch.
Mejia, as has been noted, is ticketed for the Triple-A rotation to open the season. He was particularly enthused by his curveball.
"When I was in the big leagues last year, I didn't have that breaking ball too good," Mejia said. "When I went back to the Dominican Republic, I worked hard with my breaking ball."
Said Collins: "He threw the ball good. Not only that, he used his changeup today, which I thought was really, really impressive. His breaking ball was better. He got a big strikeout on a breaking ball. He used it. He used it in situations. He didn't just stay with that little cutter he throws. He actually threw some balls that ran away. I'm telling you, I think this guy is going to be really good."
Collins said Mejia's curveball is closer to big league ready than his changeup.
"Those guys with those great big thick hands, sometimes they have a little trouble getting a feel for the changeup," Collins said. "And that's why he's been making sure he works on it in the bullpen. But his curveball is really what's gotten better."
• Lucas Duda twice left the bases loaded. With the score tied at 3 in the ninth, he popped out to ex-Mets farmhand Shawn Bowman near the Mets dugout to end the threat. Duda also hit into a bases-loaded double play to end the fifth.
• Fernando Martinez belted a two-run homer against right-hander Craig Kimbrel, although the outfielder said afterward he did not know who he was facing.
"I don't know the name, but he throws a little hard," Martinez said.
Martinez termed the start "very nice -- better than last year."
As for his arthritic right knee, which forced him to be shut down after one winter-ball game in his native Dominican Republic, Martinez said: "Everything is fine."
• David Wright made a stellar diving stop toward the line and threw to Ike Davis at first base to retire Eric Hinske to open the second inning. Afterward, invited to make an in-your-face comment to anyone who cites defensive metrics such as UZR about this range, Wright quipped: "I'm not going to try to begin to understand what any of that [statistical analysis] means."
• Luis Castillo's long shot attempt to remain a Met got off to a positive start. He lined a single in front of Hinske in left field in the first inning off Jair Jurrjens. In the field, he turned a quality 6-4-3 double play and also retired Brian McCann in the first from the outfield grass.
"There's no question he has something to prove," Collins said. "I don't hang out in the weight room or the training room, but I'll bet he's 10 to 15 pounds lighter than he was last year. So he got himself in great shape -- as good a shape as he can be in. So I'm anxious to continue to watch him play this spring to see what he does."
Lumping Oliver Perez in with Castillo, Collins continued: "I don't want this to sound like I'm on the people that were here before us, but this is a new day for these guys. Whatever happened in the past when they were here, whatever something that might not have gone well for them, they have to understand they have a fresh start here. Take a big deep breath, look in the mirror and say, 'Hey, I've got another chance. Now what are you going to do with this opportunity?' And that's all we've been talking about. And both guys have said, 'I'm ready to go. I'm going to make this team.'"
Chris Young, Pat Misch and Perez are each scheduled to throw two innings apiece Sunday at Disney against the Braves. As for what he would like to see from Perez, Collins said: "I think the one thing I want to see is Oliver relax on the mound and go after the strike zone -- pound the strike zone. Because, obviously, I think if there's something I've read about him, it's that he pitches around the strike zone. I want to see if he goes after hitters. That's what I'm looking for.
"One of the points I've always looked for when you're trying to get somebody to do something on the sideline is can they apply it when it becomes game time. And can they take that in with them? I realize it's his first outing. I realize his breaking ball may not be real sharp. Or his changeup not be really good. But has he got the command of it? That's what I'm going to look for."
• Pedro Beato surrendered a homer to Hinske, but Collins said he like how the Rule 5 pick incorporated the longer stride length Francisco Rodriguez and pitching coach Dan Warthen worked with him on the previous day in the bullpen.
"Oh yeah," Collins said. "Stride. Good arm. Good breaking ball. I was really impressed. And Taylor Buchholz [two scoreless innings] -- he was another one who threw very, very good."
• Collins acknowledged Carlos Beltran is not that close to DHing in a Grapefruit League game. The manager said he would not want Beltran to go lightly to first base while being cautious and then have observers question whether his right knee is healthy.
"Not until he's ready to run," Collins said. "It's more than days until he's ready. I told Carlos if he wanted to get some DHing in, and he said, 'Yeah.' But I'm not going to put him out there until he tells me he's ready to go. I'm not going to embarrass him because he's not ready to run the bases and have him hit a fly ball and not really run like he can to first base and then have everybody on him, 'Well, his knee's hurt. He's not running. He's not hustling.' I will never embarrass him like that, until he's ready."
• A day after Warthen mentioned left-hander Tim Byrdak as someone who could pitch full innings, Collins agreed that's not Byrdak's optimal usage because he has far more success against left-handers in his career than right-handers (.202 vs. .288). Collins said he could use Byrdak in season to face a lefty and leave him in for a righty batter or two if another lefty is due up. But that's not ideal usage.
• Right-hander Scott Moviel will be borrowed from the minor league side for Sunday's trip to Disney in case the Mets run out of pitchers. In addition to Young, Perez and Misch, Boof Bonser, Ryota Igarashi and Mike O'Connor also will be on the trip. The split-squad home game against the University of Michigan includes Chris Capuano, Dillon Gee, Taylor Tankersley, Bobby Parnell, Blaine Boyer and Byrdak.