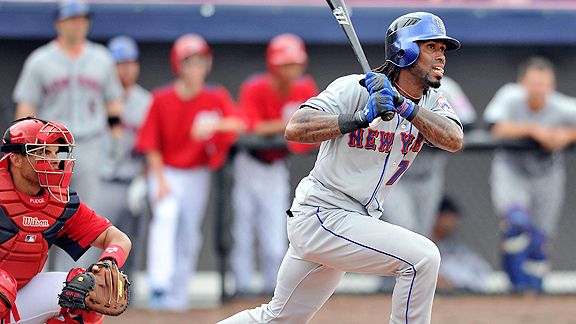 Steve Mitchell/US Presswire
Jose Reyes doubles in his first at-bat Tuesday against Washington. He then scored on David Wright's sacrifice fly.
The Mets lost their second straight, falling in Viera to the Washington Nationals, 5-3.
Here's a summary:
• Jose Reyes' legs sure seemed fine Tuesday. Reyes opened the game with a double off Washington Opening Day starter Livan Hernandez and advanced to third base on a flyout by ex-National Willie Harris. Reyes then narrowly scored ahead of strong-armed Jayson Werth's throw from right-center, giving David Wright a sacrifice fly and RBI.
"That's what I've been doing all my career when I'm on the field -- get on base in the first inning and score right away," Reyes said. "One year I think we led the league in scoring in the first inning. That's something that I'm looking forward to do all the time."
• Jon Niese, who is scheduled to start Game 2 of the season, after Mike Pelfrey gets the opener in Miami, limited the Nationals to two hits and two walks in three scoreless innings in his first 2011 Grapefruit League appearance. His outing ended on a 5-3-5 double play. Wright fielded a grounder and retired Ian Desmond at first base. Ike Davis then returned the baseball to Wright, who tagged out Chris Marrero trying to advance from second to third base.
Niese was disappointed that he issued two-out walks in each of his first two innings.
"Obviously there's more things to work on," Niese said. "Those two walks -- you can't issue two-out walks. I think I need to do better working ahead in the count. Once I work ahead, it's less pitches, obviously, and it makes it easier."
Said catcher Josh Thole: "I thought he was great today. I really did. He used all of his pitches effectively -- cutter, curveball, changeup."
Manager Terry Collins fully expects Niese to have a better season because the southpaw should know how to pace himself now. Last year, Collins felt, Niese wilted in September.
Niese had a 2.67 ERA in June, 2.48 ERA in July, 4.43 ERA in August and 7.11 ERA in the final month.
"He's now gone through one full season," Collins said. "And I think he's got to realize what it takes now -- or he knows what it takes now -- to be able to get through the season. I think at the end he probably got tired, he got a little fatigued. In the midseason he might want to back off some stuff -- be it the running program a little bit, be it shorter bullpens … so that you've still got something left in September."
• Bobby Parnell allowed one run and four hits while striking out one and walking none in two innings. Pitching coach Dan Warthen said Parnell, who is slated to handle the eighth inning during the season, was too dependent on his fastball early -- as a hard thrower is apt to do. Parnell began to have success when he incorporated his slider and started getting ahead in the count.
"I thought his tempo was bad pretty much all day -- much too long in between pitches, holding [the ball] too long," Warthen said. "He introduced the slider finally and got his outs. When he's throwing five and six fastballs to a hitter, they're going to be on him, no matter who it is."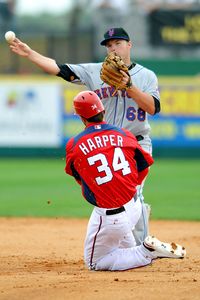 Steve Mitchell/US Presswire
Brad Emaus turns a fifth-inning double play on Ryan Zimmerman as 18-year-old Bryce Harper tries to break up the attempt.
• Brad Emaus, a Rule 5 pick from the Toronto Blue Jays, started and went 1-for-3 as Collins rotates second-base candidates. Emaus struck out in the first inning, looking, on a two-seam fastball on the outer half from Hernandez. Emaus, who has an open stance at the plate, singled up the middle in the fourth inning against left-hander Ross Detwiler. He then fouled out to the catcher on a first-pitch offering from right-hander Cole Kimball in the sixth.
One of the front office's primary attractions to Emaus is his ability to show power while walking more than he strikes out.
"It's very early for me," Collins said about evaluating Emaus. "I thought he turned a great double play. They told me the other day he had really good at-bats and worked the count. So we'll give him some more at-bats and some more game time and continue to see how it goes."
Collins plans to start Luis Castillo on Wednesday and use Daniel Murphy during the second half of the game in Jupiter against the Cardinals.
• Right-hander Manny Alvarez, who was added to the 40-man roster to protect him in December's Rule 5 draft, allowed four fourth-inning runs. He struck out Werth looking with an offspeed pitch upon relieving Niese. Alvarez then waked Ryan Zimmerman and allowed a single down the third-base line to Mike Morse. Zimmerman scored on Adam LaRoche's squibber to Alvarez, who threw to first base for an out. The Nats took a 2-1 lead when Ivan Rodriguez had an RBI single. Danny Espinosa then blasted a two-run homer to right field.
"He's got command for being a young guy," Thole said about Alvarez. "He throws strikes. I almost want to say maybe it was too many today. We can get out of the strike zone a little bit with his breaking ball more than anything."
The Nats do have a Rule 5 pick from the Mets in camp -- 23-year-old Elvin Ramirez, who touches 100 mph. A late arrival in camp because of visa issues, Ramirez has not yet appeared in a game. But he has a decent chance of sticking on Washington's major league roster. If he becomes Nats property, he would join catcher Jesus Flores as Mets prospects lost to Washington via the Rule 5 draft.
• Nats phenom Bryce Harper's first hit against a major league (caliber) pitcher came in the fifth inning when he singled off Pedro Beato. Harper had struck out in both at-bats Monday against the Mets, against Taylor Tankersley and Ryota Igarashi.
• Wright, in his first trip up I-95 to Viera in several springs, went 0-for-1 with a walk and sacrifice fly before departing for pinch runner Russ Adams in the sixth.
• Fernando Martinez started in right field and went 2-for-3 with a double and caught stealing before leaving for pinch runner Sean Ratliff in the seventh inning.
• Luis Hernandez -- who broke his right foot fouling off a pitch, then homered off Atlanta's Tim Hudson on the next pitch -- expects to run the bases full throttle for the first time Wednesday. He hopes to be in a Grapefruit League game this weekend. Hernandez faces a decided uphill battle to make the team. Chin-lung Hu is all but assured the backup middle infield role. Hernandez is out of options, so he would need to be exposed to waivers before being sent to Triple-A Buffalo.
• The Mets signed right-hander Jack Egbert to a minor league contract and assigned him to minor league camp, Baseball America reported. Egbert was a waiver claim from the Chicago White Sox on Sept. 25, 2009 and missed last season because of injury. He is a Rutgers product and hails from Rutherford, N.J.
• The Mets face the Cardinals in Jupiter on Wednesday. R.A. Dickey, Mike O'Connor, Tankersley, Igarashi, Josh Stinson, Tim Byrdak, Parnell and Armando Rodriguez are listed as pitchers.
On Thursday, back in Port St. Lucie against St. Louis, Chris Capuano gets the start and is scheduled for three innings. Boofer Bonser gets two innings. Francisco Rodriguez makes his first Grapefruit League appearance. And then Oliver Perez is scripted for at least one inning.
K-Rod had been scheduled to make his first exhibition appearance Tuesday in Viera, but Warthen backed him off after the closer did not throw for a couple of days because he had to travel to New York to update the court regarding the completion of the Venezuelan phase of his anger-management training.
"I really didn't want him to pitch until he's gotten back on the field and had a throwing program," Collins said. "As a matter of fact he was on the card and I thought he was going to pitch today also. I think Dan probably did the right thing by giving him a couple of days to get back out there and throwing."