R.A. Dickey surrendered five runs over the opening two innings and Atlanta added four runs in the sixth against D.J. Carrasco en route to a 12-0 win against the Mets at ESPN Wide World of Sports on Saturday.
The details:
• Daniel Murphy committed two of the Mets' three errors -- Chin-lung Hu had the other -- and afterward Terry Collins officially pronounced Luis Hernandez as a peripheral, "on-the-outside" fifth candidate for the second-base job.
Collins excluded Willie Harris from that mix, although Harris will see some action at the position too.
The manager had hoped to reduce the number of second base combatants, which also includes Brad Emaus, Luis Castillo and Justin Turner, by early next week. That won't happen now.
Collins tapped his foot and paused six seconds when asked if even giving Hernandez remote consideration signaled displeasure with the original second-base combatants.
The manager eventually replied, speaking about Hernandez: "I don't know if I've added him. I think we forgot that he could play there because he has been unable to play there early in camp. … I'm still looking at the primary four guys, but I just know we've got another guy who can play there."
Hernandez first started playing Grapefruit League games on Monday, when he cleared the final hurdle from a broken right foot he suffered fouling off a pitch from Tim Hudson on Sept. 18 at Citi Field. Hernandez underwent surgery three days later to repair a broken fifth metatarsal.
Murphy did initiate his first middle-infield double play in Grapefruit League action in the eighth inning -- of the 4-6-3 variety, on a grounder by ex-Met farmhand Shawn Bowman. Murphy has yet to be the pivot man at second base, however, on a double-play chance.
"I need to get my 'shot clock' going off a little bit, get my mind turning, kind of get that clock going off in my head," Murphy said about sometime soon getting a 6-4-3 double-play opportunity, "so I can understand how much time I have over there, which runners I have to hurry up on, which ones I may have a little bit more time.
"I think it's going well," he continued, speaking generally about his acclimation to second base. "I finally got my first double-play ball today. I thought I handled it pretty well. I'd like to get a pivot out of the way. But, other than that, I think I'm making strides. I think the coaching staff thinks I'm making strides and it's getting better every day."
As for Saturday's errors, Murphy said one was legitimately his fault. The latter error resulted from him slipping on the shallow outfield grass -- the same problem Emaus had one week earlier at the same ballpark.
Still, Murphy acknowledged, he should have eaten the ball at that point rather than attempted to retire Matt Young at first base. Young generously was credited with an infield single, and the error was charged to Murphy when he threw wide of first baseman Nick Evans after hurrying a throw, which allowed Young to reach second.
"I just lost my footing," Murphy said. "Unfortunately, that's kind of the way it goes. I'm not entirely sure there's anything I could have done differently. I felt like I read the right hop. I picked the one I wanted.
"I should have eaten it," he continued, referring to the throw. "That's a little bit of inexperience for me, trying to make a play when I know he's getting down the line good. Matty Young hit it, and he's going to get down the line pretty good."
Murphy's original error came during a three-run first inning against Dickey. After backing up because Jordan Schafer's groundball had a lot of topspin, Murphy was charged with an error when a sharp hop kicked off his glove.
"Their infield plays a little bit different. I got a good feel for it in warm-ups, but it kind of took a hop and hit my glove and bounced out," Murphy said. "That one, I should have made that play. That was a legit error right there. I should have done better on that."
Said Collins: "One thing about him, he'll plug through it and keep working at it. He swung the bat good."
The odds still are Emaus ultimately winds up as the second baseman -- his bat started to show life Friday with two hits. Murphy should be on the team as a lefty bat for the bench who can play second base as well as first and third. Murphy was 2-for-4 Saturday and is hitting .303 in the Grapefruit League.
Hernandez is out of options and is boxed out as the backup middle infielder by Hu's presence.
"If I'm not mistaken, he was the starting second baseman [in September] before he broke his foot," Collins said about Hernandez. "All of a sudden he's back out there ready to play again. I think we need to try to get him some action over there and see how he does. He's on the outside, but at least we know he can play there. I'm just glad he's back in action."
Said Hernandez: "I don't know what to say. I'm just trying to get ready to play baseball. If I get a chance, I'll do my best. … I'm not going to worry about what's going on and what's my situation."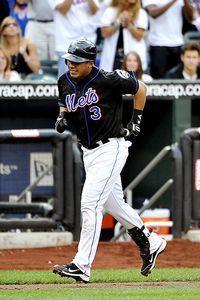 AP Photo/Kathy Kmonicek
Luis Hernandez labors circling the bases after breaking his right foot, then homering off Tim Hudson on the next pitch on Sept. 18 at Citi Field.
• Hudson tossed four scoreless innings against the Mets, and produced four of the Atlanta staff's 10 strikeouts on the day.
Afterward, Hudson colorfully recalled initially thinking Hernandez was a punk last September.
Hudson saw Hernandez limping around after fouling the ball off his foot, but thought it was just a stinger and that Hernandez was showboating when he hit the next pitch, a two-seam fastball, out of the ballpark and oh-so-slowly traveled around the bases.
"At first I was a little bitter," Hudson said. "I was like, 'Man, he's kind of punking me a little bit.'"
Hudson on Saturday afternoon then turned to the next locker and new teammate Dan Uggla, who was with the Florida Marlins last season.
"You hear about it last year?" Hudson asked Uggla. "Fouled a ball off his foot. Broke his foot. Didn't know he broke his foot. He was hobbling around. Next pitch, homer."
"Oh, yeah, I do remember that," Uggla said.
"He like Kirk Gibson-ed it around the bases," Hudson continued. "I was like, 'What the …? Kiss my ---.' But then they were like, 'Yeah, he broke his foot.' And I was like, 'Damn. All right. Tip your hat.'"
Said Uggla: "At the time you're like, 'This is unbelievable [behavior].'"
"Yeah," Hudson replied. "That's just what I need. This guy is going to milk it. I can't remember what pitch it was. Either it was a sinker or another cutter. Whatever it was, I was like, 'No way. That's a homer. Oh my god.'"
Hernandez, who made the trip to Disney but did not appear in the game, said he meant to seek out Hudson.
As for his healed foot, Hernandez said: "It feels pretty good. I know I lost a little bit of speed in there. But I just keep working on my speed, trying to get it back as soon as possible. I'm happy the way I feel."
• Dickey was charged five runs (four earned) on six hits and four walks while striking out three in five innings. He labeled his knuckleball only a "5" on a 10-point scale and acknowledged a handful of knuckleballs felt very poor coming out of his hand.
"I felt like I was throwing a coconut up there. They're too heavy," he said about a handful of his signature pitches, which had no action.
Overall, he said about the pitch: "I threw some really good ones, and I threw some grotesque ones."
While not assigning blame, Dickey noted he was squeezed by plate umpire Toby Basner, who told catcher Mike Nickeas he had never called a knuckleballer's game before. Basner was trying to learn how to call the pitch, even going through the uncommon step of watching Dickey warm up between innings to learn the knuckleball's path. Basner worked in the Triple-A International League last year.
"The more pitches he saw, the more practice he got," Dickey said about Basner. "He was even looking at pitches in between innings, which is a rarity. Umpires never do that, but he just wanted some extra work with it in case he's got me during the season. And I appreciate that. … He even asked Nickeas, 'Let me know. Give me some feedback. If I'm giving up on it too early and it's breaking back over the plate for a strike and I'm missing it, I want it known.'"
Dickey asked to work the fifth inning and was pleased his pitch count flirted with 100, and that he completed his outing with three scoreless frames.
"The great thing about today for me was I got to throw a lot of pitches," he said. "And, two, was I got to find a way to arrest the damage. Things started to come apart and I was able to arrest it and bring it back. Those are great exercises for me to do, because that's going to emulate the season. Today was a good day because of that for me."
Because his next turn may again come up against the division-rival Braves, Dickey expected he will pitch on a back field in a minor league game in about six days. Because a large percentage of the Mets' spring training games are against the Nationals, Marlins and Braves -- 22 of 35 games -- several Mets pitchers will work in minor league games during the final three weeks of spring training to avoid division hitters getting too comfortable with them.
Dickey walked three Braves in a three-run first, but actually needed to record five outs in the inning because of defensive lapses. Center fielder Jason Pridie misplayed Alex Gonzalez's sinking liner, although the official scorer handed Gonzalez a double. Later, after a two-out, two-run single by David Ross, Murphy backed up on Schafer's groundball and then was charged with an error when a sharp hop kicked off his glove and a third run scored.
Ross also had a two-out, two-run double off Dickey in the second inning as the Braves took a 5-0 lead. The Braves' catcher joked that Dickey's velocity was perfect for his bat speed. Ross had been 2-for-14 this spring.
Overall, Dickey walked four Braves, which matched the most he allowed in a game last regular season.
Dickey did single to right field in fifth, but that's only because Eric Hinske wasn't manning first base when Schafer wanted to throw there from right field.
• Harris went 2-for-3 with a double while manning left field. He is 5-for-8 in the past three Grapefruit League games and is hitting .333 overall.
• Lucas Duda doubled to open fourth off Hudson, clearing center fielder Nate McLouth's head.
• Carrasco allowed four runs in the sixth, leading Collins to conclude he needed more work to be sharp. The right-hander has a two-year, $2.4 million contract and therefore will be on the major league roster.
"He's one of those guys who has all those pitches from all of those angles," Collins said. "He's got to start getting some multiple innings, I think."
• Collins hopes to gauge newly arrived Ronny Paulino's playing shape Sunday at the complex. With the Mets having an overnight trip Wednesday and Thursday to Fort Myers, Collins doubted Paulino would appear in a Grapefruit League game until the end of the week.
"I'm sure he hasn't hit any live BP [batting practice] at all," Collins said. "We will certainly use our minor league guys who are ready to pitch. I don't know if he's even ready to play in that [minor league intrasquad] game tomorrow."
While the likelihood is Josh Thole catches the bulk of Dickey's regular-season starts, Paulino particularly will need to get acclimated with him. Paulino said he has never caught a knuckleballer.
"I'm sure he'll catch my next outing," Dickey said. "As many repetitions as he can get with the pitch, the better and more comfortable everybody is going to be. … The pitch is interesting in that it can reveal quite a bit about a catcher. Depending on how he does with it the first couple of bullpens will tell you what he needs to do to get better with it. But he's got a lot of people around him who do it well in Josh and Nickeas and [Raul] Chavez. Everybody up there that has caught me has done a dynamic job at catching it. So he's got a lot of people to lean on."
• With a Monday team off-day, several pitchers will throw in a 10 a.m. minor league intrasquad game Sunday. Those include Chris Capuano, Francisco Rodriguez, Jason Isringhausen, Boof Bonser, Manny Acosta, Ryota Igarashi and Bobby Parnell.
In the Grapefruit League game against the St. Louis Cardinals, Pat Misch, Oliver Perez, Taylor Buchholz, Blaine Boyer, Mike O'Connor, Pedro Beato and Tim Byrdak are scheduled to pitch. Left-hander Jaime Garcia starts for the Cardinals.
Chris Young starts Tuesday against the Nationals. In Fort Myers, Mike Pelfrey goes Wednesday against the Twins and Jon Niese goes Thursday against the Red Sox.