If not for a single and two walks, New York Mets right-hander Chris Young would've been perfect through seven innings in his home debut on Sunday afternoon. And yet, it was the lone run he gave up as a result of one of those walks that had Young second-guessing himself.
He just couldn't get past it. He just couldn't overlook it.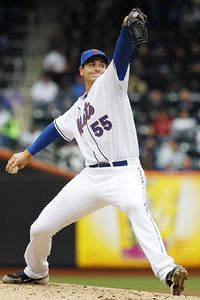 AP Photo/Kathy Willens
Chris Young suffered a tough-luck no-decision Sunday when the bullpen couldn't hold a 3-1 lead.
"If we had won today, I would've been really satisfied," said Young, who left after having thrown 108 pitches with a 3-1 lead, only to see the bullpen blow what should've been his second victory of the season. The Mets wound up losing 7-3 to the Washington Nationals in 11 innings before a crowd of 35,157.
"I'm a little disappointed in the run I gave up in the second inning," said Young (1-0, 1.46 ERA), who also notched five strikeouts. "It started with a leadoff walk, which is unacceptable. And ultimately, they tied the game in the eighth. So if we have that run back, we have a three-run lead instead of a two. So I take the blame for that."
Young was everything the Mets needed him to be on Sunday afternoon, using his fastball-slider-splitter arsenal of pitches to his advantage and cruising along before meeting his pitch limit after posting his first seven-inning outing since May 24, 2009.
He just wasn't perfect. Only 18 pitchers in MLB history have been. But that didn't matter to Young. He just wanted that 3-2 85-mph four-seam fastball to Adam LaRoche back.
Young threw just 32 balls all game. That was one of them. And it came back to haunt him, as LaRoche eventually came around to score on Ivan Rodriguez's RBI groundout, bringing the Nationals within 2-1.
"My slider was decent. My fastball had some life on it and I got a lot of pop-ups," said Young, who recorded just one of his 21 outs via the ground ball. "And that's the way I pitch. I got a lot of routine fly balls [seven] and popups [seven]. I did it pretty well today. I pitched just above the zone and got them to chase a little bit. I just allowed one too many runs and they found a way to win."
Young downplayed it before Saturday's game, but his fly-ball pitching style -- he led the majors in fly ball percentage in 2006 and 2007, his last two full seasons in the big leagues -- couldn't be more conducive to having success at cavernous Citi Field, with its deep alleyways and spacious foul territory. At least manager Terry Collins believes so.
"I really do. He showed it today. He got outs. I think it will be a huge park for him," Collins said. "But I'm gonna tell you something, he knows how to pitch. Period. He pitched a heck of a game in one of the toughest parks to pitch in, five days ago. He knows what he does well and what he's got to do to succeed."
There wasn't much Young could've done for an encore after going 5 1/3 innings to earn the win on the mound, while becoming the first Mets pitcher since 2005 to record three hits in a game during his team's 7-1 thrashing of the Phillies on April 5. And yet, here he was, giving his team a chance to win again.
Still, Young -- who will make just $1.1 million this season after signing with the Mets as a free agent in the offseason -- thought he could do better.
"Physically I felt good," said Young, who has started just 38 games since 2009 because of shoulder problems. "I felt a little better in the sixth and seventh than I did in the middle innings. It's a long season and I'm just trying to make sure I stay healthy for the whole year. It's something to build on."
Michael Morse's second-inning single proved to be one of the only blemishes on Young's ledger. He just wishes he could've had that walk back.
To Young, the reason the Mets lost wasn't because setup man D.J. Carrasco imploded in the eighth or Blaine Boyer gave up four runs in the 11th. It was because of him.
"A loss is a loss," Young said. "It's no more disappointing then going out there and getting hit around and giving up six or seven runs in two innings and getting taken out. A loss is a loss and I wish I had been a little better and helped the team win today.
"There's still room for improvement. I look forward to getting better and getting more wins."