Alderson: No cavalry on way
April, 21, 2011
4/21/11
6:35
PM ET
Sandy Alderson
is standing pat right now with the 5-13 Mets. Truth be told, he acknowledged, there's not much he can do this time of year, so he might as well just hope the current crop improves and plays to their expectations.
After all, the GM said, it's too early to make trades. And there isn't a cavalry coming from Triple-A right now.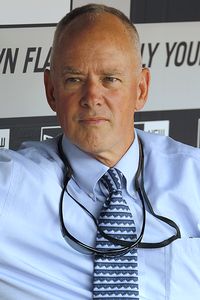 AP Photo/Lynne Sladky
Sandy Alderson said there's no external quick fix for the Mets.

"I think you do have to recognize when you have options and when you don't really have options," Alderson said. "I don't even want to suggest that if we had options, we'd do something at this point. We talk about how early it is in the season. But put that aside for a second. Certain players are not performing up to our expectations, or their own expectations. There's a lot of room for improvement individually and collectively. We're probably better off waiting for that to happen than doing something precipitous that interrupts that.
"In terms of a trade, clubs aren't doing anything right now. They're all assessing their own situations. For us, I think we've been pretty clear about that. We just don't see that there are a lot of options right now for us in the minor leagues. That's fairly typical going into a season.
"Go back and look at last year and
Ike Davis
came up and so forth. Typically, guys are taking another step in where they were in the player-development system from the year before. Anybody who had taken a big step might already be with us. We just don't have right now the kind of depth at the upper level of the minor league system that you'd like to have. And where we can take advantage of that, we will. Options are limited."
Alderson said the losing is hard, knowing there's a balance with the long term.
"It's a nightly crucible really," Alderson said. "Let's face it. I know the fans go through it. Every one of us goes through it. Every player goes through it. Every staff member. You want to win the games. It's not pleasant losing. It's not pleasant losing night in and night out. I've seen one win in this ballpark. At the same time you do have to keep an eye on the long term. Within a six- or seven-day time frame, it's all-consuming. You also have to recognize you can't directly impact something. And in this situation, there's not a lot someone in my situation can do. It's almost organic at that point. It'll happen, and it's going to happen from within. There may be some catalyst -- some player, some play. But probably the best thing I can do right now is stay out of the way. Being a brooding omnipresence, that's not conducive to changing our direction here."
Alderson said he has not witnessed fans wearing paper bags on their heads at games. Asked for his reaction anyway, the GM said: "Well, I recall that phenomenon originated in New Orleans. And not too long ago, they won the Super Bowl. So things do change."
There are no games scheduled for today.