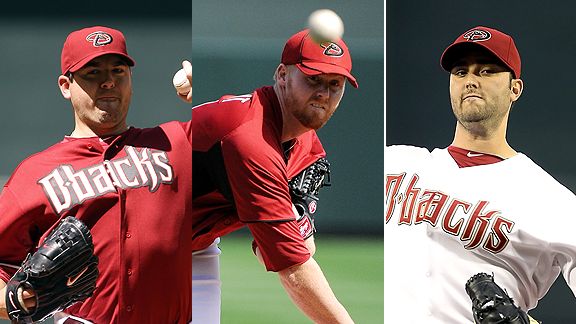 Getty Images
The Mets face (l to r) Joe Saunders, Barry Enright and Armando Galarraga this weekend.
METS (6-13, fifth place/NL East) vs. ARIZONA DIAMONDBACKS (8-9, fourth place/NL West)
Friday: RHP Mike Pelfrey (0-2, 9.72) vs. LHP Joe Saunders (0-2, 6.32), 7:10 p.m. ET
Saturday: RHP Dillon Gee (1-0, 1.59) vs. RHP Barry Enright (0-1, 6.23), 1:10 p.m. ET
Sunday: LHP Jon Niese (0-3, 5.87) vs. RHP Armando Galarraga (3-0, 6.00), 1:10 p.m. ET
Diamondbacks short hops
• Miguel Montero has started 15 of Arizona's 17 games, with ex-Met Henry Blanco getting very limited action in the backup role. Montero's .358 average ranks eighth in the National League, while his .452 on-base percentage ranks fifth. Montero has struggled behind the plate, however, having already committed five errors, most in the majors by a catcher, and two ahead of runner-up Russell Martin of the Yankees. Despite Montero's success, manager Kirk Gibson curiously continues to hit him eighth, reasoning that it limits Montero's at-bats and keeps him fresh. Blanco is hitless in seven at-bats, with one walk and three strikeouts.
AP Photo/Ross D. Franklin
Henry Blanco signed with the Diamondbacks during the offseason after the Mets passed on bringing back the veteran catcher.
• The Diamondbacks are using a trio of players at first base -- Juan Miranda (seven starts), Russell Branyan (six) and ex-Met Xavier Nady (four). None has distinguished himself. The plan is to give Miranda a good look to see what the organization has in the ex-Yankee, who turns 28 on Monday. Miranda joined the Diamondbacks in a Nov. 18 trade for minor leaguer right-hander Scottie Allen.
• Second baseman Kelly Johnson struggled to open the season, hitting .158 (9-for-57) in his first 13 games. He did go 4-for-12 with two homers in the midweek series at Cincinnati, when the Diamondbacks won two of three games from the reigning National League Central champs. Johnson's 23 strikeouts are tied with David Wright and Pittsburgh's Pedro Alvarez for the league lead.
• Shortstop Stephen Drew missed the season's first five games -- except for one late-game appearance -- with a lower abdominal strain. He is hitting .340 with 11 RBIs in 13 games since returning.
• Melvin Mora had been tabbed as the third baseman, but the 39-year-old Mora's struggles have thrust Ryan Roberts into the forefront at the position. Mora signed as a free agent in December for $2.35 million. Roberts (.366, 4 HR, 11 RBIs) may not have even made the roster if not for a knee injury to Geoff Blum, which will require surgery Tuesday and sideline him at least six to eight weeks. A journeyman, Roberts has appeared in 178 games over six major league seasons with Toronto, Texas and now Arizona.
• Righty-hitting Willie Bloomquist and lefty-hitting Gerardo Parra have nearly evenly split left-field duty. Center fielder Chris Young and right fielder Justin Upton round out the outfield.
• The Mets will see the underbelly of the Diamondbacks' rotation, missing Ian Kennedy and Daniel Hudson. Left-hander Joe Saunders had a rough Cactus League, and has allowed five runs apiece in his past two outings, against Cincinnati and San Francisco. He did last 6 2/3 innings against the Giants, benefiting from five double-play balls. Barry Enright sits at 90-92 mph with his fastball, and lacks a plus pitch. He has allowed four runs in each start. Armando Galarraga, of near-perfect game fame, is 3-0 but has a 6.00 ERA. He was acquired from the Detroit Tigers in January for minor leaguers Kevin Eichhorn and Ryan Robowski. Galarraga is reliant nearly exclusively on two pitches -- a slider and sinker. The Diamondbacks have scored a combined 24 runs in Galarraga's three starts.
• Ex-Met J.J. Putz is 5-for-5 in save opportunities and has struck out 10 while issuing no walks and hitting one batter in eight innings. Putz's velocity is down to 92-94 mph, not the level of earlier in his career, but his control has been solid.
• Hard-throwing right-hander David Hernandez, who has allowed only one unearned run in 9 1/3 innings, has emerged as the primary set-up man. He arrived in the January trade with the Baltimore Orioles with fellow right-handed reliever Kameron Mickolio for slugger Mark Reynolds.
• Aaron Heilman landed on the disabled list for the first time in his career, with right shoulder tendinitis.
Matchups
Pelfrey vs. Diamondbacks (career: 0-5, 6.69 ERA)
Miguel Montero .583, 2 RBI, 1 BB, 1 K, 13 PA
Chris Young .400, 1 BB, 1 K, 16 PA
Justin Upton .286, 1 RBI, 5 RBI, 3 K, 12 PA
Stephen Drew .263, 3 RBI, 1 BB, 1 K, 21 PA
Kelly Johnson .250, 1 HR, 5 RBI, 4 BB, 6 K, 30 PA
Melvin Mora .200, 1 K, 5 PA
Gerardo Parra .100, 1 RBI, 4 K, 10 PA
Ryan Roberts .000, 1 BB, 1 K, 3 PA
Gee vs. Diamondbacks (career: never faced)
Niese vs. Diamondbacks (career: 0-1, 8.68 ERA)
Justin Upton .667, 6 PA
Kelly Johnson .500, 1 BB, 2 K, 7 PA
Melvin Mora .333, 1 K, 3 PA
Chris Young .200, 1 HR, 1 RBI, 1 BB, 6 PA
Xavier Nady .167, 2 K, 6 PA
Miguel Montero .000, 3 K, 3 PA
Daniel Hudson .000, 2 PA
Stephen Drew .000, 2 PA
Saunders vs. Mets (career: never faced)
Jason Bay .400, 2 HR, 6 RBI, 2 BB, 12 PA
Scott Hairston .250, 1 RBI, 1 BB, 1 K, 9 PA
Chin-lung Hu .000, 1 K, 3 PA
Enright vs. Mets (career: 1-0, 1.93 ERA)
Angel Pagan .500, 1 K, 6 PA
Jose Reyes .429, 1 RBI, 7 PA
Ike Davis .200, 1 BB, 3 K, 6 PA
David Wright .167, 1 RBI, 1 K, 6 PA
Josh Thole .167, 1 HR, 1 RBI, 1 K, 6 PA
Carlos Beltran .000, 1 BB, 6 PA
Jason Bay .000, 2 K, 3 PA
Chin-lung Hu .000, 3 PA
Galarraga vs. Mets (career: 1-0, 6.00 ERA)
David Wright .667, 1 RBI, 3 PA
Jason Bay .250, 1 RBI, 2 BB, 6 PA
Ike Davis .000, 1 RBI, 3 PA
Scott Hairston .000, 3 PA
Jose Reyes .000, 2 BB, 3 PA
Last series results
Diamondbacks won, 2-1, at Citi Field, July 30-Aug. 1, 2010 (AP game recaps)
Diamondbacks 9, Mets 6: Kelly Johnson and Miguel Montero homered in a five-run sixth inning, and the Arizona Diamondbacks stopped a seven-game losing streak. Montero also doubled, singled and drove in four runs for the last-place Diamondbacks, who won for the first time since finishing a three-game sweep of the struggling Mets the previous week in Arizona. New York wasted David Wright's two long homers and five RBIs, done in by a dreadful relief outing from left-hander Raul Valdes (2-3) after another shaky start by Mike Pelfrey. Valdes gave up hits to all four batters he faced, turning a one-run lead into a 9-5 deficit in 14 pitches. Arizona's outburst was aided by Jose Reyes' error at shortstop. It made a winner of Ian Kennedy (6-8), who went six innings and allowed only three hits. Two of them were no-doubt homers by Wright -- a three-run shot that tied it in the first and a two-run drive that put New York up 5-4 in the third. Chad Qualls struck out two in a perfect eighth and ex-Met Aaron Heilman got three outs for his fourth save, sealing the Mets' 14th loss in 19 games. Two fans carrying Mexican flags ran into the outfield during the seventh inning but were apprehended by security fairly quickly without much incident. Before the game, a group of about 40 demonstrators across the street from Citi Field protested Arizona's immigration law, chanting and handing out leaflets that requested Major League Baseball move next year's All-Star game from Phoenix. Pelfrey threw 51 pitches in the first inning July 19 at Arizona and was chased after getting only four outs, the shortest start of his career. He yielded six runs and seven hits in a 13-2 loss. The big right-hander, 0-3 in six starts since beating Minnesota on June 25, recovered from a rough first inning in this one and left with a chance to win after throwing 118 pitches. Pelfrey retired seven batters in a row before Kennedy reached on Reyes' one-out error in the sixth. One out later, Valdes entered to face the left-handed hitting Johnson, who drove a 1-1 pitch to center for his 17th home run and a 6-5 Diamondbacks lead. Justin Upton and Adam LaRoche singled before Montero drove the next pitch off the facing of the second deck in right field. Mets manager Jerry Manuel then pulled Valdes, and both were booed as they came off the field. Reyes, who had three hits, doubled in the seventh and scored on Angel Pagan's two-out single off Blaine Boyer. LaRoche, Montero and Mark Reynolds hit consecutive RBI singles in the first inning, the last two deflecting off the glove of a diving Wright at third base. Pelfrey is 0-5 in seven career starts against Arizona. Upton extended his hitting streak to a team-best 15 games.
Mets 5, Diamondbacks 4: Jesus Feliciano tripled and scored on Carlos Beltran's sacrifice fly in the ninth inning. David Wright drove in three runs, including a tying single in the seventh off Arizona newcomer D.J. Carrasco, and New York finally beat the last-place Diamondbacks for the first time in five meetings this season. The Mets, conspicuously quiet at the trade deadline after falling off the playoff pace this month, got a stellar start from Hisanori Takahashi and won for only the sixth time in 20 games. The rebuilding Diamondbacks, who made a flurry of deals leading up to Saturday's non-waiver deadline, have lost eight of nine. Justin Upton had three RBIs for Arizona and extended his hitting streak to a team-high 16 games. Feliciano, called up Friday from Triple-A Buffalo when outfielder Jason Bay went on the disabled list with a concussion, entered on defense in the seventh and opened the ninth with a long drive to right-center against Juan Gutierrez (0-6). Jose Reyes flied out to shallow right, keeping Feliciano at third, before the Diamondbacks intentionally walked Angel Pagan and Wright to set up a force at the plate. Beltran lifted a drive to deep right-center that was caught near the warning track by Upton, who didn't even make a throw as Feliciano scored easily. Francisco Rodriguez (4-2) struck out two in a perfect ninth for the win. Feliciano was pelted with a cream pie in the face during an on-field TV interview. Rookie right-hander Barry Enright pitched six effective innings and left with a chance for his second win over the Mets in 12 days. But Carrasco, acquired from Pittsburgh earlier in the day, couldn't hold a 4-2 lead. Carrasco retired his first two batters in the seventh, then walked Reyes. Pagan followed with a single and scored from first with a headfirst slide when Wright lined a two-run double into the right-field corner. Jordan Norberto, the only left-hander in Arizona's bullpen, threw a called third strike past Ike Davis with two on to end the inning. Takahashi struck out a career-high 10, the most by a Mets pitcher since Nelson Figueroa fanned 10 Chicago Cubs on Aug. 30, 2009, at Wrigley Field. The 35-year-old rookie from Japan stranded seven runners over six innings. He threw a season-high 112 pitches and left with a 2-1 lead that was quickly squandered by Bobby Parnell. Pinch-hitter Tony Abreu doubled to open the seventh and Upton's two-run single with the bases loaded put Arizona ahead. Pedro Feliciano relieved. Adam LaRoche dribbled a slow roller toward first base and Kelly Johnson beat Davis' toss to the plate to make it 4-2. Feliciano avoided further damage by getting Miguel Montero to ground into a double play and striking out Mark Reynolds, who fanned all four times up, increasing his major league-leading total to 147. Parnell allowed all four batters he faced to reach safely, including three hits. Takahashi was ahead 0-2 on No. 8 batter Augie Ojeda before issuing a leadoff walk in the third. Ojeda scored on Upton's bases-loaded sacrifice fly. New York tied it in the bottom half when Pagan hit a ground-rule double with two outs and Wright followed with a single. Luis Castillo drew a leadoff walk from Enright in the fifth and advanced on Takahashi's two-strike sacrifice. Reyes put the Mets up 2-1 with an RBI single that extended his hitting streak to 12 games, longest by a Mets player this season.
Diamondbacks 14, Mets 1: Adam LaRoche hit a pair of three-run homers to support a memorable Arizona debut for Daniel Hudson, and the Diamondbacks romped to a 14-1 victory over the New York Mets. LaRoche had his sixth career multi-homer game, both shots coming off Jon Niese (7-5), and would have made it three homers in as many innings if it wasn't for the spacious dimensions at Citi Field. He scorched a pitch in the sixth that fell just short of the 415-foot sign on the center-field wall, and cruised into second with a double. The six RBIs were still a career high for LaRoche, who has quietly had an impressive season for Arizona. He has 16 homers and a team-best 70 RBIs on the year. Stephen Drew and John Hester added back-to-back homers as the Diamondbacks wrapped up a dominating season series against New York. They took five of six, rebounding from the lone loss to prevent the Mets from winning consecutive games for the first time since June. Hudson (1-0) allowed three hits in eight innings in his sixth career start, and his first since arriving in a trade with the White Sox that sent Edwin Jackson to Chicago. Hudson allowed only one hit after the first inning, and his lone walk in the fourth ended up scoring the Mets' only run. The 23-year-old right-hander more than made up for it at the plate, too, with a two-run double in the fifth inning for his first career hit. Justin Upton extended his hitting streak to 17 games, Hester reached four times and eight different players drove in at least one run for the Diamondbacks. They belted out 16 hits on the same day that Dwight Gooden joined Darryl Strawberry and two others for induction into the Mets' Hall of Fame. Niese was cruising until Kelly Johnson hit a one-out single in the fourth, Upton laced a base hit and LaRoche homered to right field. After the Mets got one back in the bottom half, Johnson and Upton reached again in the fifth and LaRoche hit a 1-0 pitch into almost the exact same spot in the right-field stands to make it 6-1. The Mets' defense didn't do much to help. David Wright threw a ball into center field on an easy fielder's choice in the fifth, and center fielder Angel Pagan overthrew home a few minutes later to keep the Diamondbacks' big inning going. Elmer Dessens eventually came on in relief and allowed Hudson's two-run double and the homers to Drew and Hester in the seventh inning. Mark Reynolds drove in a run in the eighth and the Diamondbacks scored three more times off Oliver Perez in the ninth. By then, what was left from a festive crowd that came out to see the Mets' Hall of Fame induction ceremony on a pleasant afternoon had turned spiteful, showering the club with boos before it embarked on a brutal six-game trip to Atlanta and Philadelphia.