Chris Young is poised to return from the disabled list Tuesday to face the Washington Nationals. And while Terry Collins was complimentary of fill-in Dillon Gee, the manager did not leave much wiggle room to allow for Gee to remain at the major league level once Young is activated.
Collins acknowledged it makes little sense to have Gee work out of the bullpen. After all, the Mets may need Gee's services as a starting pitcher at another point this season, so the rookie right-hander might as well remain stretched out by working as a starting pitcher at Triple-A Buffalo. Collins further acknowledged there is not a logical incumbent rotation member to bounce given the performances the last turn through.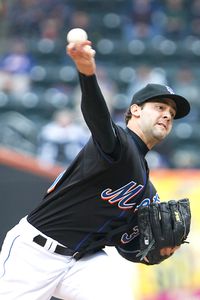 AP Photo/Frank Franklin II
Dillon Gee notched his second win of the season in place of Chris Young on Saturday.
Chris Capuano might have been a candidate because it would give the Mets a second left-hander in the bullpen with Tim Byrdak, and since Capuano had experience as a reliever last year with Milwaukee. But given the way Capuano pitched on Thursday against Houston (one run allowed in seven innings), that can no longer be an immediately justifiable move.
Asked if it would be difficult to justify removing an incumbent starter, Collins said: "The way they've pitched? Certainly."
That does not diminish Gee's performance in September and in two starts this month. For his major league career, Gee is now 4-2 with a 2.22 ERA in seven starts.
Given Young may have other health hiccups during the season, Gee should get more major league starts this season no matter what his immediate fate.
"I don't think you take Dillon Gee and put him in the bullpen," Collins said. "No. 1, it's still April. We're going to need a starting pitcher. We're not doing ourselves a favor by having him sit in that bullpen and not have a chance to pitch every five days."
Said Gee: "I'm just going to keep doing my work until somebody tells me otherwise. … I'm here for as long as they tell me I'm here."
No move needs to be made until Young is activated Tuesday -- unless the Mets wanted to have an extra minor league up for Sunday's game, since Gee cannot be used anyway. (While I'm not predicting it, the Mets could option Gee before Sunday's game and promote -- say -- Manny Acosta. Then they could demote Ryota Igarashi when Young is activated Tuesday. ... The simple move is just Young for Gee on Tuesday.)
Young, returning from biceps tendinitis, threw a bullpen session Saturday before leaving the ballpark early, along with Mike Pelfrey, because they are suffering from the flu.
"He looked very good," Collins said after watching Young throw. "Everything was free and easy. He got warmed up easy. He's not feeling well. We've got the flu going through the clubhouse. But he went about it and pitched good."