Even Sam Honeck can muster a laugh at the image of his brother Creighton and him side-by-side on their father's couch in Austin, Texas -- both recovering from identical leg fractures suffered one week apart at this time last year.
"It was a pretty funny sight," said Honeck, an 11th-round pick in 2009 from Tulane. "It was the exact same break. His was a little worse than mine. I shouldn't say a little worse. It was a lot worse than mine. His was broken in multiple places, where mine was just broken in one spot -- just two pieces. But I was in Maryland for four or five days [after surgery] and then got home. And he was already at home. So for the month of May, we both just sat there and chilled out on my couch."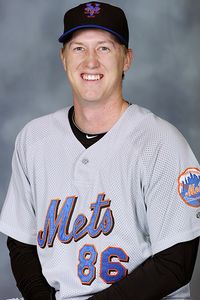 Courtesy of New York Mets
Sam Honeck
After the injury limited the 23-year-old Honeck to six games last season at Class A Savannah, the first baseman has more than made up for lost time in his return to the Sand Gnats in 2011. He maintained a .500 average 11 games into the season, and is currently hitting .328 through 67 at-bats. (He just snapped an 0-for-22 stretch Tuesday night.)
"It's pretty spectacular, to be honest with you," Honeck said about the start. "And, honestly, right now I'm just fortunate to be out here healthy and be playing. … I sat out the entire year and missed -- what? -- 130 games, or something like that. For me, it's just been enjoying the time out there and staying locked in and keeping my approach and sticking with it."
Savannah is currently playing in Delmarva, Md. That is the site where a gruesome plate collision last May 5 resulted in Honeck fracturing both the fibula and tibia in his leg. Honeck had only debuted with the Gnats six days earlier. When full-season teams broke camp in 2010, Honeck had been left behind in extended spring training. But he was assigned to Savannah when fellow first baseman Jeff Flagg hit .184 with the Gnats in April.
"That's how random and crazy it was," Honeck said. "It was just a shocking moment. I was running home. There was a play at the plate. The throw was off. And the throw took the catcher off his feet. As he jumped to catch it, his body was turning toward third base. In that rotation, his leg just came around and crisscrossed mind. In the blink of an eye, that's what happened."
Unbelievable as it sounds, both of Honeck's brothers have suffered near-identical fractures. Their little brother Ryan suffered his broken leg skiing seven years ago. He did not undergo surgery and spent six months in a cast back then.
Creighton, 26, was in Puerto Vallarta, Mexico, for a golf tournament when he got into a car accident eight or nine days before Honeck's injury with the Gnats. Their parents had him airlifted to Texas the following night. Because doctors discovered pneumonia during a chest X-ray, surgery was delayed. Creighton's surgery ended up being Tuesday, two days before the first baseman's near-identical procedure. Creighton is a golfer on the Canadian Tour and pursuing his PGA card.
Organization leaders
Average: Matt den Dekker, St. Lucie, .351; Kirk Nieuwenhuis, Buffalo, .343; Josh Satin, Binghamton, .339; Sam Honeck, Savannah, .328; Wilmer Flores, St. Lucie, .308; Jefry Marte, St. Lucie, .304; Cory Vaughn, Savannah, .302; Stefan Welch, St. Lucie, .300; Wilfredo Tovar, Savannah, .288; Cesar Puello, St. Lucie, .282.
Homers: Brahiam Maldonado, Binghamton, 5; Nick Evans, Buffalo, 4; Jefry Marte, St. Lucie, 4; Kirk Nieuwenhuis, Buffalo, 4; Jason Pridie, Buffalo, 3.
RBI: Wilmer Flores, St. Lucie, 14; Jefry Marte, St. Lucie, 14.
Steals: Pedro Zapata, St. Lucie, 8; Robbie Shields, Savannah, 5; Jordany Valdespin, Binghamton, 5; Alonzo Harris, Savannah, 4; Lorenzo Scott, Binghamton, 4.
ERA: Matt Harvey, St. Lucie, 0.00; Jeurys Familia, St. Lucie, 0.35; Brad Holt, Binghamton, 0.50; Chris Schwinden, Buffalo, 0.96; Mark Cohoon, Binghamton, 1.44; Robert Carson, Binghamton, 1.69; Jenrry Mejia, Buffalo, 2.59; Scott Moviel, St. Lucie, 2.66; Yohan Almonte, Savannah, 4.30; Ryan Fraser, Savannah, 4.50.
Wins: Matt Harvey, St. Lucie, 4; Scott Moviel, St. Lucie, 3.
Saves: Jeffrey Kaplan, St. Lucie, 7; Josh Edgin, Savannah, 4; Nick Carr, St. Lucie, 3; John Lujan, Binghamton, 3.
Strikeouts: Matt Harvey, St. Lucie, 27; Jeurys Familia, St. Lucie, 25; Mark Cohoon, Binghamton, 24; Chris Schwinden, Buffalo, 22.
Short hops
• Matt Harvey and Jeurys Familia will get close looks from Mets brass during their starts the next two days, with farm director Adam Wogan and full-season pitching coordinator Rick Tomlin watching the St. Lucie ballclub this week as part of their routine monitoring. Harvey, the 2010 first-round pick out of the University of North Carolina, has limited opponents to one unearned run in 22 innings while allowing 14 hits, eight walks and striking out 27. Familia, who already is more polished with his secondary pitches than Jenrry Mejia, is coming off his second outing of the young season in which he has tossed seven scoreless innings. The 21-year-old right-hander, who was signed in 2007 out of the Dominican Republic, is 1-0 with a 0.35 ERA in four starts. He has allowed only nine hits and seven walks while striking out 25 in 25 2/3 innings. Either could move to Double-A Binghamton soon, although certain criteria need to be met beyond putting up gaudy stats. Said Wogan: "It's really a discussion that goes on among multiple people after each outing. So we haven't had that conversation recently. We'll talk again after these outings."
• Triple-A outfielder Kirk Nieuwenhuis extended his hitting streak to a career-high 16 games Tuesday. The streak is six games longer than any other streak in the International League this season. Nieuwenhuis has a .463 on-base percentage and is the only player in the league to reach base in every game this season.
• 2008 first-round pick Reese Havens, who was tormented by oblique issues last year and had an inch of a rib-cage bone removed during the offseason, is fielding but not hitting in extended spring training games. A gifted hitter and potential future second baseman for the Mets, Havens has been cleared to start swinging out of games. "Kind of like Sandy [Alderson] addressed with the [Johan] Santana issue in the spring, when it's a long-term issue, it's kind of tough to give regular updates on it because it's probably a longer progression," Wogan said. "But he's starting a hitting progression. It's going to be a little time. But he has started playing defensively in games."
• St. Lucie fell to 17-3 with its loss Tuesday, although there were positives. After starter Collin McHugh surrendered eight runs in a 10-run first inning at Bradenton, St. Lucie actually clawed back. The final score: 12-6. Highly regarded prospect Wilmer Flores displayed his power by pulling a two-strike, three-run homer in the ninth inning to complete the scoring. "He hit it a long way," Wogan said. "There were a lot of scouts in town, and a number of them were commenting to me just on the impressiveness of his hands and his ability to get to that inside pitch." St. Lucie also is getting big-time offensive production from right fielder Cesar Puello (.282), center fielder Matt den Dekker (.351) and third baseman Jefry Marte (.304) as well as first baseman Stefan Welch (.300) and Pedro Zapata (.388). Even catchers Francisco Pena and Juan Centeno are surprisingly chipping in at the plate.
• Outfielder Fernando Martinez (hamstring) returned from the disabled list Saturday after missing 11 days. The Mets still are treating him somewhat cautiously. Martinez was removed from Monday's game as a precaution when rain started in Buffalo. On the active roster, Martinez replaced third baseman Zach Lutz, who landed on the disabled list with a right hamstring strain. Lutz suffered the injury fielding grounders during batting practice.
• D.J. Carrasco tossed a scoreless relief inning with one walk for Buffalo on Tuesday at Rochester in his first minor league game since 2008. He is due to start Saturday for the Bisons.
• Left-hander Justin Hampson has tossed 7 1/3 scoreless relief innings since allowing a run on April 9. He has allowed three hits and three walks while striking out seven during that span. Hampson, 30, last appeared in the majors in 2008 with the San Diego Padres. Lefty batters are hitting .143 (2-for-14) with one walk against him this season. By comparison, lefty batters are hitting .385 (5-for-13) with one walk against fellow Buffalo left-handed reliever Taylor Tankersley.
• Despite Pat Misch returning and Carrasco also entering the Bisons' rotation, right-hander Chris Schwinden unexpectedly earned the right to remain among Buffalo's starting pitchers, along with Josh Stinson and Mejia. Schwinden, a 22nd-round pick in 2008 from Fresno Pacific, has limited Triple-A hitters to two runs in 15 2/3 innings through three starts, good for a 1.15 ERA as well as a 1-0 record. The Mets instead dispatched Dylan Owen along with Manny Alvarez to Double-A Binghamton to clear roster room. (Outfielder Jesus Feliciano returned to the Bisons after hitting .324 in eight games with the B-Mets in the roster juggling.) "It certainly wasn't the plan. We didn't expect for Chris to be in the Triple-A rotation," Wogan said. "And certainly when there were other guys who came back, there were other options available. But he threw extremely well. And we preach throughout the organization the importance of commanding your fastball and of throwing strikes. He does that, and he's had success with it." Owen did solidly in his final Triple-A appearance. He tossed six scoreless innings against Lehigh Valley on Monday and earned the win.
• Binghamton infielder Josh Satin continued his production after earning Eastern League Player of Week honors on Monday. The Cal-Berkeley product lifted his average to .339 with a 2-for-4 performance on Tuesday at Portland. He has a .422 on-base percentage.
• Manny Acosta had a brutal line Monday for Buffalo: 0.1 IP, 1 H, 3 R, 2 ER, 4 BB, 1 K.
• Nick Evans, who was off to a slow start with Buffalo, had three extra-base hits, including a homer, Tuesday. He is hitting .219 for the season. Lucas Duda similarly has started slowly, hitting .192 in 52 at-bats since joining the Bisons after making the Mets' Opening Day roster.
• With 2010 New York-Penn League batting champ Darrell Ceciliani on Savannah's DL with a hamstring strain, the Mets moved Rafael Fernandez from St. Lucie to Savannah -- partly to give the Gnats outfield depth, and partly because it was too crowded in the Florida State League outfield. Fernandez has since hit .368 with a homer and five RBIs in five games with the Gnats while manning center field. Ceciliani is due to start playing in extended spring training games this week. He should rejoin Savannah after its high-mileage road trip to Delmarva, Md., and Lakewood, N.J.
• Infielders Ruben Tejada and Luis Hernandez have six-game hitting streaks for Buffalo.
• Aderlin Rodriguez's bat is awakening with Savannah. The 19-year-old third baseman has lifted his batting average 100 points, albeit to .186, in a 10-day span. He belted his first two homers of the season Saturday and Monday.
• Mejia allowed a season-high five runs in six innings in his last start, against Lehigh Valley. He has committed three errors this season, on nonchalant throws.
Adam Rubin's farm report appears Wednesdays during the season