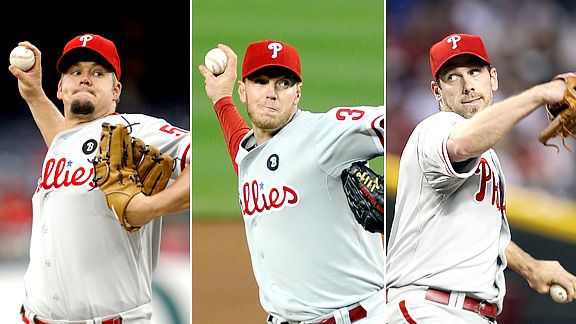 Getty Images
Joe Blanton (left) was scratched from Friday's start, but the Mets face Roy Halladay (center) and Cliff Lee (right) this weekend at Citizens Bank Park.
METS (11-14, fifth place/NL East) vs. PHILADELPHIA PHILLIES (16-8, first place/NL East)
Friday: RHP Mike Pelfrey (1-2, 7.23) vs. RHP Vance Worley (2-2, 2.78 at Triple-A Lehigh Valley), 7:05 p.m. ET
Saturday: LHP Jon Niese (1-3, 5.10) vs. RHP Roy Halladay (3-1, 2.41), 1:10 p.m. ET
Sunday: RHP Chris Young (1-0, 2.65) vs. LHP Cliff Lee (2-2, 4.18), 8:10 p.m. ET
Phillies short hops

Catcher
Philadelphia Phillies
• Catcher Carlos Ruiz was examined Thursday after being forced from the previous day's game because of a shooting pain that went from his lower back through his right leg. Ruiz had been 0-for-his-past-24. Ex-Met Brian Schneider replaced Ruiz in the first inning Wednesday at Arizona, as Philadelphia salvaged the series finale. Although Ruiz is not expected to land on the DL, the Phillies may promote Dane Sardinha from Triple-A Lehigh Valley to back up Schneider this weekend.
• Roy Oswalt, who is not scheduled to face the Mets, temporarily left the Phillies to return home to Weir, Miss. GM Ruben Amaro said in a statement: "There has been a tremendous amount of tornado activity near Roy's home in Mississippi resulting in several tragic deaths and significant devastation to the area. Because of this, Roy is concerned about his family's well-being. He has chosen to take time to make sure there wasn't significant damage to his home, but more importantly, to make certain that his wife and children are OK. It is almost a year to the day that his parents' home was destroyed by a tornado, which has heightened his concern about the current situation. We are hopeful that he will rejoin the team for his next start, but will take that day by day."
• Joe Blanton had been scheduled to face the Mets in the series opener, but instead landed on the disabled list with an elbow impingement. Right-hander Vance Worley has been promoted from Triple-A Lehigh Valley to face the Mets. Worley was 1-1 with a 1.38 ERA in five appearances (two starts) for the Phillies last season. He pitched a scoreless relief inning against the Mets last Sept. 26, during which he walked Chris Carter and struck out Nick Evans.
• De facto closer Jose Contreras is out three to four weeks with a right elbow strain. Closer Brad Lidge (rotator cuff) has not appeared this season, but may now start playing catch. Manager Charlie Manuel bristled at any front-office intimation Contreras had been overused -- or, dare we say, abused. "There's no way in hell we overused Contreras," Manuel told Philly reporters. "That's how I feel. There's no way. What did he pitch? The most games was three [consecutively]. Then he had a day off. He pitched five times in seven days. We weren't trying to stay away from him. He was closing games for us. That's how I look at it." Right-hander Michael Stutes took Contreras' roster spot and made his major league debut in relief Monday. An 11th-round pick in 2008 out of Oregon State, Stutes received the call-up word in Buffalo, where Lehigh Valley was facing the Mets' Triple-A affiliate. Ryan Madson, the best remaining closing option, has allowed only one run in 10 innings. He converted consecutive saves in San Diego last weekend.

Left Field
Philadelphia Phillies
• Left fielder Raul Ibanez is hitless in his last 26 at-bats, a career-high drought. John Mayberry started in left field in Wednesday's series finale at Arizona. Ibanez is 3-for-21 against southpaws this season. His last hit against a left-handed pitcher was a two-run homer against Tim Byrdak on April 7.
• Shortstop Jimmy Rollins went 53 plate appearances without an RBI to open the season, the longest drought of his career to begin a season. He is currently sitting at five RBIs, which through Wednesday was one shy of the fewest in the majors among players with 100-plus plate appearances. The White Sox' Alexis Rios and Tigers' Austin Jackson had four RBIs apiece. Rollins' futility driving in runs comes despite batting third in all 24 games this season.
• Roy Halladay tossed 130 pitches, the most by a pitcher in the majors this season, but fell one out shy of a complete game in his most recent outing. Halladay struck out a career-high 14 Padres and retired 16 straight batters at one point -- nine via strikeout. He is a career 24-5 against National League East teams.
• Outfielder Domonic Brown, who suffered a broken right hand on March 5, began a rehab assignment Wednesday with Class A Clearwater. He is not expected to be activated until after the weekend series against the Mets.
• Injured second baseman Chase Utley ran on back-to-back days this week -- the first time consecutively since knee issues forced him to the disabled list to open the season. Fill-in Wilson Valdez is hitting .234, and is 2-for-27 his past 10 games. Valdez has started 17 games at second base. The ex-Met had career highs with four hits and three runs scored against his former team on April 7. Pete Orr has started five games and Rule 5 pick Michael Martinez has started two games at the position.

First Base
Philadelphia Phillies
• First baseman Ryan Howard was tied for second in the majors in RBIs with 21 entering Thursday. He trailed only Milwaukee's Prince Fielder (23). Howard is hitting .300 against left-handed pitching this season, although all four of his homers have come against right-handers.
• Ross Gload and Mayberry are tied for the major league lead in pinch-hits with four apiece, along with Pittsburgh's John Bowker and Cincinnati's Chris Heisey.
• Third baseman Placido Polanco had a season-high four hits Wednesday at Arizona to lift his average to .389. He has reached base safely in 16 straight games and 23 of 24 this season.
• Center fielder Shane Victorino had an inside-the-park homer in San Diego, the first by a Phillie since Utley in 2009.
• Philadelphia is one shy of matching its franchise record for April wins. The club record is 17 in 1993.
• The Phillies on Tuesday snapped a string of 14 straight games in which they scored four runs or fewer. It was the franchise's longest stretch since also going 14 games without scoring five-plus runs in 1984.
Matchups
Pelfrey vs. Phillies (career: 6-4, 5.08 ERA)
Pete Orr .667, 6 PA
Ryan Howard .406, 2 HR, 4 RBI, 5 BB, 2 K, 37 PA
Raul Ibanez .333, 1 HR, 6 RBI, 1 BB, 5 K, 28 PA
Shane Victorino .308, 1 HR, 6 RBI, 2 BB, 5 K, 41 PA
Carlos Ruiz .250, 3 RBI, 2 BB, 2 K, 23 PA
Jimmy Rollins .241, 1 HR, 4 RBI, 1 BB, 2 K, 30 PA
Brian Schneider .200, 1 BB, 1 K, 12 PA
Ross Gload .167, 6 PA
Placido Polanco .154, 2 RBI, 1 BB, 15 PA
Wilson Valdez .000, 1 BB, 1 K, 8 PA
Ben Francisco .000, 1 BB, 3 PA
Niese vs. Phillies (career: 1-2, 3.96 ERA)
Carlos Ruiz .364, 2 RBI, 4 K, 11 PA
Wilson Valdez .333, 1 RBI, 2 K, 9 PA
Shane Victorino .333, 1 RBI, 1 BB, 2 K, 10 PA
Ben Francisco .333, 2 BB, 1 K, 5 PA
Placido Polanco .308, 4 RBI, 1 BB, 1 K, 14 PA
Raul Ibanez .200, 1 HR, 1 RBI, 1 BB, 3 K, 12 PA
Ryan Howard .143, 1 RBI, 1 BB, 3 K, 8 PA
Jimmy Rollins .000, 1 BB, 2 K, 7 PA
John Mayberry .000, 1 K, 1 PA
Young vs. Phillies (career: 3-2, 4.05 ERA)
Placido Polanco .500, 1 RBI, 1 BB, 3 PA
Wilson Valdez .429, 1 RBI, 1 K, 7 PA
Brian Schneider .375, 1 BB, 9 PA
Raul Ibanez .310, 1 RBI, 2 BB, 4 K, 31 PA
Shane Victorino .250, 3 K, 12 PA
Ryan Howard .182, 1 HR, 3 RBI, 4 BB, 5 K, 15 PA
Jimmy Rollins .182, 1 BB, 2K, 12 PA
Carlos Ruiz .000, 1 BB, 6 PA
Ben Francisco .000, 1 K, 3 PA
Pete Orr .000, 1 K, 1 PA
Worley vs. Mets (career: 0-0, 0.00 ERA)
Jose Reyes .000, 1 PA
Halladay vs. Mets (career: 7-2, 3.43 ERA)
Josh Thole .583, 2 K, 12 PA
Jose Reyes .455, 1 RBI, 1 BB, 3 K, 23 PA
Scott Hairston .333, 1 BB, 2 K, 7 PA
Carlos Beltran .316, 2 HR, 9 RBI, 3 BB, 10 K, 42 PA
Jason Bay .286, 2 HR, 4 RBI, 1 BB, 6 K, 23 PA
Ike Davis .267, 1 RBI, 1 BB, 4 K, 16 PA
Ronny Paulino .143, 2 K, 7 PA
Willie Harris .125, 1 RBI, 1 BB, 4 K, 10 PA
David Wright .111, 1 RBI, 9 K, 18 PA
Daniel Murphy .000, 1 K, 2 PA
Lee vs. Mets (career: 1-0, 0.00 ERA)
Jason Bay .429, 1 RBI, 2 K, 7 PA
Daniel Murphy .333, 1 K, 3 PA
Carlos Beltran .000, 2 BB, 6 PA
Scott Hairston .000, 2 K, 6 PA
Last series results
Phillies won, 2-1, at Citizens Bank Park, April 5-7 (AP game recaps)
Mets 7, Phillies 1: Chris Young pitched effectively into the sixth inning and became the first Mets pitcher with two hits in an inning, fueling a six-run rally and helping New York beat the Phillies. The four-time NL East champion Phillies were trying for their first 4-0 start since 1915, but Cole Hamels (0-1) suffered through the second-worst start of his career and became the first of Philadelphia's four aces to lose this season. David Wright tied a career best with four hits and Young (1-0) had a career game at the plate with three hits for the Mets, who are off to a 3-1 start -- all on the road. San Francisco's Madison Bumgarner was the last pitcher to get two hits in an inning. He did it against the Cubs last Sept. 23. Making his first start since joining New York, Young gave up one run and five hits, striking out seven in 5 1/3 innings. Hamels allowed six runs and seven hits in 2 2/3 innings. He fell to 2-9 in 14 career starts against the Mets. The lanky lefty's worst outing came during his rookie year. He allowed nine runs (five earned) in two innings against the Cubs on Aug. 24, 2006. Hamels, the 2008 World Series MVP, arrived at spring training in excellent shape and was game-ready right from the start, even before Roy Halladay, Cliff Lee and Roy Oswalt. But the Big Three outdid Hamels the first time around. Young, a career .137 hitter coming into the game, helped himself with a leadoff single in the third. Jose Reyes then bunted for a hit and Angel Pagan walked to load the bases. Wright followed with a two-run single to left, making up for leaving two runners in scoring position in the first. After Carlos Beltran struck out, Wright stole second. A passed ball by catcher Carlos Ruiz allowed Pagan to score. Ike Davis and Brad Emaus added RBI singles. Young chased Hamels with a two-out RBI single that made it 6-0. Placido Polanco drove in Philadelphia's only run with a two-out double in the fifth. Young escaped further trouble, retiring Ryan Howard on a grounder to leave the bases loaded. A fan wearing an orange hat ran onto the field and slid headfirst into second base during the middle of the ninth. Last year, a police officer used a stun gun to apprehend a fan who ran onto the field during a game at Citizens Bank Park.
Phillies 10, Mets 7: The forgotten man had a forgettable season debut. Lucky for Joe Blanton, the offense bailed him out. Ryan Howard tied a career high with four hits and fell a triple short of the cycle, Ben Francisco also homered and the Phillies beat the Mets after wasting a 7-0 lead. Placido Polanco had three hits and three RBIs, including a go-ahead single in the fifth, helping the four-time NL East champions overcome a rough start by Blanton to improve to 4-1. Angel Pagan hit a two-run homer for the Mets, who got a second straight poor outing from Mike Pelfrey. Antonio Bastardo (1-0) pitched 1 2/3 innings of scoreless relief to earn the win. Jose Contreras worked the ninth for his first save. After the Mets scored five in the fifth to tie it at 7, the Phillies answered in the bottom half against Blaine Boyer (0-1). Shane Victorino hit a two-out double and Polanco followed with a sinking liner to right. Carlos Beltran made a diving attempt but the ball fell in for a single. Victorino scored to put Philadelphia up 8-7. After Jimmy Rollins walked, Howard reached on an infield single up the middle that bounced off Boyer and trickled away. Polanco came around to score from second to make it 9-7. Francisco connected off Boyer in the sixth. He hit two drives the previous night that were knocked down by a stiff wind and caught on the warning track. This shot landed several rows back in left. Howard finished 4-for-4 with two doubles, a homer, a walk and two RBIs. Pelfrey, who lost the season opener at Florida, lasted just two-plus innings, allowing seven runs (six earned) and eight hits. Blanton gave up seven runs and 10 hits in 4 1/3 innings. He became an afterthought in Philadelphia's star-studded rotation after the team signed Cliff Lee to a $120 million contract in the offseason. All the talk was of the Four Aces: Lee, Roy Halladay, Roy Oswalt and Cole Hamels. Blanton was expected to be traded to shed payroll, and he even joked about it when he showed up the first day of spring training and sat at a podium with the other four starters for a news conference. He pitched like a No. 5 starter in his first start. Trailing 7-0, New York started to chip away in the fourth when Pagan hit a two-run shot to left-center. The Mets then chased Blanton in the fifth. Blanton struck out pinch-hitter Daniel Murphy to start the inning, but allowed the next seven batters to reach. Jose Reyes doubled and Willie Harris walked. David Wright and Beltran followed with RBI singles. After Pagan singled to load the bases, Ike Davis ripped a two-run double to get the Mets within a run. Blanton left after walking Brad Emaus to load the bases. Bastardo came in and struck out Josh Thole. But Murphy singled to left to tie it at 7.
Phillies 11, Mets 0: Roy Halladay pitched seven sharp innings for his first win of the season, Wilson Valdez had a career-high four hits, and the Phillies routed the Mets. Halladay (1-0) allowed six hits and struck out seven. The reigning NL Cy Young Award winner gave up one run in six innings in the opener against Houston, and avoided a loss when the Phillies rallied in the ninth for a 5-4 win. Valdez, filling in for the injured Chase Utley, finished 4-for-4 with three RBIs, two doubles and two infield singles. Utley, a five-time All-Star second baseman and the team's No. 3 hitter, is out indefinitely with a knee injury. Losing Utley, coupled with the departure of Jayson Werth as a free agent was supposed to weaken Philadelphia's offense. So far, it hasn't been a problem. The Phillies are averaging 7.2 runs and 12.7 hits per game. Placido Polanco drove in four runs and Raul Ibanez hit a two-run homer. But it was Valdez who provided the key hits out of the No. 8 hole. Jon Niese (0-1) got roughed up by an offense that he dominated last season. The left-hander allowed six runs and eight hits in four innings. The Phillies got going with a pair of runs in the third. Valdez reached on an infield single up the middle to start the inning. After Halladay sacrificed, Shane Victorino lined an RBI single to center. Victorino advanced to second on center fielder Angel Pagan's throwing error, and scored when Polanco drove a double to deep left. Ben Francisco started Philadelphia's fourth with a single and Ibanez was hit by a pitch. Carlos Ruiz hit an RBI single and Valdez followed with an RBI double down the first-base line to make it 4-0. Niese nearly escaped further damage by striking out Halladay and Victorino. But Polanco lined a two-run single, putting Philadelphia up 6-0. Valdez hit a two-run double in the fifth off Pedro Beato. Ibanez went deep off Tim Byrdak in the seventh. Halladay pitched out of a jam in the third when the Mets loaded the bases with one out on three singles. He struck out David Wright swinging at a 91 mph cutter, then retired Ike Davis on a grounder to second to end the inning. Davis snapped his RBI streak. He drove in at least one run in each of the club's first five games.