Lucas Duda only received three plate appearances during his two-day return to the Mets. He struck out twice looking Tuesday against Giants right-hander Ryan Vogelsong as the starting left fielder before being replaced by Scott Hairston in the fifth when San Francisco went to left-hander Dan Runzler. A day later, Duda popped out in foul territory in left field as a pinch-hitter against closer Brian Wilson to end Wednesday's game.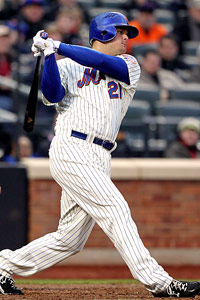 Al Bello/Getty Images
Lucas Duda returns to Buffalo with the activation of Jason Bay.
Duda, who had hit .118 in eight early season games before being sent to Triple-A Buffalo, was returned to the Bisons on Thursday when Jason Bay returned from a two-day absence for the birth of his third child.
"Obviously you want Jason back," Duda said. "I would want Jason Bay out in left field; I wouldn't want me out in left field. They told me it was for a couple of days. I said, 'You know, two days is better than no days.' If I never get back here, I got two days. So that was pretty cool."
After being demoted April 10 when the Mets went to an eight-man bullpen, Duda started slowly with Buffalo. He was hitting .159 in the International League as recently as April 23. But Duda had put together five multi-hit games in his last eight games with the Bisons before the call-up, with three homers during that stretch.
"I was seeing the ball a little better," Duda said. "I kind of got my confidence back. I started off pretty poorly here, but I think I got that confidence back and realized, 'Hey, you can hit a little bit, so go out and try to have some fun.'"
Duda more recently had played left field with the Bisons, but he also has season action in 13 games this season in right field in Triple-A as well as two games at first base.
"It's coming slow," Duda said. "Outfield is an adjustment. It's coming. Hopefully it will come sooner than later. I feel more comfortable out there."