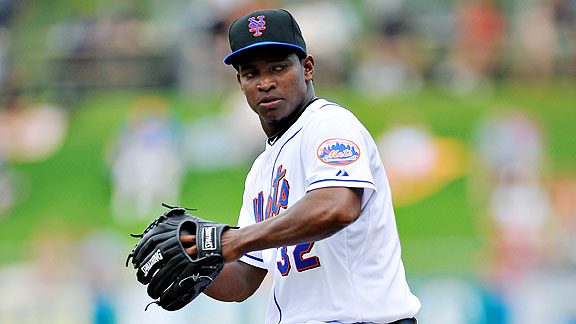 Brad Barr/US Presswire
Jenrry Mejia is due to undergo Tommy John surgery after an examination by Dr. James Andrews concurred with the team doctors' diagnosis that the procedure was required.
The debate about whether Jenrry Mejia ought to be a starting pitcher or reliever has been shelved for at least a year, now that Mejia has resolved to have Tommy John surgery.
A second opinion conducted by Dr. James Andrews in Birmingham, Ala., concurred that the 21-year-old Mejia requires ligament-replacement surgery in his right elbow to repair a fully torn medial collateral ligament.
Team doctor David Altchek is due to perform the procedure in the coming days. The recovery time is generally at least 12 months.

Starting Pitcher
Buffalo Bisons (AAA)
"The most important thing is getting him back healthy and able to pitch," GM Sandy Alderson said. "At that point we'll make a decision, based on how he has progressed, as to whether or not one role would be better than another. But I think trying to determine that now in the absence of any real information about how he progresses during the rehabilitation is speculation. We just have to wait and see."
During spring training, Dan Warthen suggested Mejia projected as a relief pitcher -- although the pitching coach made it clear that was his personal opinion and not the prevailing organizational view. Warthen's opinion was based on the pressure on the elbow Mejia requires to throw the baseball, compared to some other pitchers' more fluid deliveries.
"I think Mejia works really hard to throw the baseball," Warthen said at the time. "And I worry about the volume of pitches during the course of a year. You get 30 to 35 starts, and you're throwing 100 pitches each time, every fifth day, I worry. ... You just watch his arm swing. It's a long arm swing. His ball naturally cuts -- again, [like] a Mariano Rivera. If Mariano had to go out there and throw 100 pitches every fifth day, when a ball cuts all the time, instead of staying behind it, I think you find a lot of torque on your elbow and your shoulder. But, again, that's a singular opinion. [Mejia] is a very strong individual."
There are multiple logical reasons why Mejia might have been used as a starting pitcher at Triple-A Buffalo -- where he was 1-2 with a 2.86 ERA in five starts this season before arriving at the ballpark two weekends ago with swelling in his right forearm. The organization simply could have wanted to see if he could do it, since starting pitchers are more valuable. Using Mejia as a starting pitcher also required him to develop his curveball and changeup, rather than simply rely on the natural cutting action of his fastball. And, although there was no indication this was a true intent, Mejia would be more valuable to other teams in a trade if he looked capable of starting. (It's a reason, at least partly, why Class A St. Lucie standout Wilmer Flores remains at shortstop even though his lack of speed suggests he ultimately will end up at another position.)
Buffalo manager Tim Teufel said last month that Mejia's curveball and changeup really had shown progress.
"Perhaps first and foremost it's about developing all of his pitches -- and determining based on the development of those pitches, separate and apart from his physical condition, whether he's capable of starting, and then going from there," Alderson said about the motivation to use Mejia as a starter before the injury. "My guess is he's going to be very valuable to us whether he's in a starting role or a relieving role. We'll just have to wait until he's much further along in the rehabilitation process before we make any decisions."
When a high-profile prospect gets injured, it is natural to try to find causes … or assign blame. In reality, the actual causes -- or assigning percentages to different factors -- is impossible to do.
The reason for Mejia's injury could be as simple as a certain percentage of pitchers are going to need Tommy John surgery. Or that he, as Warthen intimated, was more susceptible because of the style of his delivery. Tommy John surgeries aren't exactly rare. In the Mets' clubhouse, Jason Isringhausen has undergone three, Chris Capuano two, Ryota Igarashi one in Japan and Pedro Beato in high school, among others.
Of course, the Mets did jerk Mejia between relieving and starting last year. And Mejia suffered a rhomboid strain of his right shoulder blade during the second half of last season. Trying to pitch through an injury can make a player susceptible to other injuries because his delivery may be unwittingly altered to favor the original problem area.
"If you're getting at the question of whether this injury was the result of being used as a starter, I don't think there's any connection whatsoever except to the extent that maybe at a certain number of pitches in his career this was going to happen," Alderson said.
One scout even wondered if a young player used to the tropical Dominican Republic climates was not ready to have high pitch counts in freezing Buffalo weather in April. A look at Mejia's pitch counts and the temperatures at the games' opening pitches this year shows:
April 8 -- 88 pitches, 56 degrees
April 13 -- 101 pitches, 46 degrees
April 19 -- 92 pitches, 35 degrees
April 24 -- 89 pitches, 48 degrees
April 29 -- 81 pitches, 39 degrees
"It's a little hard to keep a Dominican player or a player from Florida or Southern California from pitching in cold weather," Alderson said. "That's just the nature of the geography that exists in professional baseball, and certainly in Major League Baseball. I don't think there's any one factor that we could point to. From our standpoint, the elbow injuries result from a variety of things."