Five years after Erik Goeddel last worked as a starting pitcher, the 22-year-old right-hander is back in that role as a member of the Savannah Sand Gnats rotation. Goeddel last started in high school in 2006, before Tommy John surgery forced him to miss his senior season and his first year at UCLA.
"I always thought of myself as a starting pitcher," Goeddel said. "With the injuries and stuff that happened to me in college, I was kind of forced into the bullpen. We had a bunch of really good arms there and, by the time I was healthy, our rotation was already set. So I was forced to be in the bullpen. And then when the Mets drafted me, they asked me what I would prefer to do and thought I'd be better at. I thought I'd be a better help to the organization as a starter, and they agreed."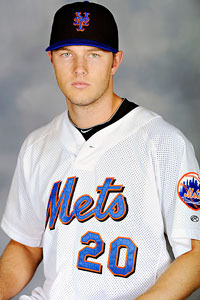 Courtesy of New York Mets
Erik Goeddel
The Mets drafted Goeddel in the 24th round last June, but that is deceptive.
Goeddel, highly regarded, told teams he wanted third-round money or better in order to forego the remainder of his college days. Because he medical redshirted his freshman year at UCLA, Goeddel had two years of eligibility remaining. And the Bruins coaching staff had pledged for him to be the Sunday starter during the 2011 season if he remained, in a weekend rotation that also would include Gerrit Cole and Trevor Bauer. Baseball America now ranks those right-handers as the No. 2 and No. 12 college prospects in the upcoming draft.
"From what I've heard they're both supposed to go top half of the first round," Goeddel said.
The Mets generally are conservative in throwing around dollars in the draft, instead adhering to Major League Baseball's recommended signing bonuses based on the slot a player is drafted. In the case of Goeddel, the Mets threw that out the window.
They took Goeddel in the 24th round and offered him $300,000 -- double the amount that any other pick in that round ended up receiving. Goeddel countered at $400,000. They met in the middle, with the Mets also agreeing to foot the bill for the remainder of Goeddel's education.
"I pretty much told all the teams before the draft that I wanted third-round money or better in order to sign, because I had the possibility of going back and starting in that good rotation where I felt like I could have made myself a pretty good amount of money if I did that," Goeddel said. "I talked to a few teams, the Mets being one of them. They said there's a good chance they'll take me later in the draft with the thought that they would give me the money I was asking for, and not have to waste a higher pick on it. Actually, I didn't talk to the Mets too much except right before the draft. And then all of a sudden I get a phone call saying the Mets drafted me."
Goeddel never found himself in the UCLA rotation when healthy because he needed to undergo a second surgery during the summer between his second and third years of college to clean out scar tissue related to the original Tommy John procedure. By the time he was ready, it was the eve of the 2010 season, and the rotation was set.
He throws a four-seam fastball that sits at 92-93 mph as well as a curveball, slider and changeup. The 6-foot-3 Goeddel pitched one inning in the Gulf Coast League last year after signing. This year, in his first full professional season, he is 1-2 with a 3.60 ERA in six starts for low-A Savannah. He has allowed 27 hits, issued eight walks and hit one batter while striking out 33 in 30 innings.
"I like using all four pitches," Goeddel said. "But it's pretty much this way with any pitcher -- usually one or two of those pitches aren't working. Then you've got to be able to pitch with the other pitches. That's basically the main thing I've been working on this year is learning how to pitch with two of the pitches when the other two aren't working, or learning when they are working how to use all four at the same time and knowing when is the right time to throw each of those pitches.
"In college it was always the coach throwing the pitches and you went out there and were kind of like a robot basically. They tell you what to do and you do it. Now you've got to think for yourself. It's been a learning experience trying to figure all of that out."
Organization leaders
Average: Matt den Dekker, St. Lucie, .325; Cory Vaughn, Savannah, .314; Kirk Nieuwenhuis, Buffalo, .311; Josh Satin, Binghamton, .311; Wilmer Flores, St. Lucie, .297; Jefry Marte, St. Lucie, .288; Jordany Valdespin, Binghamton, .284; Mike Fisher, Binghamton, .282; Ruben Tejada, Buffalo, .281; Jesus Feliciano, Buffalo, .275.
Homers: Brahiam Maldonado, Binghamton, 9; Jefry Marte, St. Lucie, 5; Kirk Nieuwenhuis, Buffalo, 5; Aderlin Rodriguez, Savannah, 5.
RBI: Brahiam Maldonado, Binghamton, 22; Wilmer Flores, St. Lucie, 20; Aderlin Rodriguez, Savannah, 20; Jefry Marte, St. Lucie, 19.
Steals: Pedro Zapata, St. Lucie, 9; Jordany Valdespin, Binghamton, 7; Lorenzo Scott, Binghamton, 6; Robbie Shields, Savannah, 6.
ERA: Jeurys Familia, Binghamton, 1.45; Chris Schwinden, Buffalo, 1.80; Brad Holt, Binghamton, 2.59; Mark Cohoon, Binghamton, 2.70; Scott Moviel, St. Lucie, 2.72; Brandon Moore, Binghamton, 2.76; Jenrry Mejia, Buffalo, 2.86; Matt Harvey, St. Lucie, 2.97; Greg Peavey, Savannah, 3.00; Ryan Fraser, Savannah, 3.34.
Wins: Matt Harvey, St. Lucie, 4; Scott Moviel, St. Lucie, 4; John Church, St. Lucie, 3; Brandon Moore, Binghamton, 3; Brandon Sage, Binghamton, 3.
Saves: Jeffrey Kaplan, St. Lucie, 8; Josh Edgin, Savannah, 5; John Lujan, Buffalo, 4; Ronny Morla, St. Lucie, 4; Nick Carr, St. Lucie, 3.
Strikeouts: Matt Harvey, St. Lucie, 42; Jeurys Familia, Binghamton, 42; Darin Gorski, St. Lucie, 38; Greg Peavey, Savannah, 36; Erik Goeddel, Savannah, 33.
Short hops
• Terry Collins did not offer a glowing assessment of the safety net remaining at Triple-A in terms of starting pitching now that Dillon Gee has slotted into the major league rotation for Chris Young, and with Pat Misch assigned to the Mets' bullpen. "I'm not sure what else is down there that can help us," Collins said. The Buffalo rotation currently consists of D.J. Carrasco (0-2, 3.58 ERA), who is in the first season of a two-year, $2.4 million deal, as well as newly signed Brian Sweeney (0-1, 6.00) out of the independent Atlantic League, veteran Casey Fossum (0-2, 3.58) and 23-year-old Josh Stinson (1-3, 5.84) and 24-year-old Chris Schwinden (2-1, 2.00). Schwinden actually now has logged enough innings to be among the International League qualifiers in ERA. He ranks fifth, behind Durham's Alexander Torres (1.44) and Alex Cobb (1.59) and Gwinnet's Julio Teheran (1.80) and Mike Minor (1.82). The ex-Mariner Sweeney, signed from the Somerset Patriots, allowed three homers but limited the damage to five runs (four earned) in six innings in his Bisons debut while striking out eight and walking none.
• Buffalo center fielder Kirk Nieuwenhuis rebounded Tuesday with a two-hit game to lift his average to .311 and also walked in five plate appearances a day after failing to reach base for only the second time this season.
• Thursday's Buffalo-Scranton/Wilkes-Barre game will be televised on SNY at 1 p.m. Stinson opposes Yankees prospect Adam Warren (1-1, 3.97).
• Ruben Tejada's average briefly climbed over .300 Friday with a 3-for-4 game against Louisville. Tejada then endured an 0-for-12 skid. His average sits at .281 after going 2-for-4 Tuesday.
• Infielder Russ Adams retired. Adams, 30, was hitting .180 in 61 at-bats with Buffalo. He appeared in 286 games with the Toronto Blue Jays from 2004 to '09.
• Buffalo third base prospect Zach Lutz, who was taking swings and nearing a return from a right hamstring strain, had a tough break. Lutz fractured the ring finger on his left, non-throwing hand getting struck with a foul ball in Rochester. Fortunately, the injury wasn't more severe. It was a ball off the bat of Lutz late in spring training that struck Sean Ratliff in the face and created vision issues and multiple fractures.
• Reliever Manny Acosta has picked up three holds and a win in his last four appearances while striking out nine in five innings. Still, there have been major control issues. Acosta has walked 15 in 13 innings with the Bisons, including three in an inning Monday against Scranton/Wilkes-Barre.
• Buffalo reliever Jose De La Torre has not appeared in eight days because of soreness, but is nearing a return, farm director Adam Wogan said.
• After opening the season in a 7-for-44 rut, Binghamton shortstop Jordany Valdespin had a hit in 14 of 15 games. His nine-game hitting streak was snapped Tuesday. Valdespin's average has climbed to .284. He came within a single of the cycle Monday. Scouts have said Valdespin's head movement will make him susceptible to breaking balls, but Wogan suggested Valdespin has worked to address the flaw.
• Newly promoted Jeurys Familia and Brandon Sage combined to produce a 5-2 win for Binghamton in their Double-A debuts. Familia, who went seven innings and allowed two runs (one earned), had been 1-1 with a 1.49 ERA in six starts for St. Lucie. He limited Florida State League batters to a .171 average. Sage, a 37th-round pick in 2009 out of the University of South Alabama, went 2-1 with a 3.45 ERA in 10 relief appearances with St. Lucie. Rhiner Cruz, who had been 2-1 with a 2.77 ERA in 13 innings in the Florida State League, debuted with the B-Mets the previous day.
• 2010 first-round pick Matt Harvey had a rare rough outing in his first professional season. Harvey was charged with eight runs in 3 2/3 innings Tuesday against Lakeland as his ERA with St. Lucie rose from 1.10 to 2.97. Before the outing, VP Paul DePodesta intimated Harvey was soon to join Familia in Binghamton's rotation. Harvey's only other blemish came April 28 when he allowed four runs in 4 1/3 innings against Bradenton.
• Binghamton second baseman Josh Satin is hitting .311, with a .424 on-base percentage. Teammate Eric Campbell's average has been lagging (.215), but the third baseman does have 18 walks in 28 games. Campbell produced his first homer this season Tuesday on a drive to left-center. He went deep 10 times last season between St. Lucie and Binghamton.
• Brahiam Maldonado continues to put up big power numbers with Binghamton (nine homers, 22 RBIs). A five-game hitting streak also has lifted his average to .208. The B-Mets, who have the fewest runs scored in the Eastern League, desperately need Maldonado's contribution in the cleanup spot.
• Rule 5 pick Ronny Morla was promoted from Savannah to St. Lucie. Opponents were hitting .130 against him, which ranked third among South Atlantic League relievers.
• Greg Peavey allowed only one unearned run in six innings Tuesday for Savannah, continuing an incredible run by the Gnats' rotation. In the first six games of the home stand, Savannah starters Taylor Whitenton, Ryan Fraser, Gonzalez Germen, Peavey and Goeddel have combined to allowed four runs and 23 hits in 37 2/3 innings.
• Right-hander Tobi Stoner, who had been dealing with a shoulder impingement, is due to start for St. Lucie on Thursday. He was working back in extended spring training.
Adam Rubin's farm report appears Wednesdays during the season