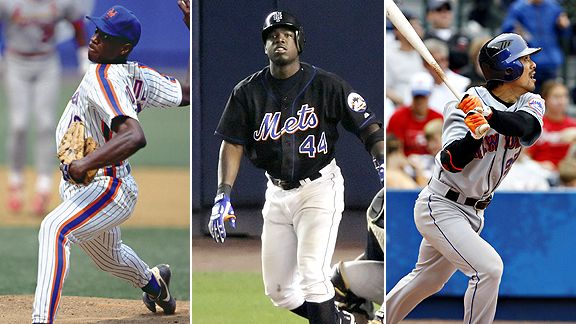 John Munson/US Presswire
Former Mets No. 1-ranked prospects include (l to r) Dwight Gooden in 1984, Lastings Milledge in 2005 and '06 and Kazuo Matsui in 2004.
Recently promoted Fernando Martinez, who delivered a clutch pinch-hit homer Friday at Houston, twice has been named the top prospect in the Mets' minor league system by Baseball America.
F-Mart joins only Gregg Jefferies, Bill Pulsipher, Alex Escobar, Lastings Milledge and Jenrry Mejia as multi-year honorees.
But will the 22-year-old Martinez ultimately end up in the category of Darryl Strawberry, Dwight Gooden and Jose Reyes as justifying the hype? Or is Martinez, who already has an arthritic knee, bound for the category occupied by outfielders Alex Escobar and Lastings Milledge?
"Kind of cool to see Strawberry and Gooden as our first two Mets No. 1s," Baseball America editor Jim Callis wrote while providing the list.
Here's a look at BA's No. 1 Mets prospects since the inaugural rankings in 1983:
1983, Darryl Strawberry, OF: Still the franchise's all-time homer leader at 252 -- 32 better than runner-up Mike Piazza. Straw is the leader in RBIs with 733 as well. He is now tied with David Wright atop the runs scored list at 662.
1984, Dwight Gooden, RHP: Now known for "Celebrity Rehab," check out these '85 numbers from Dr. K: 24-4, 1.53 ERA, 268 strikeouts, 276 2/3 innings.
1985, Calvin Schiraldi, RHP: A first-round pick from the University of Texas, Schiraldi was traded to Boston in a deal that brought Bobby Ojeda to the Mets before the championship '86 season. Schiraldi suffered two losses against the Mets in the World Series, including the defeat in Game 7, when he surrendered a tiebreaking seventh-inning homer to Ray Knight.
1986, Kelvin Elster, SS: Hit .224 in 537 games over seven seasons as a Met.
1987-89, Gregg Jefferies, SS: Not a popular teammate, Jefferies ultimately played 14 major league seasons for the Mets, Royals, Cardinals, Phillies, Angels and Tigers. He was selected to the All-Star Game in 1993 and '94. Jefferies went to K.C. in December 1991 with Kevin McReynolds and Keith Miller for Bret Saberhagen and Bill Pecota.
1990, Julio Valera, RHP: After five major league appearances (three starts) with the Mets, Valera was dealt to the Angels in April 1992 for Dick Schofield, who was needed with shortstop Kevin Elster having shoulder woes. Valera went 8-11 with a 3.73 ERA that year for California, then did not post an ERA below 6.46 again.
1991, Anthony Young, RHP: Lost 27 straight decisions from 1992-93. The previous franchise record had been 19 straight losses by Craig Anderson from 1962-64.
1992, Todd Hundley, C: Selected to two All-Star Games as a Met. During the offseason after Mike Piazza arrived from the Marlins, Hundley was traded in December 1998 to the Dodgers for Roger Cedeno and Charles Johnson. Johnson immediately went to the Orioles for Armando Benitez.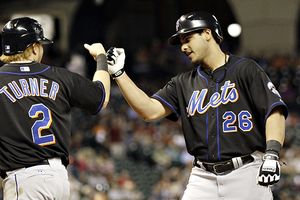 AP Photo/David J. Phillip
Fernando Martinez was ranked the Mets' top prospect in 2008 and '09.
1993, Bobby Jones, RHP: Produced double-digit win totals for four straight seasons as a Met, including 15 victories in 1997.
1994-95, Bill Pulsipher, LHP: Part of famed Generation K with Paul Wilson and current Met Jason Isringhausen. Plagued by injury, Pulsipher missed the 1996 season after undergoing reconstructive surgery that April. His final major league numbers: 13-19, 5.15 ERA, 106 appearances (46 starts). In recent years, Pulsipher had been kicking around with the independent Long Island Ducks.
1996, Paul Wilson, RHP: The first overall pick in the 1994 draft, he went 5-12 with a 5.38 ERA for the 1996 Mets. He then needed arthroscopic shoulder surgery that November.
1997, Jay Payton, OF: Hampered by leg injuries, Payton did play 12 seasons in the majors -- as recently as 20 games in 2010 with the Rockies. He originally was dealt by the Mets to Colorado at the trade deadline in 2002 in a deal that returned John Thomson.
1998, Grant Roberts, RHP: Ended up on Newsday cover for college-age photo smoking bong. Had shoulder surgery in May 2004 and was released by the Mets the following April. His career ended that year with the Yankees in Double-A.
1999-2001, Alex Escobar, OF: Poster child for hyped outfield prospect who did not materialize. Sent to Cleveland with Matt Lawton, Jerrod Riggan, Billy Traber and Earl Snyder in December 2001 for Roberto Alomar and Mike Bacsik. Escobar's final major league numbers: .258, 13 HR, 52 RBIs in 388 at-bats with the Mets, Indians and Nationals.
2002, Aaron Heilman, RHP: Always wanted to start. Never got the chance, even though he was the equal of Brian Bannister in fifth-starter competition in spring-training 2006. Heilman served up the Game 7 homer in the 2006 NLCS to Yadier Molina. He was shipped out in December 2008 in the three-team trade that brought J.J. Putz to Flushing.
2003, Jose Reyes, SS: Already the franchise leader in steals and triples. Reyes, a free agent after the season, is a three-time All-Star (2006, 2007, 2010).
2004, Kazuo Matsui, SS: Mets brass felt so good about Matsui, the team moved Jose Reyes to second base in order to entice Matsui to sign with the organization out of Japan. Didn't quite pan out.
2005-06, Lastings Milledge, OF: High-fived fans. Traded to Washington for Brian Schneider and Ryan Church. Bounced to Pirates and White Sox. Currently at Triple-A Charlotte, playing for manager Joe McEwing.
2007, Mike Pelfrey, RHP: Still with a chance to define career, Pelfrey won 15 games last season, despite a seven-game summer swoon. Pelfrey is earning $3.925 million and is arbitration-eligible next offseason, so his Mets days could be numbered without a sustained upswing in performance.
2008-09, Fernando Martinez, OF: Signed for $1.3 million in 2005, enticed by Pedro Martinez's presence in addition to the signing bonus. However, he has averaged only 77 games a professional regular season because of assorted injuries.
2010-11, Jenrry Mejia, RHP: Still plenty of promise, although debate is whether he will be a starting pitcher or reliever. Underwent Tommy John surgery Monday and will be out until summer of 2012.