The streak lives on.
The New York Mets came into Thursday afternoon's game against the Washington Nationals having gone 7,848 regular-season (and 74 postseason) games without throwing a no-hitter.
Rookie right-hander Dillon Gee did his best to prevent it from becoming 7,849, and for 5 2/3 innings, it looked as though he would -- until his counterpart, right-hander Livan Hernandez, stepped to the plate.
A career .220 hitter, Hernandez ripped a 90 mph first-pitch fastball from Gee up the middle for a single with two outs in the top of the sixth inning, breaking up Gee's no-hit bid and keeping the Mets' "no no-no" streak intact.
The 25-year-old Gee, who was making just his 10th major league start, wound up giving up two hits -- third baseman Alex Cora singled off him with one out in the eighth -- over a career-high 7 2/3 innings in the Mets' 1-0 victory over the Nationals in front of 26,825 at Citi Field.
He just wishes he could've had that pitch to Hernandez back.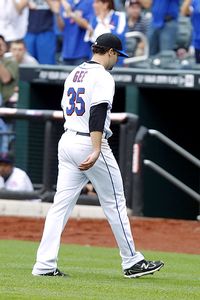 Andrew Mills/The Star-Ledger/US Presswire
Dillon Gee's no-hit bid fell way short, but he came out a winner Thursday afternoon.
"That's what happens," said Gee (3-0), who won his third consecutive decision and first since April 23 versus the Arizona Diamondbacks. "As pitchers, we know that's gonna be the best pitch we're gonna get. ... I couldn't justify starting off a pitcher with off-speed stuff that late in the game and then falling behind [in the count], so I just went after him and he hit one back up the middle."
Gee's 5 2/3 hitless innings Thursday afternoon marked the longest no-hit bid by a Mets starter since left-hander Johan Santana also went 5 2/3 innings on Aug. 7, 2010, against the Philadelphia Phillies.
"The way he pitched today, I said, they're hitting it at people, they're hitting it on the ground, he's changing speeds. I thought, this could be a special day," manager Terry Collins said. "He was outstanding."
According to the ESPN Stats & Information, Gee is just the third pitcher in Mets history to have at least two starts of seven or more innings allowing two or fewer hits this quickly into his career (13th game). The other two are Jim McAndrew and Dwight Gooden.
"He pounded the strike zone," said Collins of Gee, who lowered his ERA to 3.44 by throwing 69 of his 107 pitches for strikes. "He was around the plate. He really bared down."
Gee, who went five no-hit innings against the Nationals in his major league debut on Sept. 7, 2010, had to bare down early.
He wound up throwing 13 pitches to the first batter he faced, Nationals leadoff man Roger Bernadina, before striking him out looking with a 72 mph curveball, setting the tone for a memorable outing. And when left fielder Jason Bay made a sliding grab to rob Washington catcher Ivan Rodriguez leading off the sixth, it felt like Gee was going to break the streak.
"I started realizing [I had a no-hitter] about the fourth or fifth inning," he said, "but everyone in baseball knows that's too early to be thinking about a no-hitter."
Hernandez came up just one batter after Bay's web gem and ended Gee's no-hit bid.
At that point, it was still a 1-0 game. So Gee, who walked three and struck out three, had to regroup. And regroup he did.
Gee allowed two baserunners in the eighth but would up getting Nationals pinch hitter Matt Stairs to line out to right field, and left-handed specialist Tim Byrdak came on to end the frame by getting Bernadina to bounce into a fielder's choice.
Closer Francisco Rodriguez wrapped up Gee's victory by working a scoreless ninth to convert his 14th straight save opportunity and extend his scoreless innings streak to 18.
Third baseman Justin Turner provided the game's only run when he drove home catcher Josh Thole with a single in the bottom of the fourth. Turner has driven in a run in five consecutive games, the longest such streak for a Mets hitter this season.
"I can't tell you my secrets," said Gee, who rebounded from a tough outing May 13 in which he allowed four runs in five innings. "It was more of a mental thing. I was being too [timid]. I wasn't attacking guys. I gave up three walks today, but two of them were on my terms.
"The other few games I was walking guys because I didn't know where it was going, and I didn't like that. I was trying to be too fine. I was trying to make the ball move instead of just throwing."
Gee certainly threw the ball Thursday afternoon. He nearly threw himself into the record book.
But at the end of the day, the streak still stands: 49 years, one month and eight days.
Or 7,849 games and counting.