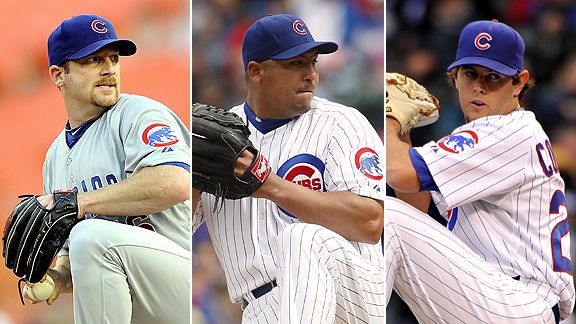 US Presswire
Ryan Dempster (left) faces the Mets in Tuesday's series opener, followed by Casey Coleman (right) and Carlos Zambrano (center).
METS (22-24, fourth place/NL East) vs. CHICAGO CUBS (20-25, fifth place/NL Central)
Tuesday: LHP Jon Niese (3-4, 4.39) vs. RHP Ryan Dempster (2-4, 6.91), 8:05 p.m. ET
Wednesday: RHP Dillon Gee (3-0, 3.44) vs. RHP Casey Coleman (2-3, 6.03), 8:05 p.m. ET
Thursday: RHP R.A. Dickey (2-5, 4.71) vs. RHP Carlos Zambrano (4-2, 4.88), 2:20 p.m. ET
Cubs short hops
• Center fielder Marlon Byrd (.308, 3 HR, 11 RBI) was struck in the left eye by a pitch from Boston Red Sox right-hander Alfredo Aceves on Saturday at Fenway Park. He suffered eye injuries as well as broken cheekbones. "As long as I can see and I have no brain damage, I'm blessed," Byrd told ESPNChicago.com. With Byrd sidelined, Reed Johnson will serve as the center fielder. Johnson is hitting .370 with two homers and 15 RBIs in 54 at-bats. Reliever Justin Berg temporarily replaced Byrd on the active roster because the Cubs required a bullpen day Sunday with scheduled starter Matt Garza -- who won 15 games for the Rays last season -- unavailable due to elbow tightness. An extra bench player was due to be summoned for the series opener against the Mets.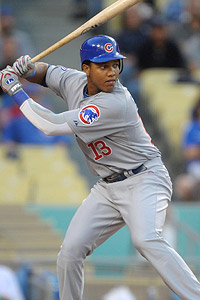 Cubs shortstop Starlin Castro
• Second baseman Darwin Barney ranks 10th in the National League with a .315 average. Barney, who won a College World Series at Oregon State and a fourth-round pick in 2007, was named the league's Rookie of the Month for April.
• Shortstop Starlin Castro ranks sixth in the NL with a .323 average, despite a 2-for-25 stretch in the first six games of this month. Last season, Castro became the first Cubs rookie to finish with an average of .300 or better and in the top-10 in the league in batting since Bill Madlock in 1974.
• Jeff Baker, who has started games at five positions this season, suffered a strained left groin during a seventh-inning double Sunday.
• The Cubs' ERA for starting pitchers ranks last in the majors at 5.54. Cincinnati ranks 29th at 4.97. Andrew Cashner, the Cubs' best young starting pitcher, is out for the remainder of the first half after aggravating his rotator cuff while already sidelined. Randy Wells, who has made only one start this season because of a forearm injury, is due to return from the disabled list for Chicago's weekend series against Pittsburgh. Doug Davis allowed seven runs in 3 2/3 innings against the Red Sox on Friday and will be skipped in the Mets series. Instead, the Mets face Carlos Zambrano on regular rest. Zambrano, in his first career start at Fenway Park, allowed three runs in 5 2/3 innings against the Red Sox in a no-decision in his most recent start.
• First baseman Carlos Pena is hitting only .216 with five homers and 19 RBIs after signing a one-year, $10 million contract as a free agent. Pena nonetheless had reached base in 16 straight games before the streak was snapped Sunday with an 0-for-4 performance. All five of Pena's homers have come since May 3.
• Closer Carlos Marmol has allowed only one earned run in his last 19 innings. He has struck out 24 with a .117 opponent batting average during that span.
• Tony Campana, who made his major league debut last Tuesday, dealt with Hodgkin's lymphoma as a child.
• Ryan Dempster received a no-decision in his most-recent start, when he allowed five runs in five innings against Florida. Reed Johnson hit a game-tying homer in the sixth to absolve him.
Matchups
Niese vs. Cubs (career: 1-1, 6.75 ERA)
Reed Johnson 1.000, 2 RBI, 2 PA
Jeff Baker .667, 6 PA
Marlon Byrd .600, 1 BB, 6 PA
Alfonso Soriano .286, 1 BB, 1 K, 8 PA
Aramis Ramirez .250, 1 HR, 3 RBI, 1 K, 8 PA
Starlin Castro .000, 1 K, 3 PA
Gee vs. Cubs (career: never faced)
Dickey vs. Cubs (career: 0-1, 10.50 ERA)
Starlin Castro .667, 3 PA
Blake DeWitt .400, 1 HR, 3 RBI, 5 PA
Alfonso Soriano .400, 1 HR, 4 RBI, 5 PA
Reed Johnson .333, 3 PA
Carlos Pena .200, 2 HR, 3 RBI, 2 BB, 1 K, 12 PA
Marlon Byrd .200, 6 PA
Kosuke Fukudome .000, 1 K, 3 PA
Aramis Ramirez .000, 1 BB, 3 PA
James Russell .000, 1 PA
Dempster vs. Mets (career: 9-5, 5.58 ERA)
Carlos Beltran .667, 1 HR, 3 RBI, 3 BB, 13 PA
Willie Harris .500, 1 BB, 5 PA
Ruben Tejada .500, 3 RBI, 3 PA
Jose Reyes .400, 1 RBI, 1 BB, 2 K, 6 PA
Josh Thole .333, 1 K, 3 PA
Daniel Murphy .333, 3 PA
Scott Hairston .200, 2 K, 5 PA
Ronny Paulino .200, 1 K, 5 PA
Jason Bay .154, 4 BB, 4 K, 17 PA
Coleman vs. Mets (career: never faced)
Willie Harris .000, 1 BB, 1 K, 3 PA
Zambrano vs. Mets (career: 5-3, 3.52 ERA)
Ruben Tejada .500, 1 K, 2 PA
Jason Bay .341, 5 HR, 16 RBI, 9 BB, 8 K, 50 PA
Jose Reyes .238, 2 RBI, 1 BB, 1 K, 22 PA
Scott Hairston .200, 1 BB, 2 K, 6 PA
Willie Harris .167, 1 RBI, 2 BB, 3 K, 27 PA
Carlos Beltran. 167, 1 HR, 2 RBI, 6 BB, 24 PA
Daniel Murphy .143, 1 RBI, 1 BB, 2 K, 8 PA
Ronny Paulino .053, 1 RBI, 4 BB, 9 K, 23 PA
Josh Thole .000, 1 K, 1 PA
Last series results
Cubs won, 2-1, at Wrigley Field, Sept. 3-5, 2010 (AP game recaps)
Cubs 7, Mets 6: Alfonso Soriano and Blake DeWitt each hit three-run homers, and the Cubs beat the Mets. It was a wild start to a weekend series between two disappointing teams, but the Cubs ultimately did just enough to come away with another win. David Wright delivered a two-run double and scored in the first as the Mets grabbed a 3-0 lead against Randy Wells. Then, with the Cubs ahead 7-4, Wright homered off Andrew Cashner leading off the seventh, giving him three hits. Things really got interesting when Luis Hernandez started the eighth against Sean Marshall with his second career homer and first since Sept. 27, 2007. That made it 7-6, but the Mets came up short. The Cubs are showing some spark since Mike Quade took over for the retired Lou Piniella. Ex-Mets outfielder Xavier Nady had three hits. Starlin Castro had a pair of singles for his fifth straight multi-hit game, but the biggest blows came from Soriano and DeWitt. And both came with two outs against knuckleballer R.A. Dickey (9-6). Soriano capped a four-run fourth with his 22nd homer, briefly putting the Cubs ahead 4-3. The Mets tied it in the sixth when Angel Pagan singled with two out and came around on a double to the right-field corner by Lucas Duda, the first hit and RBI of his career. That chased Wells, who gave up eight hits and was shaky again after going 1-4 in six starts last month. James Russell (1-1) came on and retired a pinch-hitting Carlos Beltran to end the Mets' rally, and the Cubs answered in a big way in the bottom half, giving him his first major league win. Aramis Ramirez led off with a walk, Nady followed with a single and, with two out, DeWitt drove a 1-0 pitch over the right-field wall for his fifth homer, making it 7-4. But the Cubs couldn't relax thanks to the homers by Wright and Hernandez, who had come on in the seventh as part of a double-switch. The Mets had the tying run on in the ninth after Carlos Marmol walked Joaquin Arias, but he retired Josh Thole on a fly for his 26th save in 31 chances. It was a rough afternoon for Dickey, who saw his ERA rise from 2.57 to 2.91. The seven runs allowed over six innings were the most for him since Aug. 20, 2008, when he allowed eight for Seattle in a loss to the Chicago White Sox.
Cubs 5, Mets 3: Carlos Zambrano passed Kerry Wood on the Cubs' strikeouts list, Starlin Castro became the club's first rookie in 66 years with six straight multi-hit games, and Chicago beat the Mets. The Cubs won for the eighth time in 11 games under interim manager Mike Quade, thanks to another sharp performance from Zambrano and big day at the plate from Castro. Zambrano (7-6) moved into third on the club's strikeout list with 1,411 -- four more than Wood -- after registering eight over seven innings. He allowed two runs and four hits while improving to 4-0 in six starts since his latest return to the rotation, another twist in a wild season that has seen the volatile ace bounce back and forth from the bullpen and get suspended for a dugout confrontation with former teammate Derrek Lee. The recent success comes while he's dealt with a seriously ill nephew back home in Venezuela. Castro delivered again at the plate, raising his average to .321. He doubled and singled, scored a run and stole a base. The Cubs said he is the team's first rookie with two or more hits in six straight games since Don Johnson did it from May 21-28, 1944. Marlon Byrd added two hits and scored twice, and Aramis Ramirez hit his 21st homer. Geovany Soto doubled in a run in the second and Xavier Nady added a sacrifice fly in the third as the Cubs grabbed a 2-0 lead. The Mets made it a one-run game in the fourth when Luis Castillo and Carlos Beltran executed a double-steal as Lucas Duda struck out, but the Cubs scored two in the fifth against Jenrry Mejia (0-3), sending New York to its fifth loss in six games. Byrd doubled to the right-field corner, driving in Castro after he led off with a single, and came around on a wild pitch to Tyler Colvin on what would have been an inning-ending strikeout to make it 4-1. New York's Ike Davis cut the lead to two with a solo homer to right-center in the seventh, but Ramirez answered with one of his own against Elmer Dessens leading off the bottom half. The Mets' Carlos Beltran doubled in a run in the eighth against Andrew Cashner, cutting it to 5-3, but Chicago hung on. Carlos Marmol struck out three in a scoreless ninth for his 27th save in 32 chances and third in as many games. He gave up a one-out single to Davis before getting Josh Thole and a pinch-hitting Mike Hessman to end the game. The 20-year-old Mejia lasted five innings in his first major league start, allowing four runs and eight hits.
Mets 18, Cubs 5: Ruben Tejada hit his first major league homer and drove in five runs, Ike Davis also connected and the Mets erupted for 21 hits and pounded the Cubs to avoid a weekend sweep. The Mets' bats perked up for season highs in runs and hits even though David Wright got a day off and Jose Reyes was still nursing a strained right oblique. They scored five runs in the fifth, eighth and ninth innings while winning for just the second time in seven games. It was quite a change for a team that was batting.228 since July 1. Giving them a big boost was a rookie who had never driven in more than a run. Tejada had a sacrifice fly in the second, a two-run single in the fifth, a homer leading off the seventh and bases-loaded walk in the ninth. The home run in the seventh hit the basket and initially was ruled a triple. He was standing on third when the call got changed, and at that point, Tejada had two words for the umpire: "Thank you." Davis had four hits and drove in three runs while scoring three. He drove a two-run shot in the eighth for his 17th homer and second in two games. Jon Niese (9-7) delivered a pair of RBI singles and more than made up for his struggles on the mound. He went six-plus innings, giving up five runs after allowing a combined 15 in his previous two starts, but helped himself with a big day at the plate. A .133 hitter entering the game, he chased Ryan Dempster (12-10) with an RBI single that capped a five-run fifth and turned a 4-2 deficit into a 7-4 lead.