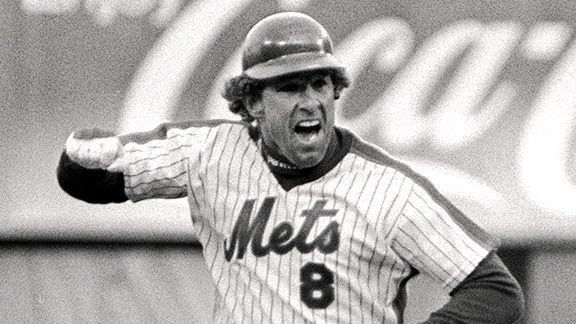 AP Photo/Ray Stubblebine
Carter's exuberance was evident on his first day as a Met, and it earned him the adoration of fans.In TV, we call it a tease.
If you're watching a show and, during a commercial break, a preview of the next show comes on your screen, the goal is to entice you with just enough information to make you watch that show. Teases are well planned out, from the video you're watching to the description of what you can see if you tune in later.
The most effective tease I can remember came from WCBS-TV on Monday, Dec. 10, 1984, sometime between Emma McCardle (of the sitcom Kate & Allie) developing a crush on her piano teacher and Chris Cagney (of the cop drama Cagney and Lacey) worrying that Sgt. McKenna had given in to his drug addiction.
WCBS did something unusual for its tease that night.
Rather than tease the 11 o'clock news with a story about a fire or murder, it teased a sports story. "The New York Mets make a major trade," the anchor taunted that night (I believe it was New York City news legend Jim Jensen).
This was in the days before iPhones and Twitter and the reaction of those watching was one of both shock and impatience. This news had come totally out of the blue. There were no rumors in the newspapers or other media in the days prior.
Thank goodness for SportsPhone, which offered sports news, updated every five to 10 minutes, for a mere 50-cent call.
My father sprinted to the kitchen to make the call. A few moments later, he started screaming.
The Mets had traded for Gary Carter.
Gary Carter was a big deal. This catcher was a megastar and future Hall of Famer at a position where such players are few and far between. My father's reaction was over the top because this was the player who was going to put the Mets over the top.
And Carter was an over-the-top kind of personality-- a media hound with a huge smile and pump-your-fist after every home run enthusiasm.
Carter was such a big deal that when he appeared at Macy's the following winter, the demand for his autograph required a two-hour wait. One man in line warned others around him: "Whatever you do, don't touch his knees."
Carter had bad knees, terrible ones that required multiple operations and eventually replacements, but they were good for a few Mets magic moments.
Carter hit a walk-off home run to win his first game as a Met, hit his 300th home run after a multi-month wait that made the delay in getting his autograph seem like nothing, got the game-winning hit in Game 5 of the 1986 NLCS, started the 10th-inning rally in Game 6 of the World Series, led the Mets with nine RBI in that most recent championship quest, and got a game-winning hit with two outs and two strikes in Game 1 of the 1988 NLCS.
Over the next 25 years, Carter's prime passed, and he faded into the background. He wanted to manage a major league team, but others determined that he wasn't suited to do so. Carter was someone who always aspired to the highest level. He openly campaigned for the Mets managerial job when Willie Randolph was struggling.
That doesn't tarnish him as a person in any way. Carter was a passion player, one who wore his heart on his sleeve 162 games per year, which probably made him more ideal for his current job, coaching small-college baseball. The current Mets could use more guys like him.
But this evening, we got some bad news about Carter, learning that the four tumors found in his brain earlier this week are almost certainly malignant. It is likely a long, uncertain and potentially very unpleasant road ahead.
But with Gary Carter, there is hope. There is always hope. When the Mets needed something big, he almost always delivered. When Carter was playing for the Mets, you always felt you had a chance to win.
So I'm still believing in Carter and hoping that he somehow pulls through this latest ordeal.
I'm hoping that the next tease I hear about Carter brings news equally as good as that which I heard nearly 27 years ago.