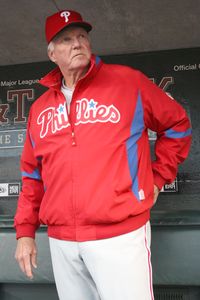 Phillies manager Charlie Manuel redirected sign-stealing attention to the Mets.
Jerry Manuel continued to yuck it up about the Phillies' alleged sign stealing, and how Phillies counterpart Charlie Manuel suggested the Mets ought to be the ones investigated because of their solid home record.
"Tell him we hit .220 at home," the Mets skipper playfully said. "So we need to stop stealing signs if that's what we're doing."
Told the Mets, who are 14-8 at Citi Field, actually are hitting .267 at home (as opposed to .214 on the road) he added:
"Oh, we are? We're killing it then."
The Phillies were accused by the Colorado Rockies of stealing signs via binoculars in the visitors' bullpen at Coors Field.
"I watch coaches. I watch players. I watch managers," the Mets skipper said. "I try to pick up everything I can. I just don't use binoculars to do it. I just watch the game."
As for Charlie Manuel's dig at the Mets, the Mets manager replied: "He just likes to put some spice in the rivalry."
NO FLIP: Asked if he might consider restoring Jose Reyes to the leadoff spot and moving Angel Pagan to third, Manuel replied with a resounding no. The manager's logic: If the approach should be the same in either slot, why would it matter so much? Reyes enters the Marlins series hitting .228 in 127 at-bats overall since returning from the disabled list.
"I'm a little stubborn with that," Manuel acknowledged. "… If I put Pagan third and Reyes leadoff, if Reyes got hot and Pagan didn't handle the third spot, could I flip Reyes back to third? That would be a question. And, I think, if you do that, then you're saying there is a difference in (hitting) first and third."
LEASH LENGTHENING: Left-hander Oliver Perez is not pitching for his rotation spot when he opposes the Marlins on Friday, Manuel insisted. Asked specifically about the possibility of reassigning Perez to the bullpen, the manager said: "I'm not even thinking about that."
ON LEAVE: The Mets expect catcher Henry Blanco to be away from the team for the full seven days allowed on bereavement leave. Blanco is in Venezuela with his ailing mother. Blanco does not have to be reactivated until Monday in Atlanta. Josh Thole is expected to remain with the Mets through the weekend. Rod Barajas -- despite still dealing with a left index finger bruise from a botched pitchout -- has caught exclusively since Monday, with Thole yet to appear.
ON THE MEND: Right-handed reliever Ryota Igarashi threw a bullpen session for pitching coach Dan Warthen at Sun Life Stadium before the Mets-Marlins opener and should be ready to begin a minor league rehab assignment. Igarashi has been on the disabled list since April 21 with a left hamstring strain. This marked his third time throwing off a mound since beginning that process Monday.
"I feel like since I've had that time off, my arm feels a lot looser, more relaxed," Igarashi said through an interpreter.
Manuel expects Carlos Beltran, who began running this week, to visit the Mets in Miami this weekend, too.
ONE LINER: Jeff Francoeur popped into the dugout before Thursday's opener and remembered the dugouts in Miami are not protected from the field. "What's Ike going to do without a railing?" Francoeur deadpanned in front of rookie first baseman Ike Davis. Davis, of course, has flipped over the railing three times already in his young career to catch foul balls.
SECOND THOUGHT: Because slugging second baseman Dan Uggla is 1-for-19 in his career against Johan Santana, Marlins manager Fredi Gonzalez chose to start ex-Cardinal Brian Barden at the position instead Thursday. Of course, Uggla's one hit off Santana happens to be a homer.