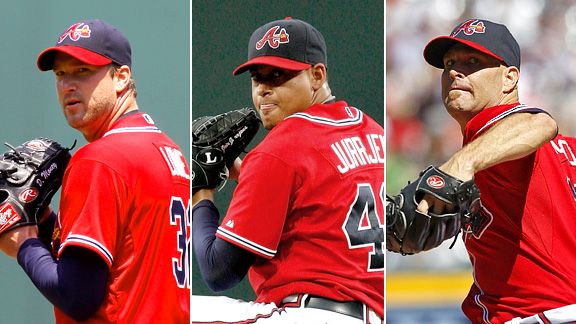 Getty Images
Derek Lowe, Jair Jurrjens and Tim Hudson (l to r) face the Mets this weekend.
METS (26-30, fourth place/NL East) vs. ATLANTA BRAVES (31-26, third place/NL East)
Friday: LHP Jon Niese (4-5, 3.91) vs. RHP Derek Lowe (3-4, 4.03), 7:10 p.m. ET
Saturday: RHP Dillon Gee (5-0, 3.83) vs. RHP Jair Jurrjens (7-1, 1.51), 7:10 p.m. ET
Sunday: RHP R.A. Dickey (2-6, 4.39) vs. RHP Tim Hudson (4-4, 3.75), 8:05 p.m. ET
Braves short hops
• Right-hander Jair Jurrjens was named National League Pitcher of the Month after going 5-1 with a 1.65 ERA in May. On Sunday, when Jurrjens limited Cincinnati to one run in eight innings, he became the fourth pitcher in major league history to open a season with at least nine straight starts of six-plus innings and two or fewer earned runs allowed in each outing. The others: Lefty Gomez in 1937, Randy Johnson in 2000 and Ubaldo Jimenez last year.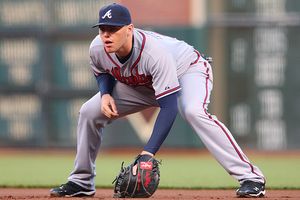 Tony Medina/SMI
Braves rookie first baseman Freddie Freeman is hitting .371 in his past 16 games.
• Craig Kimbrel, who succeeded retired Billy Wagner as closer, has set a Braves rookie record for saves before the All-Star break with 16 -- comfortably surpassing the former mark of 10 by Rick Camp in 1977. Kimbrel's 16th save, achieved Wednesday against San Diego, matched the NL rookie record for most before the All-Star break, originally established by Yhency Brazoban with the Dodgers in 2005. The major league rookie record for saves in a first half is held by Boston's Jonathan Papelbon with 26 in 2006. Kimbrel has struck out 42 of 116 batters faced this season, spanning 28 innings.
• Outfielders Jason Heyward (right shoulder soreness) and Nate McLouth (strained left oblique) are on the disabled list. Heyward had did not start for six games and received a couple of cortisone shots, then returned to the lineup May 17. But he soon thereafter had to again halt playing. McLouth injured himself on a May 22 checked swing. Jordan Schafer has started eight straight games in center field in place of McLouth, while lefty-hitting Eric Hinske and righty-hitting Joe Mather have filled in for Heyward in right field.
• Rookie first baseman Freddie Freeman is hitting .371 (23-for-62) with one homer and seven RBIs in his past 16 games.
• Third baseman Chipper Jones has been diagnosed with partially torn meniscus cartilage in his right knee, and is hoping to avoid arthroscopic surgery that could sideline him for a few weeks. Jones then left Tuesday's game in the ninth inning after tweaking his groin, but played through any discomfort Wednesday. He is hitting .179 in 11 games (10 starts) since May 19.
• Ex-Marlin Dan Uggla is hitting only .175 with seven homers and 16 RBIs in 212 at-bats. The second baseman is 4-for-his-last-51 (.078) with one RBI. Manager Fredi Gonzalez sat Uggla twice in a week's span, then dropped him to seventh in the batting order Wednesday. That's a slot in which Uggla had started only five other times in his career, in 2008 and '09 with Florida under Gonzalez. Uggla told the Atlanta Journal-Constitution that the five-year, $62 million extension he signed upon being traded last offseason in a deal for Omar Infante and Mike Dunn may be weighing on him. "It kind of comes with the territory," Uggla told the newspaper. "You're paid a lot of money to do a job and you want to do it. You want to fulfill it."
• The Braves have the top staff ERA in the National League at 3.01, with the starting pitchers' ERA also ranking No. 1 at 3.24.
• Left-handed reliever Jonny Venters has limited opponents to a .136 batting average this season.
• Derek Lowe turned 38 on Wednesday.
• Tim Hudson limited San Diego to two runs (one earned) on five hits and no walks in six innings Monday. He had missed his previous turn in the rotation because of back stiffness.
Matchups
Niese vs. Braves (career: 1-2, 3.04 ERA)
Chipper Jones .500, 2 RBI, 2 K, 5 PA
Dan Uggla .462, 3 RBI, 2 K, 13 PA
David Ross .375, 1 HR, 5 RBI, 2 K, 8 PA
Martin Prado .231, 1 K, 13 PA
Alex Gonzalez .200, 1 RBI, 2 K, 5 PA
Brian McCann .000, 2 K, 2 PA
Jordan Schafer .000, 2 PA
Gee vs. Braves (career: 1-1, 2.84 ERA)
Alex Gonzalez .500, 2 RBI, 1 BB, 5 PA
Freddie Freeman .500, 1 RBI, 2 PA
Brian McCann .333, 1 K, 6 PA
Dan Uggla .333, 3 PA
Martin Prado .167, 6 PA
Eric Hinske .000, 2 BB, 1 K, 3 PA
Dickey vs. Braves (career: 0-2, 5.56 ERA)
Alex Gonzalez .375, 2 RBI, 2 K, 9 PA
Brian McCann .143, 3 BB, 1 K, 10 PA
Eric Hinske .125, 2 BB, 2 K, 18 PA
Dan Uggla .000, 1 RBI, 2 K, 11 PA
Martin Prado .000, 1 K, 8 PA
Chipper Jones .000, 3 BB, 1 K, 4 PA
Brooks Conrad .000, 1 K, 1 PA
Lowe vs. Mets (career: 5-5, 5.51 ERA)
Josh Thole, .455, 3 RBI, 11 PA
Scott Hairston .400, 1 K, 10 PA
Daniel Murphy .333, 1 HR, 2 RBI, 12 PA
Angel Pagan .238, 2 RBI, 2 K, 21 PA
Willie Harris .229, 1 RBI, 1 BB, 3 K, 36 PA
Carlos Beltran .205, 2 RBI, 6 BB, 6 K, 46 PA
Ronny Paulino .200, 3 RBI, 3 BB, 1 K, 8 PA
Jason Bay .000, 1 RBI, 3 BB, 4 K, 18 PA
Ruben Tejada .000, 1 BB, 1 K, 4 PA
Jurrjens vs. Mets (career: 8-2, 2.54 ERA)
Willie Harris .500, 2 RBI, 2 BB, 2 K, 16 PA
Daniel Murphy .333, 2 RBI, 1 BB, 19 PA
Jason Bay .250, 2 RBI, 2 BB, 3 K, 15 PA
Josh Thole .200, 1 RBI, 1 BB, 6 PA
Carlos Beltran .125, 1 RBI, 3 BB, 19 PA
Angel Pagan .083, 2 RBI, 3 BB, 6 K, 27 PA
Scott Hairston .000, 1 K, 3 PA
Ronny Paulino .000, 1 BB, 2 PA
Hudson vs. Mets (career: 13-6, 3.41 ERA)
Angel Pagan .533, 2 RBI, 1 K, 15 PA
Carlos Beltran .357, 4 HR, 16 RBI, 9 BB, 9 K, 80 PA
Jason Bay .333, 1 HR, 3 RBI, 5 BB, 4 K, 21 PA
Scott Hairston .333, 1 K, 3 PA
Josh Thole .333, 3 PA
Ronny Paulino .182, 1 BB, 2 K, 12 PA
Willie Harris .176, 1 RBI, 3 BB, 5 K, 20 PA
Daniel Murphy .000, 3 PA
Last series results
Braves won, 2-1, at Turner Field, April 16-17 (AP game recaps)
Braves 4, Mets 2
Braves 4, Mets 0: Jair Jurrjens returned from the disabled list for a right oblique strain and handcuffed the Mets, leaving them with their longest losing streak in seven years. Jurrjens threw seven sharp innings, combining with George Sherrill and Scott Linebrink on a two-hitter as the Braves shut out the struggling Mets to complete a doubleheader sweep. In the opener, Alex Gonzalez hit two of Atlanta's four solo homers and the Braves finally provided some offense for Derek Lowe. The Mets were swept in a doubleheader for the second time in three days to extend their losing streak to seven games, their longest since dropping 11 straight in 2004. Colorado swept the Mets in New York two days earlier. Jurrjens finished the 2010 season on the disabled list with a knee injury before sustaining the oblique strain late in spring training. He faced the minimum 15 batters through five innings. Jurrjens gave up two hits with one walk and seven strikeouts. The Mets (4-11) have matched the third-worst start in franchise history, according to STATS LLC. They opened 3-12 in 1962 and 1964. They also lost 11 of their first 15 games in 1974 and 1981. New York has lost 10 of 11 after winning three of its first four games under new manager Terry Collins. Mike Pelfrey (0-2) allowed 11 hits and four runs in five-plus innings. He gave up three hits in the first, including a run-scoring single by Dan Uggla, and three more in the third, including Chipper Jones' RBI single. Eric Hinske drove in a run and Martin Prado had two hits and scored two runs in the second game. Jones, who hit a homer in the opener, added two hits. Willie Harris singled with two outs in the second but was picked off to end the inning. Jurrjens then retired the next nine batters before Daniel Murphy led off the sixth with a double. Murphy was thrown out by catcher David Ross on an ill-advised attempt to steal third. The only other baserunner allowed by Jurrjens was a walk to Mike Nickeas in the sixth. The four homers in the opener, including one by rookie Freddie Freeman, were a season high for Atlanta and the most for the team since hitting four in a 16-5 win over the Chicago Cubs on Aug. 22, 2010. Lowe (2-2) gave up two runs and five hits in six innings. He has a 1.82 ERA this season, but lost his previous two starts as the Braves were shut out by Milwaukee and Philadelphia. D.J. Carrasco (0-1) yielded four hits, including three homers, in 3 2/3 innings as a fill-in starter for New York in the first game. Before the opener, the Mets placed right-hander Chris Young on the 15-day disabled list with biceps tendinitis in his pitching arm. Craig Kimbrel worked the ninth to earn his fourth save. The series opener was postponed by rain. The Mets were playing consecutive doubleheaders for the first time since Aug. 20-21, 1998, against St. Louis. Club officials called the commissioner's office Friday night, hoping to avoid a second straight twinbill, but the makeup game remained. Players wore No. 42 jerseys in the opener as part of baseball's annual tribute to Jackie Robinson, originally planned for the rained out game.
Mets 3, Braves 2: Atlanta's Tommy Hanson struck out nine in only five innings. His own whiff in a key situation helped ensure his third loss in four starts. Hanson struck out on a key squeeze play with the bases loaded early in the game, as Dillon Gee and New York beat the Braves. New York's new No. 2 hitter Josh Thole had two run-scoring singles as the Mets ended their seven-game losing streak. Dan Uggla led off the second with a triple for the Braves. Following a walk to Eric Hinske, Uggla scored on Freddie Freeman's single. The Braves loaded the bases following a single by Alex Gonzalez, but with one out Hanson whiffed on a squeeze play and Hinske was caught in a run-down between third base and home to end the inning. The botched squeeze play proved costly. Atlanta's Jason Heyward hit a homer off Jason Isringhausen in the eighth before the Braves had another costly mistake. Brian McCann walked but was caught stealing. Gee (1-0) gave up five hits and a run in 5 2/3 innings to beat Hanson (1-3). Hanson gave up three runs on five hits and two walks. Francisco Rodriguez pitched the ninth for his second save. Chipper Jones walked to lead off the ninth and was stranded on third when Rodriguez struck out pinch-hitter Brooks Conrad. Braves manager Fredi Gonzalez altered his lineup. Heyward hit second, Brian McCann hit third and Dan Uggla hit fourth. Jones was given a break after playing both games of the previous day's doubleheader. Mets manager Terry Collins also shook up the lineup, moving Thole up from the No. 8 spot to hit behind leadoff hitter Jose Reyes. Thole had run-scoring singles in the first and fifth innings. Ike Davis drove in Thole with a single in the first inning. Thole hit eighth in each of his previous 11 starts. Collins said he made the move to take advantage of Thole's discipline at the plate. Gee was recalled from Triple-A Buffalo but had travel woes before finally arriving in Atlanta about 1 a.m. on the day of the game. His baggage never arrived, so he had to borrow Thole's shoes and Bobby Parnell's glove. The Mets needed Gee after placing right-hander Chris Young on the 15-day disabled list with right biceps tendinitis.