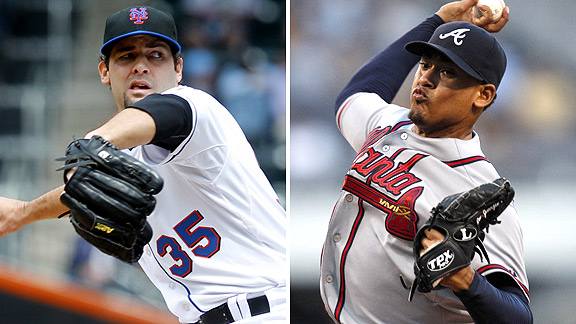 Andrew Mills/The Star-Ledger via US Presswire and AP Photo/Gene J. Puskar
Dillon Gee and Jair Jurrjens have the National League's top two winning percentages.
Dillon Gee (5-0) and Jair Jurrjens, who face off Saturday night, have the top two winning percentages in the National League.
According to the Mets ...
Dillon Gee became the second rookie in franchise history to win his first five decisions in a season as a starter. Jon Matlack began his 1972 rookie season 6-0 (five wins as a starter and one in relief) en route to the Rookie of the Year Award. Among all pitchers who have made at least five starts, Gee is the only one whose team in undefeated when he takes the mound (7-0). The right-hander also has pitched five or more innings in all 12 of his career starts, the second-longest streak in team history behind Bill Pulsipher's 17-game stretch from June 6-Sept. 11, 1995.