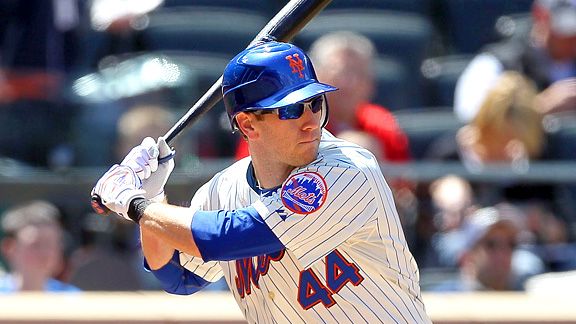 Jim McIsaac/Getty Images
Jason Bay, hitless in his last 13 at-bats, was moved down to the No. 6 hole in the Mets lineup for Saturday's game against the Atlanta Braves.
Jason Bay, his .223 batting average and his two home runs have been moved down to the No. 6 spot in the Mets lineup.
Terry Collins said he made the change to take some pressure off of Bay, who is struggling in the second season of his four-year, $66 million deal.
"I thought it was time to put him in a position where he can relax a little bit," Collins said of Bay, who had been hitting in the cleanup hole.
#44 LF
New York Mets
2011 STATS
GM

36

HR2

RBI10

R18

OBP.318

AVG

.223
Bay is hitless in his last 13 at-bats and has driven in just 10 runs in 130 at-bats in 2011.
"Let's be honest -- I'm here to hit and I haven't been hitting," a frustrated Bay said before Saturday's Mets-Braves game.
Collins approached Bay after his 0-for-3 night on Friday and told him he was thinking of moving him out of the No. 4 hole.
Bay's response?
"I don't blame you," Bay said he told Collins. "Obviously I'm in no position, with the way things have gone, to argue."
Bay is hitting .171 with runners in scoring position, and is just 7-for-33 (.212) in his last 10 games.
He missed the first three weeks of the season with a rib cage injury but said on Saturday that he is 100% healthy and seeing the ball well. Bay noted that he's felt better at the plate recently, saying that he has "hit some balls hard."
"But you've still got to get the results, and that's the frustrating part," said Bay, who has started a game in the No. 6 hole eight times in his Mets career and three times in 2011.
Collins previously toyed with the idea of moving Bay in the No. 2 spot in the lineup, so he could be better protected.
The manager hopes that his left fielder can "get hot and we can bring him back."
Bay hit 36 home runs in 2009 -- his final season before coming over to Queens. But he hasn't come anywhere near that total since. He said his swing has changed organically since 2009. But he hasn't consciously made any changes to the stroke.
Still, it's clear something is amiss. Just look at the numbers:
Bay has just eight home runs in 131 games as a Met after a career-high 36 with the Red Sox two seasons ago. Sure, he's been hampered by injuries. But Citi Field's spacious conditions certainly have taken a toll on him. Bay has four homers in 225 career at-bats at Citi Field. Entering play on Saturday, he had one in 66 at-bats in 2011.
Bay said he tinkered with the timing on planting his front foot recently. He felt his swing has been slowed by the timing, so he's tried to speed it up. But, he said, it's difficult to work on the change in the batting cage and then implement it in the game.
"You try this and you try that and ultimately you end up back where you started," he said.
Bay's frustration was illustrated perfectly by his first at-bat on Wednesday against the Pirates. Bay was robbed of an extra-base hit in the bottom of the first when Pittsburgh center fielder Andrew McCutchen made a diving catch of Bay's drive to the warning track in right-center.
What did Bay think when the ball was caught?
"Here we go again," he said.
He added: "The way things are going for me, I kind of knew it was going to happen."