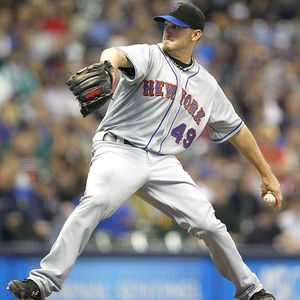 AP Photo/Jeffrey Phelps
Jon Niese limited the Brewers to one run and three hits in 7 2/3 innings at Miller Park, the site of his major league debut.
Jon Niese's major league debut came in Milwaukee on Sept. 2, 2008 -- and it was not pretty.
After limiting the Brewers to one run through three innings, Milwaukee batters picked up that he was tipping his pitches. And they waited on his curveball and ambushed him for four runs in the fourth. Niese was pulled from that inning without recording an out.
Niese's return to Miller Park yielded far better results.
The southpaw retired the first 11 batters he faced and ultimately limited Milwaukee to one run and three hits in 7 2/3 innings as the Mets won the rubber game, 4-1. Niese evened his record at 5-5 and has allowed two earned runs or fewer in each of his past five starts.
Niese's curveball certainly was an asset. According to Inside Edge, 35 percent of his offerings were curveballs. Seventy-two percent of those curveballs were thrown for strikes. And the Brewers hit .182 against that pitch.
"We threw the cutters when we needed to in big spots, and that got him out of some jams," catcher Josh Thole said. "… The curveball played a big role in how well he did tonight. He was able to throw it for strikes, able to throw it for swings and misses, able to throw it for balls."
Said Niese: "I got some swings and misses with it, so Thole and I kept using it. If the curveball is working that day, we're going to keep using it until they make an adjustment."