The demotion lasted longer than he planned. But seven weeks after he was dispatched to Triple-A Buffalo on April 24, right-hander D.J. Carrasco is back with the Mets.
Carrasco acknowledged his mechanics got way out of whack during his season-opening stint with the Mets. He speculated that things began to go awry during the offseason when he compensated while trying to work out and ready for the season through a rib-cage tear. His leg kick became different, and other parts of his delivery followed suit in deviating from his usual form. Now, he is striding longer and has picked up 3-4 mph on his cutter.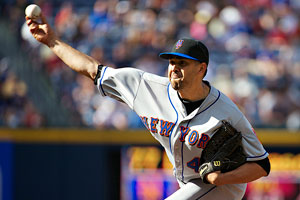 Dale Zanine/US Presswire
D.J. Carrasco rejoined the Mets on Sunday for the first time since late April.
"Basically it was just getting back to what I'm capable of doing," Carrasco said about the nine-appearance, eight-start minor league stint. "I think it was a combination of my mechanics at that time and my release point were really everywhere. There was nothing repetitive about any of that. Me and [Triple-A] pitching coach Ricky Bones did a great job of just keeping me focused and keeping me on track. It's something that at that time I was like, 'Well, I want to get this done this week. I want to be ready to go this week.' And it wasn't that quick."
Carrasco allowed one run in his final 15 2/3 innings with the Bisons. He took a no-hit bid two out into the sixth inning of his most-recent start, but that ended on an infield single. First baseman Lucas Duda made a diving stop, but Carrasco was late covering first base.
"There was a lefty that loves high fastballs," Carrasco said. "He's chasing. I threw a high fastball. He jerked one foul -- a hard groundball foul. I tried to climb the ladder even more and I left it up a little bit lower. The same kind of swing. The same kind of result. But it stayed fair. And Duda made a great play. He stopped it. I just brain-farted and I didn't cover first in time."
Terry Collins said Carrasco, who replaced Dale Thayer on the roster, will settle into the previously intended role of longer relief in the middle innings.
"Certainly D.J. is going to be that guy to give us multiple innings if we need it," Collins said.
• Taylor Buchholz, who is eligible to return from the disabled list on Tuesday, is not close to returning from a shoulder injury. Buchholz has been limited to playing catch.
• Tim Byrdak will not be placed on the bereavement list. He is due to miss only one game in Atlanta on Wednesday to attend a funeral. Barring a formal roster move or using Chris Capuano as a reliever on what could be considered a bullpen-session day between starts, the Mets will be without a southpaw in their bullpen that day.
• Duda sits Sunday, and likely Monday too in Pittsburgh with the Mets facing Pirates southpaw Paul Maholm in the series finale. Collins said he will try to get Scott Hairston into Monday's game, since Hairston has one plate appearance this month and hasn't started since May 18. But the manager added that finding a place for Hairston will be a difficult chore since he wants to keep Jason Bay in the lineup and Angel Pagan is hitting .400 with a homer in 17 career plate appearances against Maholm.