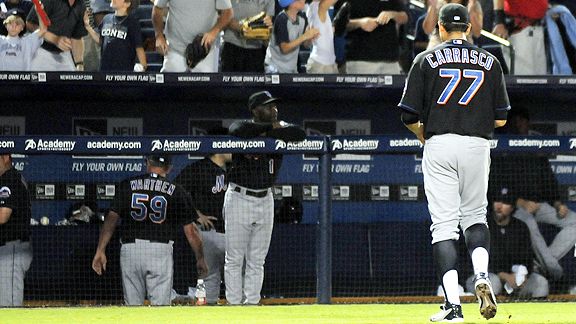 AP Photo/Tami Chappell
D.J. Carrasco walks off the field after issuing a game-ending balk.
D.J. Carrasco accepted that plate umpire James Hoye made the correct call in ruling a balk and allowing Diory Hernandez to trot home with the winning run in the bottom of the 10th inning Thursday at Turner Field.
#77 RP
New York Mets
2011 STATS
Unbelievably, the last time the Mets lost on a walk-off balk, it was when Roger McDowell committed it on May 28, 1989 in the 12th inning at Dodger Stadium, scoring Dave Anderson and advancing Willie Randolph to third base. McDowell is now the Braves' pitching coach.
Carrasco said catcher Ronny Paulino called for a cutter, and Carrasco -- who had tossed two perfect innings the previous night -- wanted to make extra sure at the last second so that he did not throw an unintended pitch and end the game on a wild pitch.
"I just wanted to make sure. I didn't want to cross him up," Carrasco said. "In the process of doing that, on the way, any kind of a hesitation they're going to call you for it."
Carrasco indicated he did not realize he balked at that instant, but soon knew what he had done.
"I haven't looked back on the replay, but it just felt like a slight pause and then I'm going to keep going," Carrasco said. "After he called the balk, I know I paused at some point. It's not like I'm not saying I didn't balk."
Carrasco could only recall balking while pitching in Japan, when he almost was required to be still for a three-second count. He actually had balked three times in the majors -- all in 2005 with the Kansas City Royals -- as well as seven times in 10 seasons in the minors.
"I'm sure I've balked before, but especially not in that kind of situation with a runner on third -- just to balk in a run let alone the winning run," Carrasco said. "That's tough, man. ... It's just unfortunate, man. Whatever we would have been -- 7-3 [on the trip]. Who knows how the game would have ended? But it shouldn't have ended like that."
The Mets also have benefited from late balks, too. San Francisco's Armando Benitez balked home Jose Reyes on May 29, 2007 to tie the score in the 12th, and Carlos Delgado followed with walk-off homer.