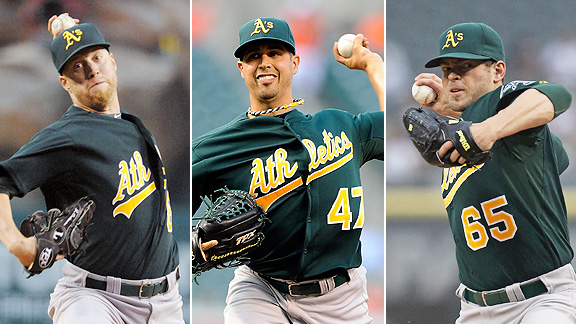 Getty Images
The Mets face (l to r) Josh Outman, Gio Gonzalez and Graham Godfrey during a midweek interleague series against the A's.
METS (35-37, third place/NL East) vs. OAKLAND ATHLETICS (33-40, fourth place/AL West)
Tuesday: RHP Dillon Gee (7-0, 2.86) vs. LHP Josh Outman (2-1, 3.14), 7:10 p.m. ET
Wednesday: RHP R.A. Dickey (3-7, 4.00) vs. LHP Gio Gonzalez (6-5, 2.69), 7:10 p.m. ET
Thursday: LHP Chris Capuano (5-7, 4.29) vs. RHP Graham Godfrey (1-0, 4.76), 1:10 p.m. ET
Athletics short hops
• Bob Melvin, 49, took over for fired Bob Geren on June 9. Melvin was one of four finalists for the Mets managerial job that went to Terry Collins, along with Chip Hale and Wally Backman. Melvin resides in Manhattan, where he relocated when his daughter Alexi was studying acting at the Lee Strasberg Theater and Film Institute in Union Square. He scouted the AL West and AL East for the Mets last season. Geren went 334-376 in four-plus seasons at Oakland's helm. After a stretch of 13 losses in 14 games, the A's are on a five-game winning streak, matching their longest of last season. They are 6-4 under Melvin. That included a weekend sweep against the Bay Area-rival San Francisco Giants.
• Hideki Matsui should see one game per series in right field as the A's play consecutive series at Citi Field and Philadelphia. All 55 of Matsui's appearances this season have been at designated hitter. Matsui started 17 games with the Angels in left field in 2010, and has made only six major league starts in right field since joining the Yankees eight years ago. Matsui has a combined 499 homers between Japan and the United States, with 167 coming in MLB. There have been 25 major leaguers to reach 500 homers and eight in Japan to reach that plateau, but none has reached it with a combination of long balls from both countries.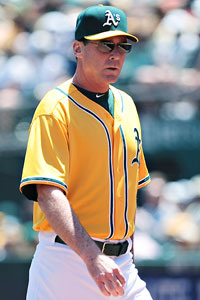 Kelley L. Cox/US Presswire
Bob Melvin is 6-4 at the helm of the A's, after taking over for fired Bob Geren.
• Catcher Kurt Suzuki is 2-for-his-last-21 and hitting .159 in June. He has hit significantly better against left-handed pitching than right-handed pitching this season (.305 vs. .202). Suzuki leads AL catchers in games started (58). His 447 starts behind the plate since the beginning of the 2008 season are the most in the majors.
• First baseman Daric Barton is 4-for-his-last 30 and has not homered in 235 at-bats this season. Barton's .268 slugging percentage is second lowest in the majors, trailing only Seattle's Chone Figgins (.258). Going homerless in his first 65 games of the season is the longest drought by a major league first baseman to open a season since Al Oliver went homerless in all 101 games he played at the position with San Francisco and Philadelphia in 1984. Barton's last homer came Oct. 1, when he went deep twice off Seattle's Luke French. His overall homerless drought is 68 games dating to those long balls, including 66 games at first base. That is the longest drought by an Oakland first baseman since Mike Hegan went a franchise-record 75 games without going deep in 1973. Although Barton passed Scott Hatteberg on Tuesday for the third-most games in franchise history at first base with 421 -- behind only Mark McGwire (1,251 games) and Jason Giambi (728) -- Barton has started only one of the past three games. The San Francisco Chronicle noted Barton has a minor league option remaining. Conor Jackson started the other two weekend games at first base.
• The ex-Diamondback Jackson has started 18 games in right field, 10 at first base, eight in left field and once at third base this season.
• Second baseman Mark Ellis (right hamstring strain) has played a pair of rehab games with Triple-A Sacramento. He is eligible to return from the disabled list on Wednesday. Jemile Weeks (.364), who made his major league debut June 7, has played well in absence and should retain the playing time. Weeks was the 12th overall pick in the 2008 draft out of the University of Miami. Ellis was hitting only .211 with one homer in 209 at-bats.
• Oakland leads the American League with a 3.27 team ERA.
• Scott Sizemore started eight straight games at third base before Adam Rosales manned the position Sunday against the Giants. Sizemore was promoted from Triple-A Sacramento on June 6. He was acquired from the Detroit Tigers for left-handed reliever David Purcey 10 days earlier. Kevin Kouzmanoff, who had started 42 games at third base and hit only .221, was demoted to Sacramento and removed from the 40-man roster earlier this month.
• Ex-Marlins/Nats left fielder Josh Willingham has been out since leaving Friday's game after six innings with a troublesome Achilles' tendon. His 10 homers lead the A's, but his 76 strikeouts rank third in the AL, behind Adam Dunn's 86 and Austin Jackson's 81.
• Center fielder Coco Crisp has an eight-game hitting streak. He also has 21 steals, tied with Texas' Elvis Andrus for second in the AL, trailing only Jacoby Ellsbury's 24 with Boston. Crisp posted a career-high 32 steals last season. He recorded his 1,000th career hit last week. Right fielder David DeJesus and Ellis also reached that milestone this season.
• Left-hander Josh Outman is coming off an outing in which he tossed seven scoreless innings against the Kansas City Royals. Outman joined the A's May 23 for a start against the Angels. It was his first major league appearance since June 19, 2009, after which he had Tommy John surgery. He has not walked a left-handed batter this season. Outman took the rotation spot of Brandon McCarthy, who landed on the disabled list.
• Left-hander Gio Gonzalez ranks sixth in the AL with a 2.69 ERA and fifth in strikeouts per nine innings at 8.48, but also is tied for third in most walks with 42.
• Right-hander Graham Godfrey earned his first major league win Friday against San Francisco. In his first start, he allowed five runs on nine hits and two walks in 4 1/3 innings at the Chicago White Sox. The nine hits allowed were the most by an A's pitcher in his major league debut since Bill Krueger allowed the same number against the California Angels on April 10, 1983. A 34th-round pick in 2006 by the Toronto Blue Jays, he was acquired by Oakland on Nov. 18, 2007 with Kristian Bell for Marco Scutaro. Godfrey replaced Brett Anderson, after Anderson landed on the DL with elbow woes.
• Closer Andrew Bailey had 25 saves and represented the A's for a second straight season in the All-Star Game last year, but he opened 2011 on the disabled list with a strained right forearm. Bailey was activated from the disabled list May 29. He has converted his last four save chances after being charged with a blown opportunity in his first chance this season. Former Rockies closer Brian Fuentes (4.55 ERA) picked up his 12th save Sunday, after Bailey had worked the previous two days. Fuentes had created a stir last month when he publicly labeled Geren's moves during an interleague series at San Francisco "unorthodox managing."
• Shortstop Cliff Pennington has moved to the No. 2 hole in the lineup for the past 10 games under Melvin.
• Rich Harden, who has a strained muscle underneath his right arm, tossed three hitless innings Monday in a rehab game with Sacramento.
• The A's committed an error in nine straight games before snapping that streak Sunday. Their 39 unearned runs allowed lead the American League.
Matchups
Gee vs. Athletics (career: never faced)
Dickey vs. Athletics (career: 1-4, 6.49 ERA)
Ryan Sweeney .667, 6 PA
Hideki Matsui .500, 1 BB, 1 K, 7 PA
Josh Willingham .500, 2 RBI, 2 BB, 1 K, 6 PA
Coco Crisp .250, 1 RBI, 2 K, 10 PA
Kurt Suzuki .250, 2 RBI, 4 PA
Daric Barton .200, 1 BB, 1 K, 6 PA
David DeJesus .200, 1 RBI, 5 PA
Cliff Pennington .000, 2 PA
Landon Powell .000, 1 PA
Capuano vs. Athletics (career: never faced)
Josh Willingham .500, 1 HR, 1 RBI, 1 BB, 2 K, 9 PA
Conor Jackson .167, 2 HR, 3 RBI, 5 K, 12 PA
Outman vs. Mets (career: never faced)
Gonzalez vs. Mets (career: never faced)
Jason Bay .000, 1 BB, 2 K, 3 PA
Godfrey vs. Mets (career: never faced)
Last series results
Mets won, 3-0, at Shea Stadium, June 22-24, 2007 (AP game recaps)
Mets 9, Athletics 1: Tom Glavine, leading off first base, saw the ball jump off Jose Reyes' bat and knew it was time to put on the burners. Still, the not-so-speedy Glavine was thrown out at the plate. It was pretty much the only thing that went wrong for him all night. Glavine picked up his 296th victory, ending a five-start winless streak to lead the Mets over the Athletics. The 41-year-old pitched into the ninth inning and added two hits and two RBIs. But it was Glavine storming around the bases, with Reyes on his heels, that had Mets payers buzzing. Reyes' sixth-inning drive went to the wall in center, and Glavine was a little surprised when third base coach Sandy Alomar sent him. He slid in to home, almost beating shortstop Bobby Crosby's relay throw. The Mets needed a nice moment of levity, not to mention a win. New York won for the fifth time in 19 games in June. Glavine (6-5) doubled and scored the go-ahead run in the second inning. He added a two-run single to cap the Mets' five-run sixth. Shawn Green hit a solo home run and a two-run double, and Carlos Beltran homered and drove in two runs. Green led off the fifth with a drive to left to make it 3-1. Glavine received a loud ovation before the ninth inning and Willie Randolph was booed when he came to remove the left-hander after he gave up a leadoff single to Eric Chavez on the first pitch. Glavine allowed six hits, walked two and struck out five. Aaron Heilman got the final three outs.
Mets 1, Athletics 0: Once every piece of Paul Lo Duca's gear was picked up off the field, the New York Mets finished tossing a clean slate against Oakland. David Wright dropped an RBI double in front of diving right fielder Travis Buck in the ninth inning, giving New York a victory over the Athletics. Orlando Hernandez and Oakland starter Joe Blanton matched zeros most of the way in a tight game that included an equipment-throwing tirade by Lo Duca after he was ejected in the sixth. Ramon Castro, who batted for Lo Duca after he was tossed, started the decisive rally to help the NL East leaders win consecutive games for the first time since late May. By taking the first two against the A's, New York has finally won a series after losing six straight. Oakland went 0-for-8 with runners in scoring position after entering with a .227 batting average in such situations, the worst mark in the majors. The A's stranded 10 runners in all, eight against El Duque. Castro opened the ninth with a double off Santiago Casilla (2-1). Carlos Beltran was intentionally walked, and Wright hit a looper to right field. Buck, playing deep out of respect for Wright's opposite-field power, came in and tried to make a diving catch. But he came up short and the ball bounced past him. Buck started the game in left field and threw out a runner at the plate in the sixth. He was moved to right in the eighth when Shannon Stewart came in. Billy Wagner (1-0) worked a scoreless ninth for the win. Lo Duca was ejected for arguing a strike call, prompting a wild tantrum. He came to bat in the sixth with two runners on. After taking a low strike that made the count 0-2, he got in Marvin Hudson's face and barked at the plate umpire, gesturing vehemently with his hand. His point made, Lo Duca walked slightly up the third-base line, gathered himself and prepared to get back in the batter's box. That's when Hudson ejected him, sending Lo Duca into a rage.
Mets 10, Athletics 2: A blooper to right, an inexperienced outfielder and Jose Reyes' speed became a messy combination for the Athletics. Reyes led off the bottom of the first inning with a popup down the line that Jack Cust, normally a designated hitter, couldn't run down. Reyes stretched it into a double and Cust's throw to second sailed into left field. Reyes, who went into second headfirst, scrambled to his feet and scored on the two-base error. It was downhill from there for Oakland. The Mets sailed to a victory behind John Maine to complete their first series sweep at home since last August. Reyes didn't slide at the plate even though the throw was coming in from left field. He said he saw the slide sign from on-deck batter Paul Lo Duca, but was too tired to do it. The throw, luckily for Reyes, was off line. The Mets scored in double digits for the first time since May 19 when they beat the Yankees 10-7. Oakland was outscored 20-3 in the series. In their first trip to Shea Stadium since beating the Mets in the 1973 World Series, the Athletics struggled to hit in the clutch. The A's went 1-for-4 with runners in scoring position Sunday and 1-for-15 in the series. Maine pitched seven solid innings and Jose Valentin had three hits, including a three-run homer. Damion Easley hit a two-run double, Reyes added three hits and an RBI, and rookie Carlos Gomez got three hits to match his career high. Maine (8-4) allowed two runs and five hits, striking out six without a walk. It was the 10th time in 15 starts he pitched six innings or more and allowed two runs or fewer. Oakland starter Joe Kennedy (2-5) yielded five runs and eight hits in four innings, his shortest outing of the season.