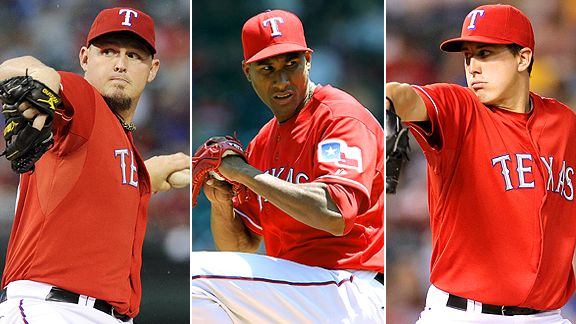 Getty Images/US Presswire
The Mets face (l to r) Matt Harrison, Alexi Ogando and Derek Holland this weekend in Arlington.
METS (37-38, fourth place/NL East) vs. TEXAS RANGERS (40-36, first place/AL West)
Friday: RHP Mike Pelfrey (4-5, 4.70) vs. LHP Matt Harrison (5-6, 3.16), 8:05 p.m. ET
Saturday: LHP Jon Niese (6-6, 3.70) vs. RHP Alexi Ogando (7-2, 2.66), 4:10 p.m. ET
Sunday: RHP Dillon Gee (7-1, 3.21) vs. LHP Derek Holland (6-2, 4.69), 3:05 p.m. ET
Rangers short hops
• Left-hander Matt Harrison has experienced rotten luck. He simultaneously was dealing with a kidney stone he could not pass for 10 days, was struck with a liner that left a bruise on his left triceps and forced him from a strong performance, and dealt with a blister on his left index finger. All three issues are behind him, and Harrison has a 1.47 ERA over his past five starts.
• Third baseman Adrian Beltre (.259, 12 HR, team-high 53 RBI) is the lone Ranger to appear in all 76 games. He served as DH on Wednesday to get a half-day off before Thursday's team-wide off-day, and has been playing through a mild hamstring issue. Beltre is a phenomenal defensive third baseman, and had five highlight-reel-quality plays Tuesday alone against Houston. Beltre's long ball production has slowed since an early binge, with two homers in his past 36 games.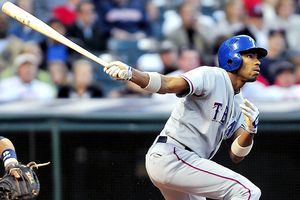 Jason Miller/Getty Images
A serious knee injury cost Endy Chavez much of the 2010 season, but the ex-Met has settled into center field for the Rangers.
• Left fielder Josh Hamilton is sitting on 99 career homers. He suffered a hairline fracture of the right humerus on a headfirst slide against Detroit on April 12 and remained on the disabled list through May 22.
• Catcher Yorvit Torrealba lost a grievance in February against the Mets over a three-year, $14.4 million deal that unraveled at a late stage during the 2007-08 offseason. He was pulled from Sunday's game in Atlanta in the fourth inning suffering from dehydration in the heat. It was clear Torrealba was worn down. The previous inning, a run scored on a wild pitch (that easily could have been ruled a passed ball), and Torrealba also was charged with catcher's interference and collided with Michael Young during the frame. Torrealba rested until pinch-hitting late Tuesday. He returned to full duty Wednesday. Regular backup Mike Napoli (oblique) is on the disabled list. Taylor Teagarden was promoted from Triple-A Round Rock on June 12. Teagarden may start Sunday's matinee, but with Monday an off-day for the Rangers, Torrealba may be capable of catching all three games in the series.
• Right-hander Alexi Ogando (7-2, 2.66 ERA) is having an all-star caliber season, except for his past two starts. At Yankee Stadium on June 14, Ogando was charged with six runs in 1 2/3 innings. Ogando has logged 88 innings this season, already more than the 72 1/3 innings he tossed last season between 44 relief appearances with the Rangers and in the minor leagues. So the curiosity is whether the last two starts are an aberration or whether Ogando has hit a wall.
• Mitch Moreland (.290, 10 HR, 22 RBI) gets the majority of the starts at first base, with Young moving to the position a couple of times a week to open the DH spot for a player needing a rest from fielding responsibilities. Moreland is capable of moving to right field in those instances. Moreland, who debuted in the majors last July 29, is a mature hitter for his experience level and will work a pitcher deep into the count. Like Nelson Cruz (team-high 17 homers) and Hamilton, Moreland is capable of changing a game with one swing by virtue of his power, which included a massive 11th-inning walk-off homer Tuesday against Houston's Enerio Del Rosario.
• Second baseman Ian Kinsler's .236 average is misleading, since he has walked 43 times, giving him a more-healthy .349 on-base percentage. Kinsler has steadily improved his defensive play during his career. He has a franchise-record 16 leadoff homers, including three this season.
• The Rangers have used five different starters in center field this season, but ex-Met Endy Chavez has started the past two games at the position and has emerged as the primary option at the moment, with Craig Gentry getting some playing time as well. Hamilton has started eight games in center field this season, but the preference is to use him in left field to lessen the wear and tear on his body. Chavez did not appear in the majors last season. He was dealing with a major right knee injury suffered in a collision with Yuniesky Betancourt in 2009 while with the Seattle Mariners. Chavez returned to the majors May 14 this season and hit .429 in his first 14 games (12 starts) through June 5. Since then, however, he is in a 3-for-27 rut. Texas signed Cuban defector Leonys Martin for $15.5 million in April. Martin has been dealing with a herniated disc in Double-A. He could be a factor in center field in September.
• Fellow ex-Mets Darren O'Day and Darren Oliver were keys to the Rangers' World Series run last season as bullpen cogs, but O'Day will not be around this weekend. O'Day required hip surgery earlier this season, is due to make weekend rehab appearances with Triple-A Round Rock and is about a week from being activated.
• Closer Neftali Feliz (0-1, 3.21 ERA, 14 saves in 18 chances) notched consecutive saves last weekend in Atlanta in dominating fashion, facing the minimum six batters and striking out four. He then tossed two scoreless innings and 35 pitches in a 10-inning win against Houston on Tuesday, but had run out of gas the following day when he was again summoned. The Astros scored four runs in the ninth Wednesday as Feliz was charged with a blown save and his first loss. Feliz had missed two weeks on the disabled list this season with shoulder inflammation.
• Young is hitting .314 with four homers and 47 RBIs and carried the offense during Hamilton's absence. He mainly has batted cleanup, but recently flipped with Beltre and has batted fifth.
• Elvis Andrus has been steady, although he has a tendency to occasionally lose focus on routine plays at shortstop. Manager Ron Washington has given Andrus more rest this season because team officials felt they overworked him in 2010. Andrus, for instance, sat Wednesday, with Andres Blanco making his ninth start at shortstop.
• Brandon Webb, who signed a one-year, $3 million deal in December, has started a rehab assignment. However, Webb allowed four runs on six hits and retired only two batters Sunday for Double-A Frisco City.
Matchups
Pelfrey vs. Rangers (career: never faced)
Andres Blanco .333, 3 PA
Yorvit Torrealba .167, 2 K, 7 PA
Niese vs. Rangers (career: never faced)
Yorvit Torrealba .200, 1 BB, 2 K, 6 PA
Gee vs. Rangers (career: never faced)
Harrison vs. Mets (career: never faced)
Ronny Paulino 1.000, 1 PA
Jason Bay .333, 3 PA
Ogando vs. Mets (career: never faced)
Ronny Paulino .000, 1 PA
Holland vs. Mets (career: never faced)
Jason Bay .333, 1 HR, 3 RBI, 1 K, 6 PA
Scott Hairston .000, 3 K, 6 PA
Last series results
Mets won, 2-1, at Shea Stadium, June 13-15, 2008 (AP game recaps)
Mets 7, Rangers 1: Willie Randolph should be able to rest easy, at least for one night. Oliver Perez pitched seven stellar innings and the Mets beat the Rangers, giving their embattled manager a win and momentarily easing the tension in a clubhouse desperate for something good to happen. Perez also drove in two runs for the Mets, who played small ball to perfection in manufacturing all of their runs. Marlon Anderson snapped an 0-for-25 slump with a base hit and also had a pair of RBIs. Josh Hamilton homered and had two hits for the Rangers, but the best hitting club in the American League managed just one other hit in its first game against the Mets at Shea Stadium. New York had lost six of its last seven, including a four-game sweep at San Diego, and rumors were ramping up again that Randolph's job was on the line. Salvation came in the form of a pitcher who's been about as topsy-turvy as the Mets. A disaster one game and dazzling the next, Perez (5-4) gave up one run and three hits to win for the first time in nearly a month. He struck out eight, including David Murphy to leave the bases loaded in the sixth inning. After Hamilton lined an 0-1 pitch over the left-field wall with two out in the first, the hard-throwing left-hander didn't allow another hit until Rangers starter Scott Feldman delivered the first of his career to open the sixth. By then, Jose Reyes had scored twice and Carlos Beltran also had reached home on an error to give the Mets a 3-1 lead. New York's starting rotation has been the least of its problems lately. Along with Perez's strong outing, Mets starters have given up just 15 runs in the past 10 games and have kept the team in every one of them. But the bullpen has been another story, and a big reason why the Mets (32-34) began the night 7½ games back in the NL East and a season-worst three games below .500. There were fresh reports that Randolph might not make it through the weekend, a possibility that didn't appear to lose any traction when general manager Omar Minaya was noncommittal about the skipper's future before the game. "Bottom line is, I'm just not going to answer every report that's out there," Minaya said. "This is a game of performance and you have to do certain things."
Rangers 8, Mets 7
Mets 4, Rangers 2: Here's the scenario: The bases are loaded in a tie game. Fans are chanting, "We want Pedro!" What does New York's beleaguered manager Willie Randolph do? He calls on a pinch-hitter who last played in the major leagues almost nine years ago. Talk about being on the hot seat. That pinch-hitter, Robinson Cancel, helped make Pedro Martinez a winner in his home season debut by delivering a two-run single to give the Mets a win over the Rangers for a doubleheader split. After the game, Mets general manager Omar Minaya would not commit to repeated questions about Randolph's job security saying, "These are our coaches today. They are our coaches. As the GM I leave myself room to evaluate things. I think we're not playing to our potential. I always leave room to evaluate things." In the opener, Kevin Millwood pitched six solid innings, and Ramon Vazquez, Ian Kinsler and Milton Bradley homered in the Rangers' victory. Billy Wagner ended his skid of three straight blown saves and David Wright had three hits for his first multi-hit game in two weeks. Carlos Beltran followed up a homer and two RBIs in the first game with a run-scoring single as New York took two of three from Texas before heading for California. The Mets are heading west for the second time in two weeks and Randolph said his bags were packed for the trip. But after returning from a 2-5 West Coast swing less than a week ago, including a four-game sweep by the lowly Padres, rumors intensified that Randolph could lose his job by the end of the series against Texas. Martinez was making his first start at Shea Stadium since Sept. 27, 2007 and the fans showed him their love with the chant when his turn came with the bases loaded in the sixth. But Martinez knew what the right decision was. Mets fans mercilessly booed the decision as Cancel walked to the plate for his second at-bat this season. But he quickly turned the crowd around by calmly grounding an 0-2 pitch up the middle for a two-run single and a 4-2 lead. The hit was Cancel's first since Sept 21, 1999, for Milwaukee against Philadelphia, during his only previous stint in the big leagues. Martinez (2-0) gave up six hits and two runs (one earned) in his third start since coming off the disabled list on June 3l. His four strikeouts all ended innings. He showed his intense side, arguing with Marlon Byrd after Byrd took exception to Martinez's deliberate pace after Byrd had called timeout on a pitch. The Mets bullpen had a turnaround from the first game, when they gave up three runs and helped turn a 3-2 game into an 8-2 deficit. Pedro Feliciano, who gave up a run and threw a crucial wild pitch in relief of John Maine in the opener, worked a clean seventh. Duaner Sanchez pitched a 1-2-3 eighth and Billy Wagner, after entering to tepid applause, was perfect in the ninth for his 14th save in 19 chances. New York went ahead 4-2 in the sixth against Kason Gabbard, who was recalled from Triple-A Oklahoma earlier in the day. Gabbard gave up a single to Beltran and a double to Damion Easley and intentionally walked Fernando Tatis to load the bases before Cancel got his hit. Gabbard (1-3) gave up eight hits and four runs in 5 2/3 innings. In the opener, Millwood (5-3) improved to 3-0 in four starts since returning from a groin injury May 29. Other than allowing long homers to Carlos Delgado and Beltran, he kept the ball mostly in the infield with meek grounders.