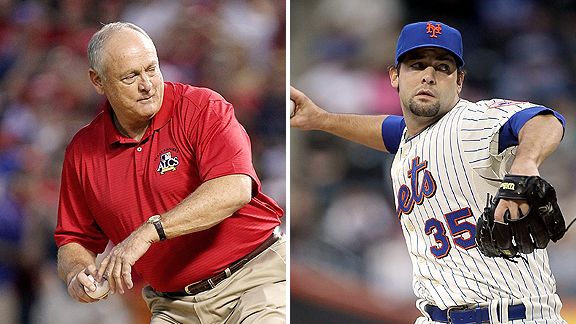 Getty Images
Dillon Gee (right) had an opportunity to meet Nolan Ryan on Friday.
Dillon Gee, who played collegiately at Texas-Arlington and grew up a Nolan Ryan fan in nearby Cleburne, Texas, met his idol before Friday's series Mets-Rangers opener. Mets PR man Jay Horwitz had Ryan, the Rangers team president, swing by outside the Mets clubhouse for a short chat with Gee, who faces Texas on Sunday.
Gee received an autographed ball that read: "To Dillon, Good luck with your career, Nolan Ryan."
"Jay just said, 'Meet me back in here in like 20 minutes. I've got a surprise for you,'" Gee said. "I was like, 'OK.' He was like, 'Do you know what it is?' And I was like, 'I can take a pretty good guess.' I was very excited. We didn't talk for long, just chitchatted a little bit. He's got a lot of things to do, so I didn't want to take up too much of his time."
Gee expects to have a 40-person contingent cheering for him Sunday in a suite secured by his brother-in-law.
As for his favorite memory coming to the stadium as a youngster, Gee said it was arriving early enough for batting practice one game and getting Cal Ripken's autograph.