Video: Niese, Manuel discuss injury
May, 16, 2010
5/16/10
9:54
PM ET
Jon Niese
hopes to make his next scheduled start, Friday against the Yankees, despite suffering a right hamstring "aggravation" Sunday in Miami.
Hisanori Takahashi
is the alternative if Niese can't start.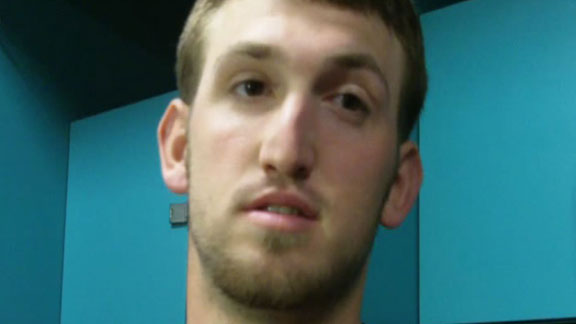 ESPNNewYork.com
Adam Rubin has covered the Mets since 2003. He's a graduate of Mepham High School on Long Island and the Wharton School of the University of Pennsylvania. He joined ESPNNewYork after spending 10 years at the New York Daily News.
Follow Adam on Twitter »
Chat archive »
Majestic Men's Replica New York Mets David Wright #5 Home Ivory Jersey Shop »
BLOG ARCHIVE:
CATEGORIES:
AUGUST 2014
SEPTEMBER 2014
OCTOBER 2014
Sun
Mon
Tue
Wed
Thu
Fri
Sat

1

SF
7:10 PM ET

2

SF
7:10 PM ET

3

SF
1:10 PM ET

4

SF
12:10 PM ET

5

@WSH
7:05 PM ET

6

@WSH
7:05 PM ET

7

@WSH
12:35 PM ET

8

@PHI
7:05 PM ET

9

@PHI
7:05 PM ET

10

@PHI
1:35 PM ET

11

@PHI
1:05 PM ET

12

WSH
7:10 PM ET

13

WSH
7:10 PM ET

14

WSH
7:10 PM ET

15

CHC
7:10 PM ET

16

CHC
7:10 PM ET

17

CHC
1:10 PM ET

18

CHC
12:10 PM ET

19

@OAK
10:05 PM ET

20

@OAK
3:35 PM ET

21

22

@LAD
10:10 PM ET

23

@LAD
9:10 PM ET

24

@LAD
4:10 PM ET

25

26

ATL
7:10 PM ET

27

ATL
7:10 PM ET

28

ATL
7:10 PM ET

29

PHI
7:10 PM ET

30

PHI
7:10 PM ET

31

PHI
1:10 PM ET

Sun
Mon
Tue
Wed
Thu
Fri
Sat

1

@MIA
1:10 PM ET

2

@MIA
7:10 PM ET

3

@MIA
7:10 PM ET

4

5

@CIN
7:10 PM ET

6

@CIN
4:10 PM ET

7

@CIN
1:10 PM ET

8

COL
7:10 PM ET

9

COL
7:10 PM ET

10

COL
7:10 PM ET

11

WSH
7:10 PM ET

12

WSH
7:10 PM ET

13

WSH
7:10 PM ET

14

WSH
1:10 PM ET

15

MIA
7:10 PM ET

16

MIA
7:10 PM ET

17

MIA
7:10 PM ET

18

19

@ATL
7:35 PM ET

20

@ATL
7:10 PM ET

21

@ATL
1:35 PM ET

22

23

@WSH
7:05 PM ET

24

@WSH
7:05 PM ET

25

@WSH
7:05 PM ET

26

HOU
7:10 PM ET

27

HOU
7:10 PM ET

28

HOU
1:10 PM ET

29

30

| Sun | Mon | Tue | Wed | Thu | Fri | Sat |
| --- | --- | --- | --- | --- | --- | --- |
| | | | 1 | 2 | 3 | 4 |
| 5 | 6 | 7 | 8 | 9 | 10 | 11 |
| 12 | 13 | 14 | 15 | 16 | 17 | 18 |
| 19 | 20 | 21 | 22 | 23 | 24 | 25 |
| 26 | 27 | 28 | 29 | 30 | 31 | |
2014 NATIONAL LEAGUE EAST STANDINGS