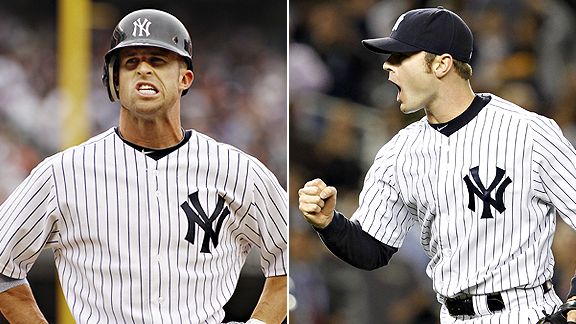 Mike Stobe, Getty Images/William Perlman, The Star-Ledger via US Presswire
Mets fans: Imagine what it would be like to have Brett Gardner and David Robertson on your team.
The Mets' template for 2012 was on display on the other side of the diamond this past weekend in the Subway Series at Citi Field.
Next season, with several key players departing and the team unlikely to be able to spend heavily to replace them, the Mets will be looking to maximize the value of everyone on the field.
While the Mets are saddled with all sorts of contracts in which they're not maximizing value, the Yankees are not only to spend big money and get players who live up to their contracts, but they have a pair of players whose value far surpasses their salaries -- outfielder Brett Gardner and relief pitcher David Robertson.
Those two are being paid just more than $1 million this season combined. They are performing at a level worth many times that amount.
The pair tag-teamed through the Subway Series in impressive fashion. Gardner made a sprinting catch to take away an extra-base hit from Angel Pagan and help Robertson through a scoreless eighth inning in the series-opening Yankees win.
Then, after Gardner's leadoff triple down the right-field line led to the Yankees taking the lead in the eighth inning of Sunday's finale, Robertson set the Yankees up to win by working through trouble in the bottom of the frame. Gardner sent the game to extra innings by throwing Lucas Duda out at the plate to end the ninth.
Now, we're not saying the Mets could just pluck these players away. There's no reason whatsoever that the Yankees would give them up, and there's nothing the Mets have on their roster with greater value to the Yankees than these two, both of whom rank among the top players in baseball at their respective positions.
But they are exactly the kinds of players a team like the Mets should try to find via trade, should they choose to move Carlos Beltran, Francisco Rodriguez and -- shudder -- Reyes. (Reyes is unlikely to go.)
Brett Gardner
Ranks since 2010
Gardner is an ideal "Citiball" player -- a left-handed hitter with the ability to hit the ball all over the field, who fits into the Mets' offensive philosophy of working deep counts. Defensively, his speed and skill combination are a perfect fit for a center fielder in a spacious ballpark.
There are few players in the majors who fit that mold better. Astros centerfielder Michael Bourn might be the closest to that.
Baseball Tonight analyst Doug Glanville referred to Gardner as "a left fielder in a cente rfielder's body -- a caged animal waiting to be set free."
One major league scout told us there were two teams that could use a Gardner-like player in the worst way -- the Mets and Nationals.
That's no knock on Pagan, the current Mets center fielder, who noted after Friday's robbery by Gardner that "he's got the speed to get to every ball."
The Mets would get the most out of their outfield defense 81 times a season in spacious Citi Field by having a center fielder and right fielder who can save runs. Gardner, as pointed out in a recent article, is among the best in the majors in the advanced stat Defensive Runs Saved.
With Reyes potentially departing for big bucks in free agency this offseason, the Mets may have a hole at the top of the lineup, where Gardner seems to fit best.
We polled ESPN's Aaron Boone, Orel Hershiser and Bobby Valentine on the subject of who would win a race between Gardner and Reyes. Gardner thought the idea would be cool, saying so during a recent interview on ESPN 1050. Hershiser and Valentine both picked Gardner to win.
Gardner brings speed and grit. Robertson does too.
Robertson has shown that he has the stomach to pitch in New York with his performance this season. His work resembles that of Mariano Rivera circa 1996 when Rivera was a setup man, not yet a closer, on this Yankees dynasty's first championship team.
Since May 20, a day in which he struck out two Mets in an inning of work, Robertson has been a magician. He's allowed one run in 17 2/3 innings, with 29 strikeouts and seven walks. Opponents have a .399 OPS against him in that stretch.
Robertson is unflappable with men on base, basically what the Mets hope someone like Bobby Parnell will someday become. He locates his pitches -- a 95 mph fastball and knee-buckling breaking ball -- so well in those situations that no one can put them in play.
David Robertson
2011 Ranks
Consider how Robertson performs in the following situations:
• Left-handed hitter.
• With runners in scoring position.
• Two-strike count.
• He throws a fastball.
Do you know what left-handed hitters are when the at-bat ends with that pitch? Try 2-for-25 with 20 strikeouts. Robertson knows how to finish the deal.
"You have to have been in big situations and have an understanding of what you're trying to accomplish to be able to focus with guys on base or the game on the line," ESPN baseball analyst Mark Mulder, a former pitcher for the Athletics and Cardinals, said prior to a show the other day. "Good ones are able to slow the game down better than the ones who struggle."
Robertson has shown himself to be a really good one.
With men on base, hitters have only put the ball in play on 21 percent of their swings against Robertson this season. The next-closest pitcher statistically, Pirates starter James McDonald, is six percentage points behind.
That is how a pitcher like Robertson earns the nickname "Houdini" and ends up averaging an astounding 14.4 strikeouts per nine innings.
"The guy probably desereves to be on the All-Star team," said Jason Bay after whiffing against Robertson Friday, "doing what he does in that division, in that market, it's pretty impressive."
Robertson was impressive from the first time he was seen by Yankees scouts D.J. Svihilik and Jeff Patterson, and scouting director Damon Oppenheimer, who made the call to select Robertson, a rare sophomore draft-eligible, in the 17th round in 2006.
"They told me he had a fastball that disappears, and a nasty, nasty (breaking ball)," Oppenheimer said last week. "He was pitching for Yarmouth-Dennis (Mass.) in the Cape Cod League, and my friend, Scott Pickler, who coaches them, said he was the real deal. He had a first-round pick for the Mariners on his team, but he said that (Robertson) was the best guy, hands down."
In the scouting community, guys like Robertson and Gardner -- who parlayed a walk-on stint at College of Charleston into being an All-American and a third-round pick in the 2005 draft -- are home runs. The scout we talked with said it was "amazing" that Robertson lasted as long as he did.
The Mets have a couple of guys who were draft steals -- Dillon Gee, a 21st-round pick in 2007, for example -- and a couple of pitchers in their system, such as Chris Schwinden and Robert Carson -- who could contribute to the team's success at some point.
But with Rodriguez likely closing somewhere else next season, the Mets would seem to have an immediate need for a pitcher of Robertson's ilk -- a swing-and-miss fearless competitor who can demoralize opponents.
"It's tough to get guys (from the draft) to the big leagues no matter what," Oppenheimer said. "It's even harder somewhere like in New York to have both impact and longevity. At least for now, (Robertson and Gardner are) having a major impact. They don't have the longevity (yet), but that's what we're looking for."
So are the Mets. And they need that a little bit more than the Yankees do.
"In-depth" appears Tuesdays during the season