Justin Turner once was drilled on the left side of his face in the College World Series with a fastball, and became so recognizable in the Fullerton, Calif., area as a result of the incident that he briefly dyed his hair black to try to go incognito.
Fortunately, there's been nothing severe this season. Just a walk-off win when he was grazed by a pitch, then retribution the following day by the Oakland Athletics.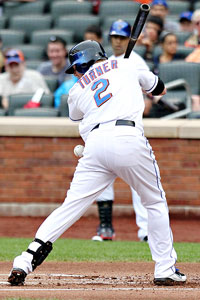 Debby Wong/US Presswire
Justin Turner is hit in the first inning by a pitch on June 23, likely as retribution for getting grazed to force in the winning run the previous night.
Turner nonetheless has been hit double the total of any other Met.
No. 6 occurred in the eighth inning on Monday night at Dodger Stadium, when Turner was plunked in the left ankle by Los Angeles reliever Scott Elbert.
"It's starting to get old," Turner said about the plunkings.
The franchise hit-by-pitch record for a season is 13, by John Olerud in 1997 and Ron Hunt in 1963.
But consider Turner has only 223 plate appearances, for a hit-by-pitch rate of once every 37.2 PAs. Olerud's rate was once every 48.5 PAs. Hunt's rate: once every 46.2 PAs.
"He steps a little bit toward the plate," Terry Collins observed about Turner. "He's not one of those 'front open' guys. He stays in there pretty good."
Collins, playing without Jose Reyes and having already used Willie Harris as a pinch-hitter, had a semi-lighthearted exchange as Turner limped around in foul territory following getting plunked Monday night.
"When I talked out there, I told him, 'That leg better be broke in half or you're in the game,'" Collins said.