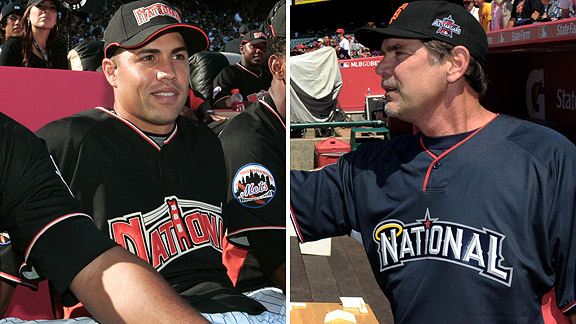 Rich Pilling/MLB Photos via Getty Images and Kirby Lee/Image of Sport-US Presswire
NL Bruce manager Bruce Bochy used one of his All-Star picks to select Carlos Beltran.
National League manager Bruce Bochy said it was a "difficult call" to select Carlos Beltran over Pittsburgh's Andrew McCutchen for a backup outfielder spot in Tuesday's All-Star Game. Bochy said he weighed both players' statistics last week.
TOUGH CALL
A 2011 comparison of Carlos Beltran and Andrew McCutchen's statistics.
"They're very similar," Bochy said. "I wish I had something to tell you why I took him over the guys others as much as what I saw what he did against us -- a switch-hitter with power. He's having a great year, very deserving. I mean this guy is on pace to hit close to 30 home runs in a tough park to hit home runs in and have over 100 RBIs. I have tremendous respect for Beltran and what he's done this year."
Beltran will make his fifth All-Star appearance as a Met, passing Darryl Strawberry for the most representing the franchise as an outfielder.
"It was very difficult," Bochy said.
Bochy also said he had not been officially told Jose Reyes is out, although that's a mere formality with Reyes headed to the disabled list. Bochy noted he selected Cubs shortstop Starlin Castro. Troy Tulowitzki also is an All-Star, but his availability is in question due to a quadriceps injury.