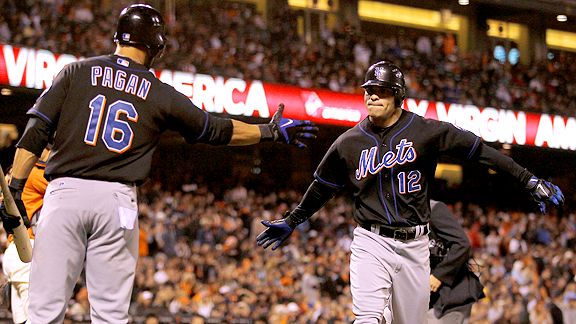 Ezra Shaw/Getty Images
Angel Pagan congratulates Scott Hairston after the pinch-hitting Hairston delivered a tiebreaking homer in the ninth against Giants closer Brian Wilson.
If Sandy Alderson had designs on dismantling before the July 31 trade deadline in order to get prospects or salary relief that would put the organization in a better place for future seasons, the current players continue to make it complicated. Scott Hairston's tiebreaking homer off Giants closer Brian Wilson in what became a three-run ninth inning lifted the Mets to a 5-2 win over NL East-leading San Francisco and again moved the Mets a season-high three games over .500.
"I don't think there's any question we're beating expectations," Terry Collins said. "Heck, even if David (Wright) and Ike (Davis) were here, the expectations were that we weren't going to be very good. That was the thought by a lot of people. ... Right now, we've got key people out. You don't even mention Chris Young's name, who was the best starter we had at the beginning of the year. He's out. And these guys just continue to battle through it.
"We're in a tough stretch. We talked about it seven days ago what a tough stretch it's going to be. Here they are, and we've got to come out tomorrow and battle another outstanding pitcher (Tim Lincecum)."
Alderson said during the last stop, at Dodger Stadium, that the next 10 to 12 games would be critical in determining whether the Mets start trading pieces or hold pat, at least for another 10- to 12-game block of games after that. Collins downplayed that motivating players, but R.A. Dickey -- who battled through glute and foot trouble to log seven innings in Friday's win -- said: "We understand that it's in our hands for the most part. I think Sandy would probably say it's a critical 10-game stretch upcoming here starting with tonight. I've got to believe we all know that in here. So that whether we keep Jose (Reyes) or Carlos (Beltran) or Frankie (Rodriguez) or whoever is on the trading block at the time, a lot of it is up to us."
After Wilson entered to "Jump Around" by House of Pain, Hairston greeted him with a leadoff homer in the ninth on a full-count slider. No fear of the beard.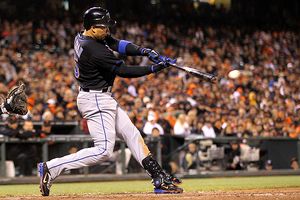 Ezra Shaw/Getty Images
Carlos Beltran drives in a ninth-inning run Friday.
"You can't help but to stare at it sometimes," Hairston said with a laugh about the black-dyed beard. "You've got to be focused. I've faced him in the past without the beard, and now he has a beard. I've seen his commercials, and the commercials are hilarious. Give him credit. He's pretty funny. It's just part of his persona, I guess. When the music comes on, he comes in, the fans get excited. As a player, your adrenaline kicks in. I love being in that situation."
Since 2007, Hairston actually now has as many go-ahead homers in the ninth inning or later as Albert Pujols -- six -- according to ESPN Stats & Information. The only players with more in that five-season stretch: Andre Ethier, 8; Carlos Lee, 7; Alex Rodriguez, 7; Prince Fielder, 7; and Nelson Cruz, 7.
"I'll tell you what, that's the biggest roar I've heard all year," Collins said about the bench's reaction.
Beltran said he is impervious to any trade chatter. He went through this once before, moving from Kansas City to Houston in 2004. And this time he has the control with a blanket no-trade clause.
"It's going to happen what's going to happen," Beltran said. "So right now I'm not really thinking about that. I'm going to wait, like you guys are going to wait. Why concentrate on things I don't have control right now? Right now what I need to do is just come to the ballpark, put myself in a condition where I can go out there and help this team win ballgames. And that's what I'm doing.
"Being able to have went through that before, when I was in Kansas City, I think experience always makes you understand a little bit more the game of baseball -- the business part."
Beltran continued to display his sense of humor, too. After Dickey stumbled on the basepaths, Beltran told him he had "Dan Warthen legs out there," a reference to the Mets' pitching coach.
"That's terrible," Beltran said with a mischievous laugh when confronted with the humorous line. "I didn't say that."