Series preview: Mets at Reds
July, 24, 2011
7/24/11
11:43
PM ET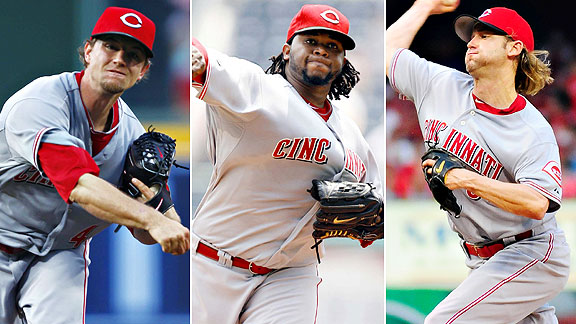 US Presswire
The Mets face (l to r) Mike Leake, Johnny Cueto and Bronson Arroyo in the opening three games of the four-game series.
METS (50-51, third place/NL East) vs. CINCINNATI REDS (50-51, fourth place/NL Central)
Monday:
RHP R.A. Dickey (4-8, 3.80) vs. RHP Mike Leake (8-5, 4.11), 7:10 p.m. ET
Tuesday:
LHP Jon Niese (9-8, 3.76) vs. RHP Johnny Cueto (6-3, 1.98), 7:10 p.m. ET
Wednesday:
RHP Mike Pelfrey (5-9, 4.73) vs. RHP Bronson Arroyo (7-8, 5.56), 7:10 p.m. ET
Thursday:
LHP Chris Capuano (8-10, 4.26) vs. RHP Homer Bailey (5-4, 3.67), 12:10 p.m. ET
Reds short hops
• Rookie shortstop
Zack Cozart
landed on the disabled list Sunday, a day after hyperextending his left elbow when Atlanta's
Nate McLouth
slid into it in the fourth inning. Cincinnati promoted
Paul Janish
from Triple-A Louisville. Janish began his minor league stint 1-for-22 before getting into a groove. He hit .227 with no homers in 229 at-bats before a demotion. Janish will share the shortstop role with
Edgar Renteria
.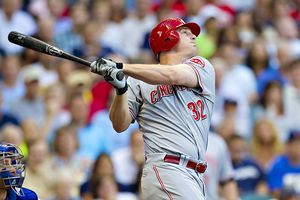 Jeff Hanisch/US Presswire
Jay Bruce became a first-time All-Star this month.

• Third baseman
Scott Rolen
was placed on the disabled list for the second time this season with discomfort in his chronically troublesome left shoulder.
Miguel Cairo
and recently promoted rookie
Todd Frazier
will share third-base duties in Rolen's absence. Cairo homered Sunday night against the Braves. Frazier produced his first major league hit on Friday, with a single off Atlanta's
Scott Linebrink
. He then started for the first time in his career the following day.
• Closer
Francisco Cordero
has 309 career saves, 19
th
all time. Next up:
Rich Gossage
with 310,
Tom Henke
with 311,
Robb Nen
with 314 and
Rick Aguilera
with 318. Cordero's 300
th
save came June 1 against Milwaukee, when he became the 22
nd
pitcher to reach that plateau.
• Right fielder
Jay Bruce
(.268, 21 HR, 57 RBI) returned to the lineup Sunday after missing two games with an inner-ear infection that caused dizziness. Bruce, 24, earned his first All-Star selection this season. He is one of five active players to reach 20 homers in each of his first four major league seasons. The others:
Ryan Braun
,
Albert Pujols
,
Mark Teixeira
and
Dan Uggla
.
• The Reds won back-to-back games Saturday and Sunday for the first time since they swept the Los Angeles Dodgers from June 13-15. The latter victory came on a walk-off homer by
Drew Stubbs
in the ninth inning, on the first pitch from Atlanta's Linebrink.
• Right-hander
Mike Leake
, a teammate of
Ike Davis'
at Arizona State, suffered a tough-luck 1-0 loss to the Pittsburgh Pirates in his most-recent start. He nonetheless leads Cincinnati pitchers with eight wins and ranks second to
Johnny Cueto
with 11 quality starts. Leake began the season in the rotation, going 3-1 with a 5.77 ERA in six starts. He moved to the bullpen when
Homer Bailey
and Cueto returned to the rotation from the disabled list in a three-day span. After three relief appearances, he was demoted to Louisville, and returned May 27 in place of ineffective
Edinson Volquez
, who was sent to the minors. Leake hit a batter in five straight appearances in June, tying the longest streak in the majors this season, also done by
Jo-Jo Reyes
and
Fausto Carmona
. Off the field, Leake pleaded guilty April 29 to a charge of unauthorized use of property and was sentenced to counseling and 30 hours of community service. He was arrested at a Macy's earlier that month leaving the store with six T-shirts, the Associated Press reported. Leake reportedly indicated he was exchanging the shirts for ones previously purchased without the assistance of a clerk.
• Flame-throwing left-hander reliever
Aroldis Chapman
began the season with 12 scoreless appearances. He spent May 16 through June 23 on the disabled list with shoulder inflammation. Chapman has picked off four batters this season -- Milwaukee's
Corey Hart
twice, Arizona's
Stephen Drew
and Baltimore's
Mark Reynolds
. Chapman needed nine pitches to record five outs on Sunday night against the Braves.
• First baseman
Joey Votto
and second baseman
Brandon Phillips
have made consecutive All-Star teams. Votto is the defending National League MVP and leads the league in walks, on-base percentage and average with runners in scoring position. Phillips has won two Gold Gloves in the past three seasons.
• Outfielder
Jonny Gomes
is hitting .340 against left-handed pitching.
• Cueto shaved his ERA to 1.98 by limiting Pittsburgh to one run in six innings Wednesday. He made his season debut May 8 after opening the year inactive with a right biceps/triceps issue.
• Right-hander
Bronson Arroyo
is winless in four starts this month and has a 7.63 ERA since June 25. Opponents have scored at least four runs in each of his past five outings.
Matchups
Dickey vs. Reds (career: never faced)

Edgar Renteria .200, 5 PA
Ramon Hernandez .000, 1 BB, 2 PA
Brandon Phillips .000, 2 PA
Niese vs. Reds (career: 0-1, 4.61 ERA)

Brandon Phillips .571, 2 HR, 3 RBI, 7 PA
Jonny Gomes .429, 1 HR, 1 RBI, 7 PA
Jay Bruce .333, 3 PA
Edgar Renteria .333, 3 PA
Miguel Cairo .333, 3 PA
Ramon Hernandez .333, 1 RBI, 3 PA
Chris Heisey .250, 1 HR, 1 RBI, 4 PA
Joey Votto .167, 1 BB, 2 K, 7 PA
Drew Stubbs .143, 3 K, 7 PA
Pelfrey vs. Reds (career: 3-2, 5.84 ERA)

Drew Stubbs 1.000, 2 RBI, 2 BB, 3 PA
Brandon Phillips .400, 1 HR, 4 RBI, 1 BB, 16 PA
Jay Bruce .333, 1 K, 9 PA
Jonny Gomes .333, 3 PA
Joey Votto .300, 2 HR, 4 RBI, 1 BB, 3 K, 11 PA
Fred Lewis .167, 1 K, 6 PA
Ramon Hernandez .000, 1 RBI, 1 BB, 1 K, 5 PA
Edgar Renteria .000, 4 PA
Capuano vs. Reds (career: 2-3, 4.85 ERA)

Ramon Hernandez .500, 2 RBI, 2 PA
Brandon Phillips .435, 1 HR, 2 RBI, 3 K, 23 PA
Drew Stubbs .429, 1 HR, 2 RBI, 1 BB, 3 K, 8 PA
Joey Votto .333, 1 BB, 2 K, 7 PA
Ryan Hanigan .333, 2 BB, 1 K, 5 PA
Jay Bruce .333, 1 HR, 3 RBI, 1 BB, 2 K, 4 PA
Homer Bailey .333, 2 K, 4 PA
Jonny Gomes .222, 1 HR, 1 RBI, 3 K, 10 PA
Miguel Cairo .143, 1 BB, 8 PA
Edgar Renteria .133, 1 RBI, 5 K, 15 PA
Logan Ondrusek .000, 2 K, 2 PA
Chris Heisey .000, 1 K, 2 PA


Leake vs. Mets (career: 0-0, 1.50 ERA)

Willie Harris .500, 1 K, 2 PA
Jose Reyes .333, 1 RBI, 3 PA
Angel Pagan .333, 3 PA
Jason Bay .000, 1 K, 3 PA
David Wright .000, 2 K, 3 PA
Cueto vs. Mets (career: 0-2, 8.14 ERA)
Angel Pagan .600, 1 BB, 1 K, 6 PA
Ronny Paulino .500, 1 RBI, 1 BB, 3 PA
Carlos Beltran .400, 1 HR, 3 RBI, 1 BB, 2 K, 6 PA
David Wright .364, 1 HR, 3 RBI, 1 BB, 2 K, 12 PA
Jason Bay .222, 2 K, 9 PA
Willie Harris .182, 1 BB, 3 K, 12 PA
Jose Reyes .111, 1 RBI, 3 K, 9 PA
Daniel Murphy .000, 1 BB, 1 K, 3 PA
Scott Hairston .000, 2 K, 3 PA
Arroyo vs. Mets (career: 7-2, 3.31 ERA)

Josh Thole .667, 3 PA
Daniel Murphy .571, 7 PA
Ronny Paulino .429, 3 RBI, 4 BB, 2 K, 18 PA
Willie Harris .316, 1 RBI, 6 K, 19 PA
Carlos Beltran .278, 1 HR, 4 RBI, 2 BB, 5 K, 20 PA
Jose Reyes .276, 1 HR, 2 RBI, 1 BB, 4 K, 30 PA
Jason Bay .250, 3 RBI, 2 BB, 5 K, 27 PA
David Wright .207, 1 HR, 1 RBI, 2 BB, 5 K, 31 PA
Angel Pagan .188, 1 HR, 1 RBI, 2 K, 16 PA
Scott Hairston .000, 3 PA
Bailey vs. Mets (career: never faced)

Willie Harris 1.000, 1 BB, 2 PA
Scott Hairston .286, 1 HR, 1 RBI, 2 BB, 2 K, 9 PA
Ronny Paulino .000, 2 PA
Last series results
Reds won, 2-1, at Citi Field, July 5-7, 2010 (AP game recaps)
Reds 8, Mets 6:
Joey Votto swatted a pair of homers and the Reds took advantage of a rare overturned call by the umpires. Drew Stubbs and Corky Miller each drove in a pair of runs during a strange six-run fifth inning, one that included everything from a run-scoring triple by rookie pitcher Travis Wood to Mets manager Jerry Manuel getting tossed for arguing with the umpires. Angel Pagan hit a solo homer and Alex Cora added a pair of RBIs for New York, which answered with five runs in the bottom half of the inning but could never draw even. Jordan Smith (2-1) pitched 2 1/3 innings of relief before turning it over to All-Star reliever Arthur Rhodes, and Francisco Cordero got some help from a couple nifty catches by his defense to survive the ninth and earn his 23rd save. The ease with which the Reds bullpen shut down New York the final four innings stood in stark contrast to the struggles that Wood and Mets starter Mike Pelfrey (10-3) had during an eventful fifth inning that left most of the Citi Field crowd in an uproar. Votto's first-inning homer and Jason Bay's RBI single had knotted the game before Pelfrey walked the bases loaded to start the fifth. An inside pitch then appeared to graze the Reds' Scott Rolen, who had checked his swing and started toward first base. Plate umpire Jerry Meals rang him up on strikes, indicating a foul tip, even though replays appeared to support Rolen. Rolen immediately began to argue and manager Dusty Baker came out of the dugout to challenge the call, nearly tripping over the bat boy. The four-man umpire crew gathered on the infield grass for several minutes to discuss it. They finally broke their huddle and sent Rolen to first, bringing home the go-ahead run and prompting Manuel to sprint onto the field and pick up the discussion for his club. It took umpire Dan Iassogna only a couple of seconds listening to toss Manuel from the game. The Mets nearly made the call moot. Pagan homered to lead off the bottom of the fifth, and David Wright's triple gave New York some momentum. Ike Davis laid down an RBI bunt, Jeff Francoeur walked and Rod Barajas followed with an RBI single. Cora then made it 7-6 with a double to right field before Smith finally got the Reds out of the inning. Votto gave his bullpen another run to work with in the sixth -- not that it needed any help -- before adding a double in the ninth inning.
Mets 3, Reds 0:
Johan Santana lined his first major league homer. That was plenty as he pitched a three-hit shutout. On a day when it hit a record 103 degrees in the city, Santana steamed around the bases after capping a tenacious 12-pitch at-bat with his drive off the right-field foul screen. He became the second Mets pitcher to homer while throwing a shutout, joining Pete Falcone, who did it in 1981. The Mets ace made the early edge stand up, shutting down the team that led the NL in runs, homers and hitting. He struck out five and walked three in his seventh career shutout and first since 2008. Santana (6-5) had won just once in his last seven starts, though Mets hitters shared the blame. The only other homer he remembered hitting, he said, came "in video games." It was still 96 degrees when Brandon Phillips led off the game with a double. Putting aside worries that he was tipping his pitches, Santana didn't allow another hit until Orlando Cabrera singled in the sixth. The Reds threatened in the ninth when Scott Rolen singled with one out and left fielder Jason Bay dropped Jay Bruce's flyball for an error. Mets manager Jerry Manuel strolled to the mound and, as fans implored him to leave in Santana, he did. Santana rewarded his manager when he got Jonny Gomes on a lineout and Drew Stubbs grounded into a game-ending force. Santana matched the best low-hit game of his career. Matt Maloney (0-1) lost in his first game for Cincinnati this season. He traveled in from Triple-A Louisville earlier in the day, promoted because the Reds put pitcher Aaron Harang on the disabled list with lower back spasms. Maloney retired the first seven batters. After rookie Ruben Tejada singled but was caught stealing, Santana stepped up. He took a ball from the Reds lefty, then fouled off the next seven pitches. After a ball and two more fouls, Santana took another meaty cut and pulled a drive that hit halfway up the foul screen.
Reds 3, Mets 1:
Bronson Arroyo was standing on third base laughing about his blooped bunt that landed beyond the pitcher's mound for a base hit earlier in the seventh inning. It's easy to feel giddy when almost everything is on target. Arroyo outpitched Jon Niese in a crisp duel, and the Reds used two more long balls and a few fine plays in the field to beat the Mets. Thanks to a sinker that was moving so much he had to start his pitches farther out of the strike zone than usual, the ball was bouncing Arroyo's way on offense and defense. Chris Heisey made the biggest play behind Arroyo, a long running catch in the in Citi Field's spacious right-center field with a runner on second base to end the sixth inning. Heisey then hit a tiebreaking shot in the seventh to help Arroyo improve to 7-2 with a 3.31 ERA for his career against the Mets. Brandon Phillips homered in the third and had an RBI double in the seventh. The victory also gave Cincinnati the season series over New York 4-2 for the first time since 2001. Arroyo and Niese (6-3) both made quick work of the opponents' potent lineups on another sweltering night. Angel Pagan hit Arroyo's seventh pitch of the game out of the ballpark for the Mets' run, and Cincinnati only had Phillips' homer before Heisey connected with an out in the seventh for their second hit. Drew Stubbs singled after Heisey hit the Reds' NL-leading 106th homer. Arroyo bunted the blooper an out after Stubbs' hit that dropped in between the mound and second base for a single. Then Phillips made it 3-1 with a ground-rule double to right. Arroyo made the lead hold up in his second straight stellar start. In this one he gave up seven hits and a run without walking a batter over eight innings. Francisco Cordero gave up Ike Davis' leadoff double and a walk in the ninth before finishing for his 24th save in 29 chances. The Mets threatened in the fifth, putting runners on second and third with one out. But Arroyo struck out Niese and got Jose Reyes, batting right-handed against the righty because his left side that kept him out a week was still not fully healed, bounced back to the mound for the final out.