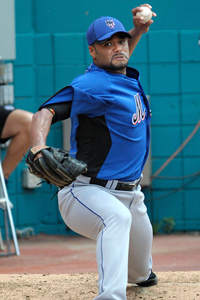 Sarah Glenn/Getty Images
Johan Santana throws a bullpen session Sunday in Miami.
Despite weekend suggestions Johan Santana is ready to proceed to a minor league game on Wednesday -- including from Santana himself -- GM Sandy Alderson indicated the ace is likely to instead throw another simulated game, according to a tweet from Binghamton Mets beat writer Lynn Worthy.
Santana threw a bullpen session Sunday in Miami and had suggested a midweek game would be next if he awoke Monday feeling up to it. But everyone stressed the plan was fluid and subject to change.
Alderson told the Press & Sun-Bulletin of Binghamton on Sunday night via email: "The next outing for Johan will be in a controlled setting in Port St. Lucie."