The final three relievers to appear for the Mets on Monday night in a 4-2 win at Cincinnati each had reason for extra motivation to fuel them:
Jason Isringhausen, who struck out Brandon Phillips to strand the bases loaded and complete the victory, had been unwanted by the Reds after trying out for the ballclub in spring training.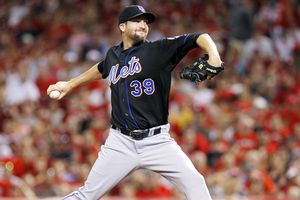 Joe Robbins/Getty Images
Bobby Parnell tossed a scoreless eighth inning Monday, a day after allowing two runs and suffering the loss in Miami.
Bobby Parnell, who worked a scoreless eighth inning that included retiring reigning MVP Joey Votto as a pinch-hitter, wanted to rebound from the previous day's loss in Miami, when he allowed two runs in the same frame and was charged with the loss.
Tim Byrdak, who entered in the seventh inning with two runners on base, wanted redemption. His final pitch as a Houston Astro, last Sept. 28, resulted in a Jay Bruce walk-off homer that clinched the NL Central title for the Reds. This time, Byrdak struck out Bruce on three pitches.
"That's been in the back of my mind," Byrdak said. "That was the last pitch I threw for the Astros. … With all the stuff I went through last year with the sports hernia and not being able to finish my pitches and stuff, this is an opportunity for me to come in here back to being healthy and back to being able to throw the ball the way I can. I just went out and went after him."
Isringhausen downplayed the motivation factor, but volunteered about Cincinnati: "They said I wasn't good enough to pitch for them. … They just said I didn't have enough in the tank. And so I came to the Mets. That was it. (Reds GM) Walt Jocketty (formerly St. Louis' GM) is a good friend of mine. He said, 'If you can't find a place to pitch, I'll get you in here (in spring training) and we'll give you some innings just to see what you can do.' But he was really going to do it as a favor."
In a jam that began with a David Wright error in the ninth, Izzy eventually faced the bases loaded and two out after a walk to the lefty-hitting Bruce. Isringhausen did not intentionally walk Bruce, but he was determined not to give him anything suitable to hit, especially after he fell behind in the count. Righty batters were hitting .145 (9-for-62) off Isringhausen entering the day, according to ESPN Stats & Information, so a matchup with the ensuing batter Phillips was preferable.
"It was funny," Izzy said, referring to earlier when Byrdak entered the game. "I was sitting down there (in the bullpen) watching on TV and they showed Bruce hitting the walk-off off 'Birdie' when he was with Houston. That was what reminded me off all the walk-offs he's hit. … I wasn't going to give in to him. I've seen too many highlights of him hitting home runs for walk-offs. I was going to try to do everything I could to keep him in the ballpark. And if I walked him, I walked him there. And then I had a righty-on-righty after that. And then I made some good pitches to Brandon Phillips and was able to get him out."