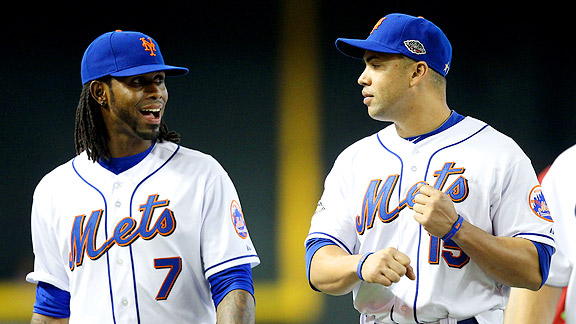 Christian Petersen/Getty Images
Carlos Beltran is gone, but Jose Reyes plays on for the Mets.If you're a rational Mets fan, the thought has to have entered your head at least once in the past week.
Boy, you say, I sure hope Sandy Alderson knows what he's doing.
The apparent decision not to trade Jose Reyes, and to gamble that he can be re-signed this offseason, is dicey even in a best-case scenario.
Reyes will not be the best free agent available. Albert Pujols will, and there surely will be a bidding frenzy for his services. But Reyes and Prince Fielder loom as pretty good second options.
There are teams out there with deeper pockets than the Mets. The Nationals likely will be looking to make another big splash with Stephen Strasburg coming back next season and Bryce Harper another step closer to the major leagues. So could the Giants or the Red Sox.
And all it will take for one owner to shake up the system is to put a Carl Crawford- or Jayson Werth-type offer out there to deliver a knockout blow to the Mets' version of Plan A.
The other thing to remember is that whatever investment the Mets could make in Reyes comes with some risk. This is a player with amazing skills but sensitive hamstrings. If you sign him for five years, you're probably getting three or four years of production and one or two years of pain. You might be hamstringing your ability to make your team better.
There are few players who can do what Reyes does, as evidenced by his statistical performance this season. He could be a difference-maker who pushes a team over the top. He could give the Giants' bid for back-to-back titles legitimacy.
The Reds also are the perfect example of a team that could use a player like Reyes to springboard into the postseason. Their shortstops have produced no value this season. Their combined OPS doesn't even reach .600. The National League Central is there for the taking. The general manager is old. The manager is old. Reds manager Dusty Baker sounded like someone who craves Reyes during his pre-game press gathering.
"He's the epitome of a leadoff man," Baker said, and though he never stated specifically what his team needed, it didn't take imagination to figure out the type of player he was looking for when he said he hoped activity "picks up" in the next few days.
The prizes would come if Reyes were dangled and the right combination of teams showed interest. They very well could.
It's an interesting situation, because if it works out right, you could land something like the Rangers did when they parlayed a rental of Mark Teixeira to the Braves into Neftali Feliz and Elvis Andrus. Most deals don't work out that well. But the temptation is there to consider one, primarily because there's no assurance Reyes will stick around.
There is a lot of brainpower in the Alderson administration with a lot of baseball experience. We're sure the administrators have thought this out and played out all sorts of scenarios.
You just hope they aren't being blinded by the desires of the Wilpons and the value of a couple of months of good PR, at a time when the future of the franchise is going to be shaped both on and off the field.
You hope Alderson knows what he is doing and has the authority to put the proper plan into action. Even if it means trading the heart and soul of the franchise.