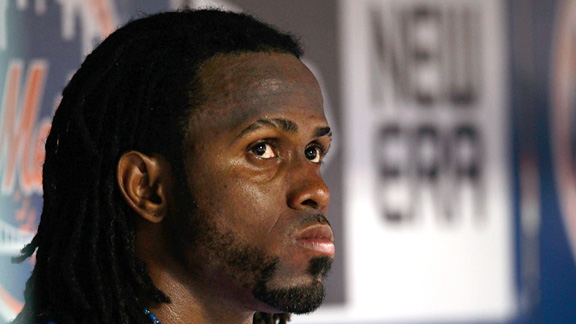 Chris Trotman/Getty Images
Suddenly struggling Jose Reyes and the New York Mets muster just four hits in 4-1 loss Friday against Atlanta.
Hey Los Mets: where's Los Offense?
In the last five games, Terry Collins' club has hit just .160 with runners in scoring position.
Not surprisingly the Mets have lost all five.
In the process, they've lost all hope for a playoff berth in 2011.
The latest example of the team's offensive ineptitude came on Friday night at Citi Field. The Mets -- wearing "Los Mets" jerseys in honor of Fiesta Latina night -- managed just two hits after the first inning in a 4-1 loss Tim Hudson and the Wild Card-leading Braves.
"We've got to give our guys (pitchers) some support," Collins said after the Mets fell nine back of Atlanta in the Wild Card race. "R.A. [Dickey], even in his last start, he gave up three runs and we didn't give him anything to work with."
It was a different night but the same story for Dickey on Friday. The knuckleballer walked off the mound in the seventh having allowed just two runs on five hits, but the Mets trailed 2-1.
Afterward, all Dickey had to show for his efforts was loss No. 10 of 2011.
"I feel like every game when we're chasing the Braves is a 'must have' so it's kind of a let-down when you have opportunities that you don't take advantage of," Dickey said. "And tonight, I felt was one of those opportunities. We could have won that game."
The Mets missed out on a couple key scoring opportunities after the first inning.
#44 LF
New York Mets
2011 STATS
GM

83

HR7

RBI37

R37

OBP.321

AVG

.239
With two out in the fourth, Angel Pagan worked a walk and could have scored on Jason Bay's double to shallow right. The ball fell between Atlanta fielders converging in short right field and bounced into the stands, forcing Pagan to stay at third. One batter later, Josh Thole ended the inning with a flyout to left.
"It was big," Collins said of the team's failure to score in the fourth. "There was no doubt we needed somebody to get a base hit to score a run or two. I heard one of the guys on the bench when that ball hit the stands and he said, ''That's pretty much how things are going right now.'
"Probably a week ago, the way we were playing that ball hits the top of the wall, skips in the corner and we get a run."
Forget about a run.
The Mets couldn't muster another hit until David Wright's one-out single in the eighth. That knock put runners on first and second with one out for Angel Pagan, who flew out to shallow right on the first pitch that he saw from Jonny Venters. Jason Bay then grounded out weakly to end the threat.
"Dickey kept us in the game, we just couldn't score enough runs for him," said Jose Reyes, who went 0-for-4 and is hitting .208 (10-for-48) in his last 11 games.
In addition to the eighth-inning single, Wright also had an RBI double in the first inning, when it seemed like the Met offense could rise out of its recent slump.
Said Wright: "We knew it was going to take a lot more than one and we didn't even really have chances after that."
Wright didn't. But his teammates did. And once again, they came up short.