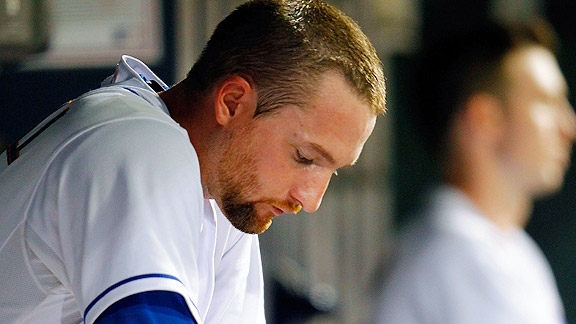 Paul Bereswill/Getty Images
Bobby Parnell allowed three ninth-inning runs, then sat dejectedly in the dugout.
During the first half of the season, the Mets did play relatively crisp baseball. But the second half has been a different story. And Terry Collins was disappointed by what he deemed mental -- not physical -- errors in Wednesday's 9-5 loss to the San Diego Padres.
First, Ruben Tejada was thrown out at the plate attempting to tag up on a fly ball when he did not slide. Justin Turner, the on-deck man, had been signaling for Tejada to hit the dirt.
"I asked Ruben," Collins said. "I said, 'What did Justin tell you to do?' He said, 'He told me to slide.' So obviously he saw the signal."
In a meltdown ninth inning, the Padres successfully took home on a double-steal. Willie Harris, who had taken over at second base after a pinch-hit RBI the previous half-inning, received a throw from Josh Thole but did not fire back to the plate in time.
Collins explained: "I'm not upset the ball went through. Just Willie got caught behind the runner, instead of getting in front of the bag so he could come and get the ball."
Of course, Tejada has only limited major league experience, and Harris is primarily an outfielder, but Collins said there's a limit to the alibis for mental miscues.
"There's some of those, just like Ruben's play at home plate, that's not accepted, I don't care what level you're at," the manager said. "I asked him, I said, 'Why didn't you slide?' He just didn't know. He just saw the catcher come off the plate and thought he could score."
Collins asked Tejada what he would do at first base if the fielder had to come off the bag because the throw was off-line.
Said Collins: "He said, 'I'd slide.' It's pretty much the same situation. It's just a mistake there. It comes back at this level to hurt you."
Still, Collins had other things to lament.
"Early in the game we had the bases loaded and nobody out and some opportunities to get some runs and we didn't capitalize on that either," he said. "So there were a lot of parts of this game. When you look up and you've got 15 hits and four walks and they make an error and you've only got five runs, it's not a good night."
By the way, the last player to steal home against the Mets before San Diego's Jesus Guzman? Cincinnati's Brandon Phillips on July 10, 2009.
BACK THURSDAY? Angel Pagan indicated he hoped to play Thursday, although that seemed like a long shot given the quick turnaround, with a 12:10 p.m. first pitch.
Pagan said he felt his middle back getting tight during his second at-bat, after fouling off a pitch to left field. He also experienced spasms.
"I went to the outfield, and when I started throwing, it kept getting tight on me," he added. "So that's when I told the trainers. I just don't want to make it worse.
"Obviously I'm the only guy to lead off for the team, so I don't want to be out for many games. Hopefully I'm ready for tomorrow. This is muscular. I talked to the doctors and they said it's nothing bad. They're going to give me some medication, and hopefully I'll be good enough for tomorrow. I just don't want to be out for too long."
Said Collins: "Probably a day or so."
Collins a while back had suggested Scott Hairston could be an alternative at leadoff to Pagan. And with the Padres throwing southpaw Cory Luebke, Hairston does figure to be in the starting lineup.
BOBBY SOCKED: Bobby Parnell allowed three runs in the top of the ninth on three hits and a walk, including a play scored an infield single when he missed stepping on first base. He has surrendered runs in four of his past six appearances.
"I shot myself in the foot. I didn't do the things to help myself out," Parnell said.
"Actually, his velocity has been great," Collins said. "I just think he's getting too much of the plate. I don't think he's getting the ball to the sides of the plate as much as he was a couple of weeks ago when he was really pitching well. And, I think, he's leaving his slider in the middle of the plate."
Said Thole: "Tonight I thought his ball was elevated a little bit. He threw some good sliders, got us in some good counts, tried to strike guys out with the heater, and they just stayed up over the plate. We fell behind a couple of times, too, I think. That played a role a little bit."