Nimmo arrives in St. Lucie
August, 16, 2011
8/16/11
4:46
PM ET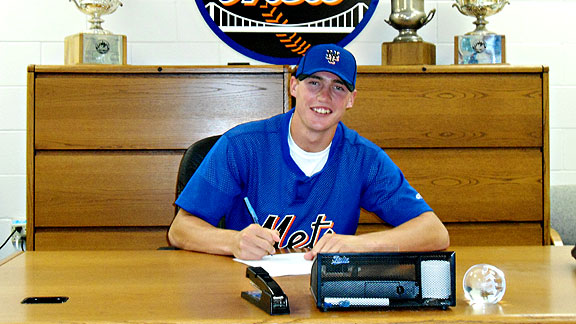 Courtesy of Traer Van Allen/New York Mets
Brandon Nimmo signs his contract in Port St. Lucie, Fla., on Monday. He agreed to a $2.1 million bonus.
Paul DePodesta
said first-round pick
Brandon Nimmo
will be on the field in Port St. Lucie on Tuesday and in Gulf Coast League games by the end of the week.
Nimmo, a high school outfielder from Wyoming, signed for $2.1 million.
Nimmo said while he was confident he would sign with the Mets, there was some uncertainty as the midnight deadline approached.
"We were all pretty confident that this would happen and that we could get it done," Nimmo said. "But you can't help that some doubt creeps in when there's 15 minutes left and nothing has come to. There was a little bit of doubt near the end. I think through this whole process we've been real confident that this deal was going to get done. We've just been real happy with everything that went on through this process."
He added that
David Wright
reached out to him multiple times. He said he was also moved by a visit to Citi Field on Thursday, before the Mets departed New York for Arizona.
"I like all the players, but one guy who has reached out to me and I've spoken to a few times is David Wright," Nimmo said. "From a few years ago I have a video game that has his face on the cover. So it's kind of a guy I look up to. When I saw him, it was after a game, he was going to get a workout in before they left. He just showed by example how hard you need to work to make it. So I really have a great appreciation for David Wright."
What does he do with $2.1 million?
He said 10 percent goes to the church and "I'm going to do good things in my community."
The rest, after taxes: "You put it all in the bank," Nimmo said. "Honestly, I'm not even going to act like I have that money."
Meanwhile, not only did the Mets go over MLB's recommended amount to sign Nimmo, but they did it throughout the draft -- holding true to what
Sandy Alderson
said would happen when he was introduced as GM last October.
"More than a couple of times yesterday when we were talking to (chief operating officer)
Jeff
(
Wilpon
), he just said, 'Hey, I want to sign them all,'" DePodesta said. "And it was very clear we were going to try to do everything we could to try to get every guy that we were chasing down yesterday. It was certainly great to have that support.
"Whether that's a shift in emphasis, I can't really say, because I wasn't here previously. But we're absolutely determined to build the foundation of this organization and create a player-development system that's a true feeder for our major league team -- and not just for role players, but also with potential impact players. That's going to take a little time for us to do. It always takes some years to build. But I think I speak for our entire scouting staff when I say we think this year was a good first step."