Francisco Rodriguez has a message for all the Mets fans he gave agita while leaving the tying runs on base and earning his eighth save in a 6-4 rubber-game victory against the Yankees on Sunday night.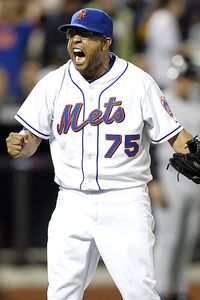 Associated Press
K-Rod reacts to striking out A-Rod and securing rubber-game win against the Yankees.
"Sometimes I've got fans out there watching, almost giving them a heart attack because all the stuff I do. But take it easy," Rodriguez said with a smile after striking out Alex Rodriguez on a full-count changeup to end the Subway Series finale. "I know what I'm doing out there. If anyone gets a heart attack because of this game, I'm sorry. But that's how I get it done."
K-Rod had recorded a five-out save a day earlier, but said he was not gassed for this appearance.
"My stamina's there," Rodriguez said. "My arm feels fine. In those types of situations, you don't even feel your body. You're out there with the rush, as intense as you can be."
The Mets had taken a five-run lead to the ninth, but K-Rod's services were needed once Ryota Igarashi allowed three of the first four runners to reach in the inning.
With the lead trimmed to four runs, K-Rod entered and was greeted by a run-scoring double by Derek Jeter. Brett Gardner followed with an RBI groundout and Mark Teixeira had a quirky single before K-Rod finally ended the game by fanning A-Rod.
K-Rod has struck out A-Rod in 10 of 18 regular-season matchups. It's A-Rod's highest strikeout rate against any pitcher he has faced at least 15 times.
"A-Rod, to me, is one of the best hitters that I've ever faced in my entire life," the closer said. "And his numbers speak for themselves. He's a tremendous professional, a tremendous ballplayer. I've just been fortunate enough to make quality pitches and get him out. But those types of situations, it's pretty obvious, you don't want to be against him."
SECOND THOUGHTS: Luis Castillo acknowledged he may need to land on the DL.
"I don't know. Maybe," said Castillo, who was scratched for the second time in three games against the Yankees because of a bone bruise beneath his left foot.
Jerry Manuel indicated team brass would wait on a decision until Castillo received a new orthotic to insert in his shoe in the next day or so. Castillo is due for a medical exam on Monday.
"That I don't know," Manuel said about the DL. "We will reevaluate him on Tuesday. They're finding some things that will fit in the shoe that will give him some comfort. Hopefully that would remedy his situation."
Despite facing a tough left-hander in CC Sabathia, late replacement Alex Cora had a two-run single to open the scoring. Cora then scored on the first of Jason Bay's two homers.
"It's like I've always said: You just prepare yourself. That's what I do," Cora said. "I come here thinking I'm going to play every day, and when I'm not in the lineup then I become the utility guy. The good thing is Jerry trusts me. He's not afraid. He proved it today. He threw me out against a tough lefty."
As for the two-out chopper by Teixeira that dropped in front of him in the ninth for an infield single ahead of A-Rod's decisive at-bat against K-Rod, Cora said he "had no chance" at the ball and quipped he might have again thrown the ball away had he tried to make a play.
The Mets were playing in a distinct shift.
WALKS IN THE PARK: Igarashi had a subpar return from the disabled list. The Japanese right-hander couldn't hold the five-run lead. Manuel most regretted Igarashi, who had pitched Thursday and Friday for Triple-A Buffalo, walking the leadoff batter in the ninth -- Nick Swisher.
"We'd just like to see strikes," Manuel said. "That's the thing we've got to make sure we stay focused on. … We'll give this one to anxiety."
Manuel before the game suggested Igarashi would be his primary eighth-inning reliever. He wasn't vacating that afterward, although he noted Igarashi would have to demonstrate he can throw strikes and have success.
"We've got to find an eighth-inning guy," Manuel said. "We haven't quite settled that yet. … You have to obviously perform."
BACK TALK: Yankees manager Joe Girardi complained when reliever Sergio Mitre was issued a warning for hitting Bay in the back with a changeup. And Manuel agreed the warning was overzealous by the umpiring crew -- since, after all, the pitch only registered 75 mph and couldn't have had much purpose.
"I do think that was probably a little bit overreaction. I think he hit him with a changeup in the back," Manuel said. "Mitre does have pretty good command, but he's obviously a guy who is pitching out of the bullpen and pitching long for them. So he probably doesn't get the reps like everyone else."
LEFT-HANDED COMPLIMENTS: ESPN Stats & Information offers this analysis of Johan Santana's victory: Yankees hitters were 0-for-7 on pitches low and away Sunday night, missing four of their eight swings and striking out three times. Santana also used the slider effectively. He only threw 14 sliders Sunday, but held the Yankees to 0-for-6 on the pitch, getting pinstriped hitters to chase four of the eight sliders out of the zone and strike out twice on the slider. Santana also was effective with two strikes. He held the Yankees to 2-for-15 (.133) in two-strike counts, and got them to chase 52.6 percent of pitches out of the zone, well above the MLB average two-strike chase percentage of 35.5.
ODDS & ENDS: Pedro Feliciano moved one ahead of Fernando Nieve for the major league lead in relief appearances with No. 27, and it was a big out that the southpaw recorded. Feliciano entered for Santana with the bases loaded in the eighth and got Robinson Cano to pop out to Ike Davis at first base. … Bay's 15-game hitting streak at Citi Field is tied for the longest at home this season, matching Florida outfielder Cody Ross' streak at Sun Life Stadium in Miami. … The Mets had been 0-6 in rubber games this season before beating the Yankees on Sunday. … Santana's win, coupled with Mike Pelfrey's victory on Saturday, gave Mets starting pitchers consecutive wins for the first time since April 28-30, when John Maine and Jon Niese recorded victories. … Davis and Chris Carter have combined to hit in the cleanup spot seven times this season. According to the Elias Sports Bureau, the other 29 major league teams have combined for two games with rookies in the cleanup spot: one apiece by David Freese of the St. Louis Cardinals and Kila Ka'aihue of the Kansas City Royals. Among active players, only three hit cleanup at least 75 times their rookie seasons: Scott Rolen (80 times for the 1997 Philadelphia Phillies), Albert Pujols (94 times for the 2001 Cardinals) and Josh Willingham (84 times for the 2006 Florida Marlins).