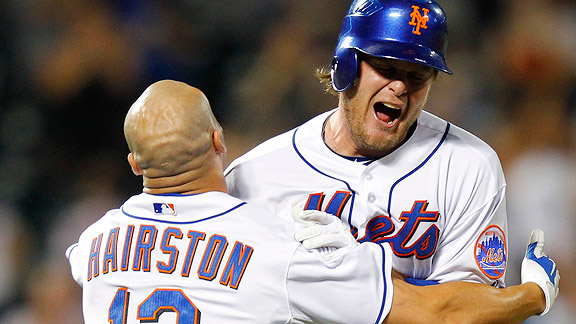 Paul J. Bereswill/AP Photo
Lucas Duda had many reasons to celebrate in August.Can Lucas Duda be any more clutch than he was in the month of August?
Duda's game-winning hit Thursday put him in a couple of statistically-elite categories.
The Elias Sports Bureau noted that Duda was arguably the best hitter in baseball in the seventh inning or later in the month of August, finishing 15-for-29 (.517 batting average), with a major-league leading 13 RBIs.
It's one thing to get those hits in games in which the score isn't close. It's another to perform with the game on the line, which Duda did.
Duda ranked second in the major leagues in a newfangled stat that measures the value of offensive performance -- Win Probability Added (WPA).
Lucas Duda
August 2011
WPA looks at each plate appearance (and stolen base attempt) and assigns a point value based on how much that player helped or hurt his team's chance of winning. It uses historical precedent to determine how many points a player gains or loses. The stat is tracked publicly both at Baseball-Reference.com and Fangraphs.com.
Using the situation Duda faced last night as an example: Recent baseball history shows that when the home team is batting in a tie game in the seventh inning, with a man on second and one out, it wins 62.2 percent of the time.
Duda's hit put the home team, the Mets, ahead by a run, and gave them a runner on first base with one out.
Teams ahead by a run in the bottom of the seventh inning with a man on first and one out win 82.3 percent of the time. Duda gets a credit of .201 (20.1 percent) for improving the Mets chances of winning from 62.2 percent to 82.3 percent.
This was the last of several key hits Duda had in August. He opened the month by hitting a game-tying ninth-inning home run against the Marlins, capped a three-run ninth-inning rally with a two-run walk-off single against the Padres on Aug. 8, hit a two-run seventh-inning double to pull the Mets to within a run of the Brewers on August 20, and followed that up with a game-tying seventh-inning home run the next day.
Duda finished the month with a 1.76 Win Probability Added, trailing only Cubs third baseman Aramis Ramirez.
To give you an idea of how good a 1.76 is: The last Met with a Win Probability Added that high in a calendar month was Carlos Beltran in September 2008.
The late-game heroics aren't the only thing that has been impressive about someone who figures to get plenty of September playing time. Two other notes that both resonated on Wednesday night:
Duda has hung in nicely against left-handed pitching, going 13-for-41 (.317 batting average), including Thursday night's hit against Marlins reliever Mike Dunn.
He's also arguably the Mets best two-strike hitter, capping an eight-pitch at-bat with a hit off a 95 mph fastball.
Duda is hitting .222 with two strikes, 42 points better than major league average. He has 14 of his 26 extra-base hits in two-strike counts. The only Met with more this season is no longer with the team, Beltran (17).